This article is more than 10 years old.
Get a Haircut by George Thorogood and the Destroyers (from Haircut, Capitol, 1993)
No truth to the rumor, apparently, that Thorogood will soon record a song penned by Click and Clack titled "Take a Haircut". That would just be wrong.
Mama's Family Theme (from Mama's Family Sound and Video Library)
I'm sure this comes as no surprise, but there's actually an online Mama's Family Sound and Video Library. Do people actually value this sort of thing? Beyond dorky radio producers, I mean…
Down, Down the Field (Syracuse Fight Song)
Yeah, I know it's a football song, but our basketball guy, Pat Forde, did talk about football this week, so this is allowable. At least OAG's Doug Tribou (Syracuse '96) thinks so.
Fox on the Run by Sweet (from Desolation Boulevard, RCA, 1974)
Ah, this conjures happy memories, like the time at a middle school dance when I did the bump with the heiress to the Dunphy's Hotel fortune. Ahh, what could have been…
Everybody Makes a Mistake by Otis Redding (from The Soul Album, Volt/Atco, 1966)
The Soul Album? As opposed to what? The Viennese Waltz Album? The Military Brass Band Album? Otis Sings Schoenberg? Goodness gracious, this guy was-no, still is-Soul.
This segment aired on January 15, 2011. The audio for this segment is not available.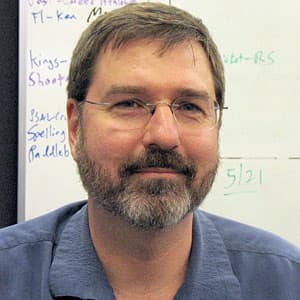 Gary Waleik Producer, Only A Game
Gary Waleik is a producer for Only A Game.