Seattle, Denver Museums Wager Works Of Art On Super Bowl
05:57
Play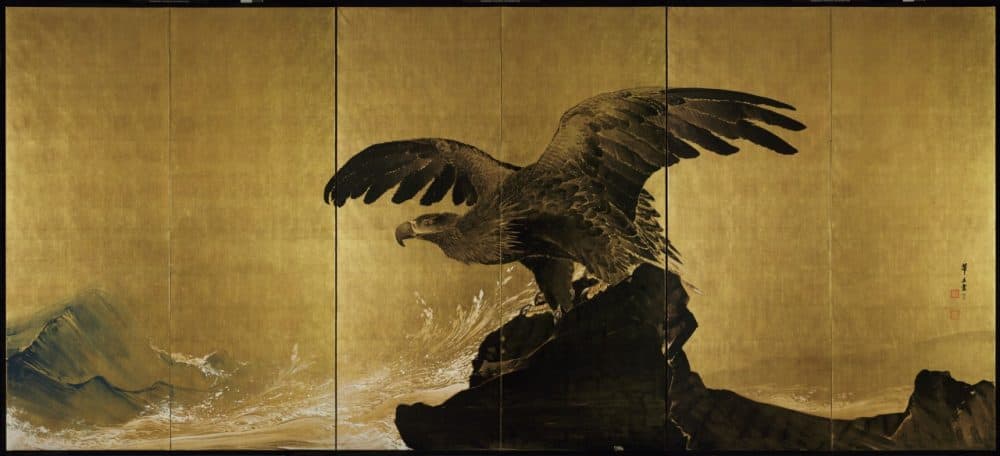 This article is more than 6 years old.
In this week's Super Bowl frenzy, Denver International Airport scored a low blow when it disparaged the height of Sea-Tac Airport's tower and the height of Seahawks quarterback Russell Wilson. Wagers are flying this week. Denver Mayor Michael Hancock has staked his city's green chili and handmade skis against Seattle's salmon, crabs and a bike wagered by Mayor Ed Murray. And the cities' art museums have gotten into the action.
Denver Art Museum Director Christoph Heinrich and Seattle Art Museum Director Kimerly Rorschach joined Bill Littlefield.
BL: Let's start with a description of what's on the line here. Kimerly, your wager first.
KR: We are wagering a fabulous, six-panel Japanese screen from 1901 by Tsuji Kako. Five feet by 12, and it depicts a majestic and incredible eagle — a very large, dramatic bird -- on a rock perched over waves with mountains in the background.
BL: An eagle — not to be confused with a seahawk.
KR: Very similar — resembling very greatly our team's mascot.
BL: And what's your wager, Christoph?
CH: Actually, we can't wait to see that eagle here in Denver. It's gorgeous. I'm so proud to have it in our collection soon. We threw in a beautiful bronze by [Frederic] Remington. It's called the Bronco Buster. And it's probably, really the icon of our Western American collection and a fabulous, fierce horse. It's not totally clear how long the rider will stay on the back of that horse — how soon it's going to throw him off.
KR: And I'll throw in that we are very excited to have the Bronco Buster as is the 12th man.
CH: Dream on. Dream on.
BL: Confidence is very important. Whose idea was this bet?
KR: Well, I called Christoph about it, and he was immediately interested and intrigued. I will reveal that this has been done before in a couple of previous Super Bowls, as you may know. I think the first time was Indianapolis vs. New Orleans. But I think never before have the works of art on the line had such an interesting resemblance to our teams' mascots, and that is particularly exciting.
BL: Now Super Bowl wagers are usually somewhat equal in terms of the value of wagered items. What are these works of art valued at?
KR: You know, we just don't even know. We just don't get into that. We don't talk about the value of art works. They're both treasured works — very important works — from very important collections. Our Asian collection is one of the most important that we have, and Christoph can speak of their American Western collection.
CH: Absolutely. And I think what really was important for us was to send a stunning piece — I mean, we're not going to send anything.
BL: Nice catch.
CH: But to use a stunning piece to show off the depth of and importance of our collection. And as Kimerly says, the American Western collection at the Denver Art Museum is one of the best in the country, and that's a great opportunity too for us.
[sidebar title="Super Bowl Haiku XX" align="right"]In other art-related sports news, this year we present the 20th edition of Only A Game Super Bowl Haiku.[/sidebar]BL: The arrangement stipulates that the museum in the city whose team loses the game will loan their art to the museum in the winning city for three months, and they'll pay for shipping, insurance and all other expenses, but beyond the expense it sounds to me as if there's some pride at stake here as well, right?
KR: Certainly, as in all these Super Bowl bets and in the game itself is a civic contest — a contest of the cities. And we're excited to be part of it.
CH: We have actually nothing in our budget which would actually allow us to do so. I think we have to be very confident that the Broncos are going to win, and that all the people from Seattle will come to Denver to see that spectacular piece.
BL: Trash talk often accompanies these sorts of wagers. Even mayors get into it. So I invite you both to give a little good trash talk from the world of art if there is such a thing. Christoph, you first:
CH: I'm not even sure whether I could trash talk, but I could, of course, invite all the people from Seattle to come to Denver after they're going to see the Broncos win this Sunday, and to see what the home of this wonderful football team looks like.
BL: Yeah, plus they may want to see some of the art that they're used to seeing at home.
CH: Absolutely.
BL: Kimerly?
KR: Oh gosh. Trash talk—that's not my specialty. But I'm confident that we are going to win, and we are going to be displaying the Bronco Buster. We've picked out a spot for it, and, as I said, the 12th man is ready to see it here and very excited about the victory that we are about to win.
CH: Kimerly, you've seen that horse, right? That horse is going to throw that rider the next second. I mean, you're aware of that. If Remington would have waited one more moment to sculpt it, the sculpture would have only been a horse. The rider would have been gone. the had only waited one more moment to sculpt it.
KR: Well, he's there now. He's there now. Bronco goes down. That's my point.
This segment aired on February 1, 2014.