2002 U.S. Team Recalls Victory Against Portugal
04:39
Play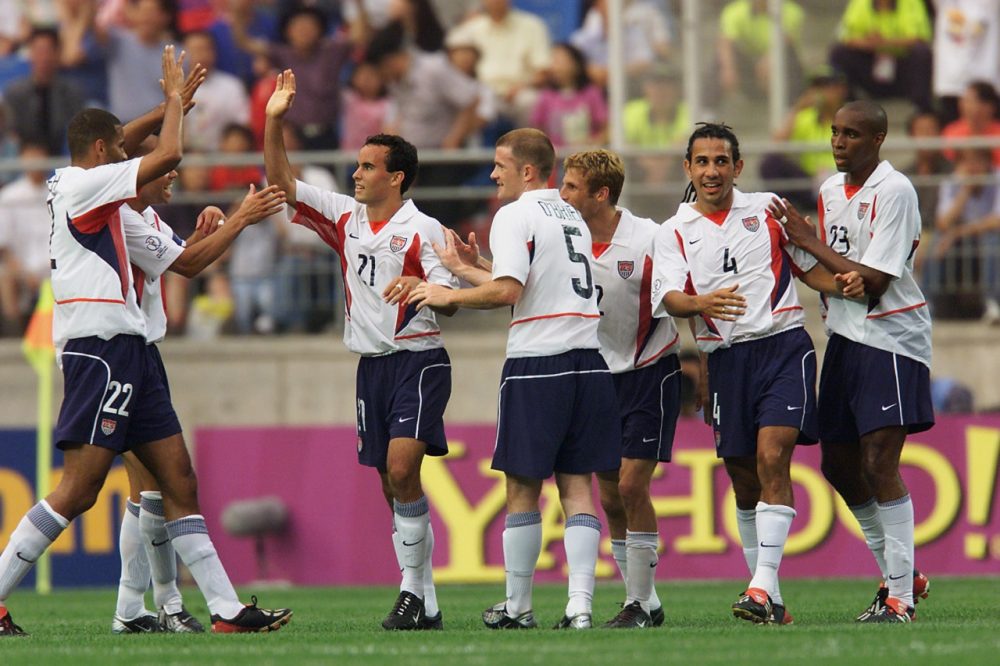 This article is more than 6 years old.
If you're inclined to think of the U.S. national team's victory over Ghana on Monday as the first time the Yanks have had the soccer world wondering if they were finally ready to be a World Cup contender, then think again. That also happened 12 years ago in South Korea, when the U.S. prevailed over highly favored Portugal.
The first verse of the official 2002 World Cup song – Anastacia's "Boom" – suggests that the underrated teams needed to believe in order to win. But according to former American defender and current Colorado Rapids head coach Pablo Mastroeni, the U.S. squad didn't see it that way. At least, not at first.
"And so I just thought, 'You know, we're gonna hang on.'"

Jeff Agoos, former Team USA defender
"We play that game 10 times, there's very little doubt in anyone's mind that these guys would probably win 8 or 9 of those games," Mastroeni said. "At the time, Portugal was one of the hot teams in world soccer."
Bruce Arena, who coached the U.S. national team from 1998 to 2006, agreed.
"We knew that the odds were against us, so it was gonna be a real challenge," the former coach said.
According to a pre-tournament poll, the U.S.' chances of winning the World Cup that year were about 150 to 1. Portugal, at 12 to 1, was expected to contend for the title. On June 5, 2002, the U.S. and Portuguese teams took the pitch. It was a memorable moment for Pablo Mastroeni.
"I remember walking out with Cobi Jones and Earnie Stewart through the tunnel to kinda check out the field, and the place was already packed," Mastroeni recalled. "And I'll never forget, I'm looking up at a sign, my Dad made this huge banner, and it said 'Dare to dream. We love you, Pablo."
"I remember just getting choked up and going back to the locker room, just being so emotional about this experience and at that moment I realized there's nothing to fear, nothing to lose, just go out and play your game," he said.
That's what the U.S. team did. Unfazed by their heavily favored opponents, and despite missing key players Claudio Reyna and Clint Mathis, they went on the offensive from the outset. Midfielder John O'Brien struck off of a corner kick in the fourth minute, Portugal obliged with an own goal 25 minutes later, and a header by forward Brian McBride put the U.S. up by three with 54 minutes left in regulation. Portugal was shocked, as was the rest of the world. The unfolding drama was unbelievable even to U.S. defender Jeff Agoos.
[sidebar title="World Cup Surprises" width="630" align="right"] Read Bill Littlefield's take on the unexpected outcomes in the 2014 World Cup. [/sidebar]
"There was this euphoria that we couldn't believe we were 3-0 up," Agoos said. "We couldn't believe we were 2-0 up! But when you got to three, I think it just woke up the bear. And for the next 50 minutes, 60 minutes, we were just sort of hanging on until the end."
Portugal defender Beto scored just three minutes later to trim the score to 3-1. And then the U.S. struck again – this time at the wrong end of the field. Jeff Agoos mistimed a clearance and accidentally smashed the ball into his own net. The score was now 3-2 with 20 minutes on the clock. Agoos and his teammates knew Portugal would come at them furiously.
"And so I just thought, 'You know, we're gonna hang on,'" Agoos said. "There's probably gonna be another two or three really good opportunities that Portugal will try to create. If we can [get] through that, we can figure a way to get out."
And get out they did. When the whistle blew, the U.S. team celebrated as if they had won the Cup Final. For Pablo Mastroeni, that meant an emotional encounter with the U.S. fans who had traveled to South Korea.
"We knew that the odds were against us, so it was gonna be a real challenge."

Bruce Arena, former Team USA coach
"I just remember crying, at that moment jogging over to our fans and just cheering with them for the next 10 minutes, and I just remember throwing out my shirt, sharing this moment with all these people that came over to support us, and just being able to share in this amazing accomplishment as a national team," he said. "From that moment on, we were no longer considered one of these countries whose expectations were fairly low."
Portugal failed to make the elimination round, while the U.S. went on to beat arch-rival Mexico in the round of 16, and then lose to Germany in the quarterfinals. It was the best U.S. World Cup performance since 1930.
All these years later, Bruce Arena has no trouble putting the win in perspective.
"It woke up the world that the U.S. is now improving in this game, and one day we'll challenge to win a World Cup," Arena said.
The U.S. faces Portugal again on Sunday night and plays Germany in their final Group G match on June 26.
Matthew Nelson of Howler Radio contributed to this report.
This segment aired on June 21, 2014.