Ji Cheng: China's Rep At The Tour De France
04:47
Play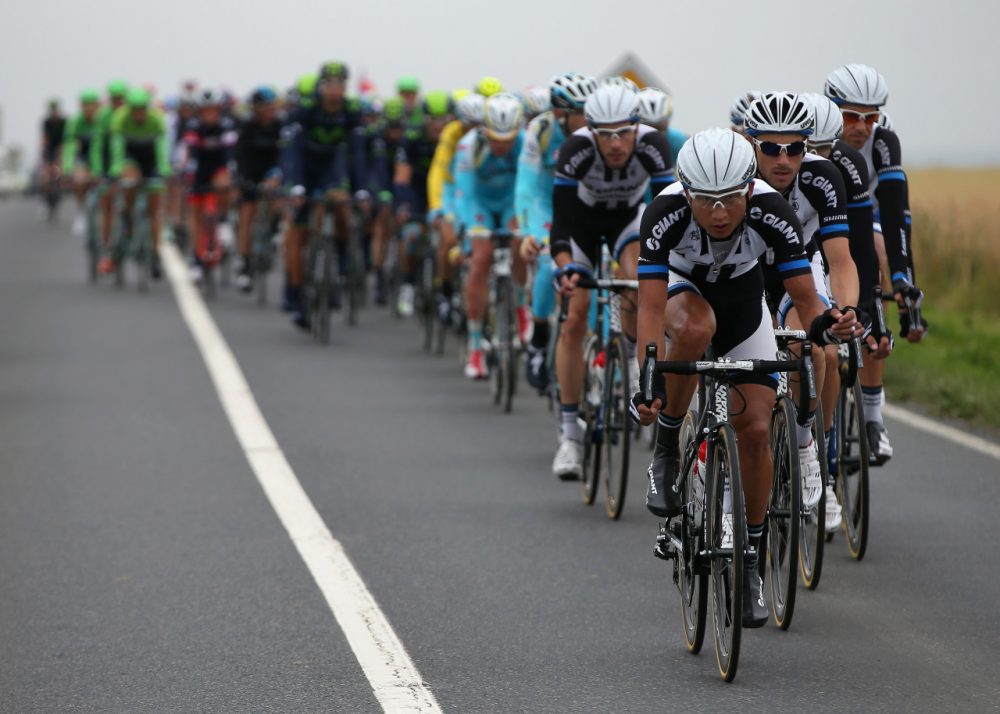 This article is more than 6 years old.
Heading into the last weekend of the Tour de France, Italy's Vincenzo Nibali is all but assured of a victory. The battle for last place seems pretty well wrapped up as well. That honor goes to Ji Cheng, who at last check trailed Nibali by more than five-and-a-half hours. But just by competing, Ji has made history as the first-ever Chinese rider at the Tour de France.
Ian Austen, who profiled Ji for The New York Times, joined Bill Littlfield from France.
BL: Is it fair to say Ji Cheng has gotten more attention than the Tour's typical last-place rider, known also, as I understand it, as the "Lanterne Rouge"?
Well obviously Ji's role is not being in first place overall in the Tour de France.

Ian Austen, New York Times
BL: Ji Cheng races for Giant Shimano, a team that is headlined by sprinter Marcel Kittel. What is Ji's role on the team?
IA: Well obviously Ji's role is not being in first place overall in the Tour de France. He's one of the vast bulk of the peloton -- the guys who are known as domestiques, literally "servants." And he has a very specific job. When you've got a good sprinter as they do in Kittel, most days on the stages sprinters are going to win, a break gets away, and it's allowed to go away, sometimes for several hours. At the point where Kittel decides that it's time to shut down the break, Ji goes up to the front of the riders, and he rides 55, 60 km an hour until the break's caught. And then he goes out the back.
BL: When you spoke with him, Ji didn't sound very concerned about his position at the back of the pack. Why was that?
[sidebar title="The Commonwealth Games" width="330" align="right"] The Tour isn't the only international competition taking place this weekend. [/sidebar]IA: Well, 'cause Ji takes doing his job seriously, so that means he works very hard on the flat stages, but when it comes to the big mountains, he showed me some of his power numbers, and they're actually lower when he goes over a huge climb than they are when he's on a flat and cranking it up to chase the breakaway. He just takes it easy.
BL: As you explain in your piece, bicycles continue to be very popular in China. Racing bicycles not so popular. How did Ji end up in his line of work?
IA: He was a runner in his youth — and quite a high-level one. He's from Harbin, which is quite a snowy, cold place in China, so in the winter running wasn't feasible. What most of the runners there did was cross-country ski. But he doesn't actually like the cold, so that was a problem. What the city does have, though, is a velodrome, an indoor bicycle track. So he started going there in the winter instead of out on cross-country skis.
There was another problem with that. He doesn't actually like the track. You know, you go round and round and round. What he did find that he liked was going out on a road bike which was very unusual for China because basically until quite recently Chinese racing has almost entirely been on the track.
BL: At the Tour de France, the crowds are, of course, a factor, both the packs of riders on the course and the spectators alongside it. How has Ji adjusted to those variables?
IA:  A lot of the roads at the Tour de France, Tour D'Italia, which he's also ridden, they're the width of a very small driveway. So he had to first of all learn how to fight. Well his first race he said he couldn't figure out what everybody was fighting over. So they sent him — he came over here; Shimano had a program to bring Chinese riders over to Europe — so they gave him an incredible baptism by fire. After a lot of falling off, Ji figured it out. The crowd? Well, it gives him a headache.
BL: You mention in your article that Ji has ridden in several of the other big races in Europe. Is this something he's going to continue to do?
IA: He seems really determined, although you have to feel a bit sorry for the poor guy. He does a very long and arduous season here, and then when he gets back to China, instead of resting up the like the guys who are based in Europe do, he has to ride races with the national team. So he went I think four years without seeing his father. Last November he got married had, oh I don't know, less than two-dozen days with his wife, and he hasn't seen her since.
This segment aired on July 26, 2014.