The Majors Record: Is Tiger A Disappointment Without It?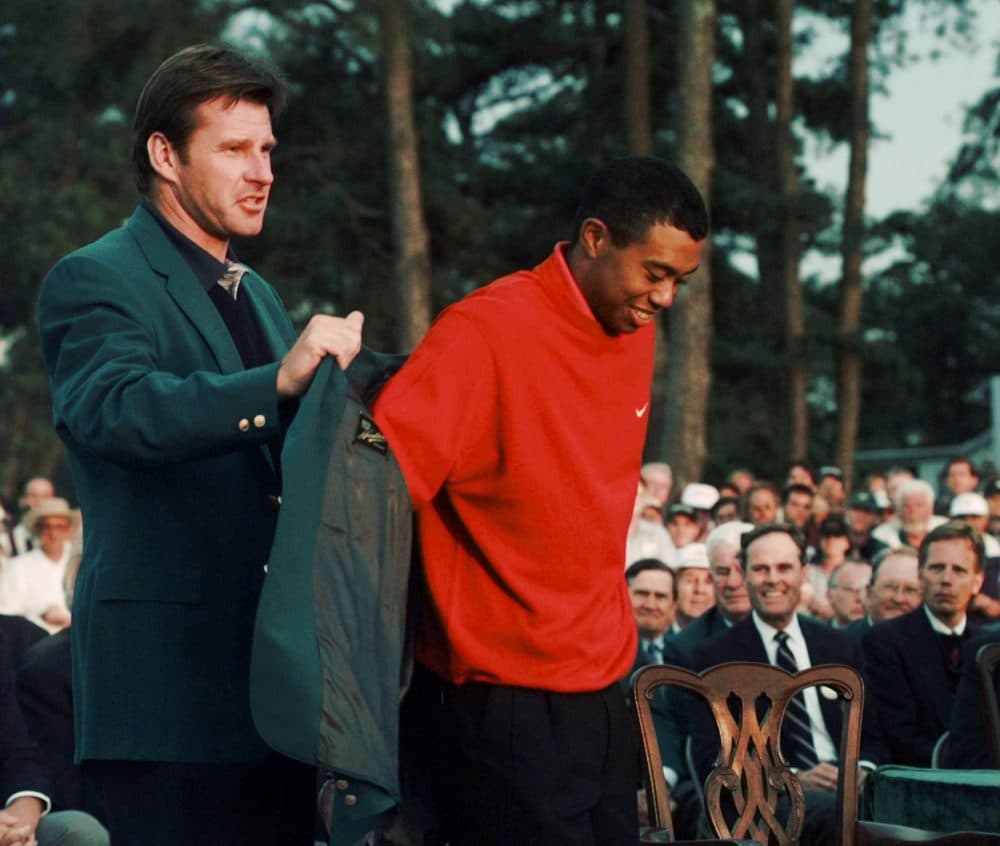 This article is more than 6 years old.
Rory McIlroy won the PGA Championship on Sunday at Valhalla in Louisville, Ky. His one-stroke win over Phil Mickelson gave McIlroy his second consecutive major — he won the British Open last month — and his fourth major victory overall.
Tiger Woods didn't make it to the weekend. He missed the cut and the chance to end a six-year drought in golf's four major tournaments. His last major victory came at the 2008 U.S. Open, giving him a total of 14. The magic number is 18. That's how many major victories Jack Nicklaus has.
In an article for Sports on Earth titled "Far From Failure," Chuck Culpepper argues that even if Woods falls short of Nicklaus' mark, his career won't be tarnished. Bill Littlefield spoke with Culpepper about Woods and how we define sports success.
BL: It's crazy to consider that anyone who's won 14 of golfs majors could be considered a failure. But by embracing the challenge of surpassing Jack Nicklaus's 18 major titles, did Tiger Woods set himself up for that sort of judgement?
CC: I suppose he did, but I always saw that embrace as very bold. It always surprised me in a way that he would speak openly about it and that we all knew as a part of American sports lore, even, that he had the totals posted on his bedroom wall as a child.  So I can remember at the time, even back in the '90s, thinking that's great that he can openly state that that's what he's after because as we know 14 is a colossal number.
BL: The top nine accumulators of points are automatically on this year's Ryder Cup team. Woods is currently way down on that list. Is there any chance he'll become one of Captain Tom Watson's captain's picks?
CC: With him in the mix there's always a chance. But maybe our brains are trained to think that way with him and it just doesn't match the current reality. I know that walking around with him on Thursday at the PGA I felt like I was there for the past, but looking at a present that doesn't match up to the past somehow. It also seems to me that he went from about age 35 to suddenly is already 39 because he'll be [ in December — and we're already talking about him in a different way. So when we think about Watson's pick we think about "yes" because of the past, but I don't know that it warrants it in the present.
BL: The physical problems from which Woods has suffered have been thoroughly chronicled but does it feel to you as if he's also less focused — less driven — than he was, say, six years ago when he most recently won a major?
CC: I have that feeling. I have that sense, but I can't prove that or say it with any kind of authority. When I watch I have sort of the sense that there's not the same oomph — I guess you'd say — with it, but he still won five times last year on the PGA tour, which is, you know, incredible.
BL: Tiger Woods is nearly 39 years old. Coming up on 40 as you've mentioned. If he were to announce his retirement from the tour today, he'd have had a spectacularly successful career. Should people just stop asking about the likelihood that he will return to something like his earlier form?
CC: No, I don't think we should just yet because we've seen him come back from lulls and from injuries so I think we should keep it going, realizing that 39 and 40 are, of course, younger than they used to be and realizing that just because nobody after the age of 39 has won enough majors that he would need to put him past Nicklaus doesn't mean that he couldn't do it. Although that conversation has tilted heavily of late to more and more people saying, "No, it's just not going to happen."
And we're going to have to sit around and talk about a guy who won 14 major tournaments — double the number of [Gene] Sarazen, [Sam] Snead, [Bobby] Jones, [Arnold] Palmer and [Harry] Varden — as some sort of mild failure of some kind.  I don't know of another case of someone who was this great who would be seen as, "Oh, he didn't quite get there."
More: