1.4 Billion Reasons The Bills Will Stay In Buffalo
03:59
Play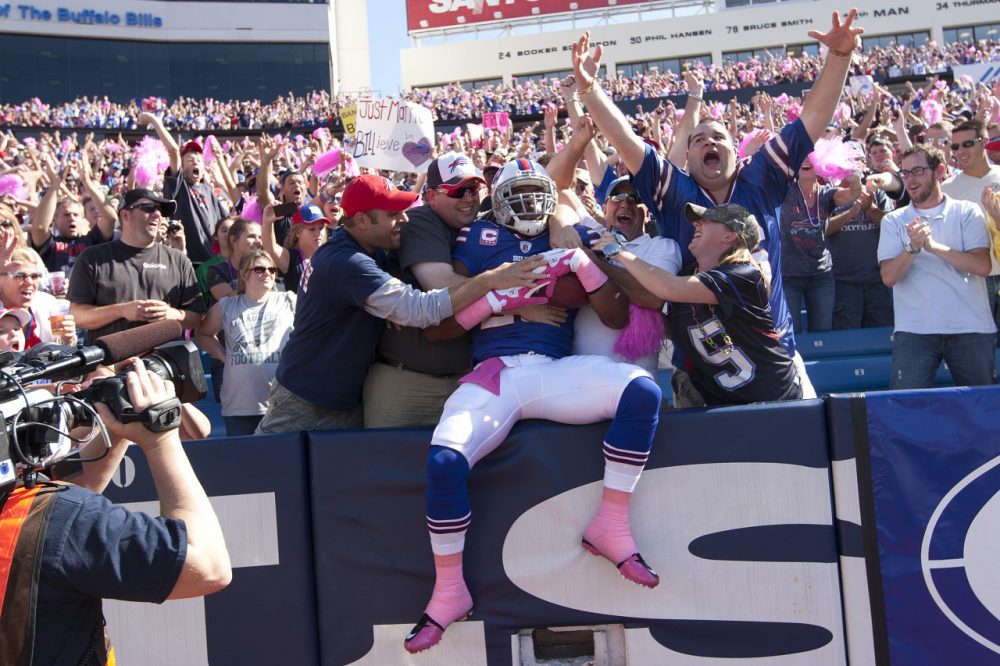 This article is more than 6 years old.
On Tuesday, the Buffalo Bills were sold by the estate of the late Ralph Wilson to Terry and Kim Pegula who also happen to own the NHL's Buffalo Sabres. The sale is being celebrated by fans of the Bills who had feared the team might end up in Toronto, Los Angeles or some other NFL-bereft city.
Buffalo News columnist Jerry Sullivan joined Bill Littlefield to discuss the sale.
BL: How are fans taking the news that the team will apparently stay right where it is?
JS: Oh yeah, they're in heaven. You have to understand how for years people have anguished about losing the team, as Ralph Wilson didn't have an established succession plan. But they are just ecstatic. I was driving into the city and at the city line where it said "Welcome to Buffalo," someone had put up a "Pegulaville" sign.
BL: Oh, beautiful. 
JS: They fell in love with this guy when he bought the Sabres, and the fact that the team's going to be here — that means everything. They could have clowns in charge now and the honeymoon would last a year.
You had people calling up sports radio literally crying on the phone the other day.

Columnist Jerry Sullivan
Ralph Wilson last March passed away. The very day in our paper, Jim Kelly's wife was asking for a miracle because Jim was so gravely ill with cancer. And that was like a double blow to people in Buffalo who have been trained to expect the worst. For this to flip around in six months, Jim Kelly is now cancer-free and they find out that the Pegulas have won the bid for the team. Imagine that for a town like this.
BL: The Bills opened the season with a win over Chicago. Is this a team on the upswing?
JS: I'm not ready to go there. I was encouraged by the win in the opener because they showed depth and a little more toughness than we're used to and beat one of the best offense teams in the league in Chicago. The game with Miami, it's almost too perfect.
Miami, the longtime rival, the team Ralph Wilson loved to compete against and demanded to stay in their division, is coming in. The people of Buffalo are feeling they now have their team for good. Jim Kelly will be there. And Mary Wilson's in town, Ralph's widow. I can't imagine there's been a more anticipated home opener since Jim Kelly arrived 30 years ago.
BL: The Bills have not made the playoffs since 1999. How long does the current honeymoon last if they continue to not make the postseason?
[sidebar title="Remembering Ralph Wilson" width="630" align="right"] A former Bill remembers Hall of Fame owner Ralph Wilson. [/sidebar]
JS: Well for some people it'll never wear off. A lot of people are conditioned to just being happy they have teams. The fear for the Bills was real. You had people calling up sports radio literally crying on the phone the other day — grown men talking about their fathers and their sons and the connection. That stuff is very real here. I mean I know this is a smaller city. We have less to embrace here than people all over the country. And it's a real connection to their city. Sometimes I think maybe too much, but we know how important sports are in America.
BL: You alluded to the stadium. There is still the matter of a potential new stadium for the Bills. What's the latest news on that front?
JS: The fact that now there's no threat of the team leaving makes the stadium less urgent because there's no thought that a new owner's going to come in and demand one. Suddenly, a guy who loves Buffalo just spent $1.4 billion for the Bills, and he wants to keep it in Buffalo, and I think they can back off their stadium thing for a while here.
BL: One of the stories had the Bills possibly going to Los Angeles. Now that we know the Bills are going to stay in Buffalo, I wonder if fans there have any sympathy for folks in LA who haven't had a team of their own to cheer for two decades?
JS: No. I think asking Buffalo people to have sympathy for people in Los Angeles is a bit of a reach. I think the league wants to be in LA and I think it wants two teams there, but people in Buffalo figure, "You know, you're the biggest city in America with all that money and that great market. Figure it out. Don't come looking to us for tears."
This segment aired on September 13, 2014.