Despite Abuse Scandals, NFL TV Ratings Rise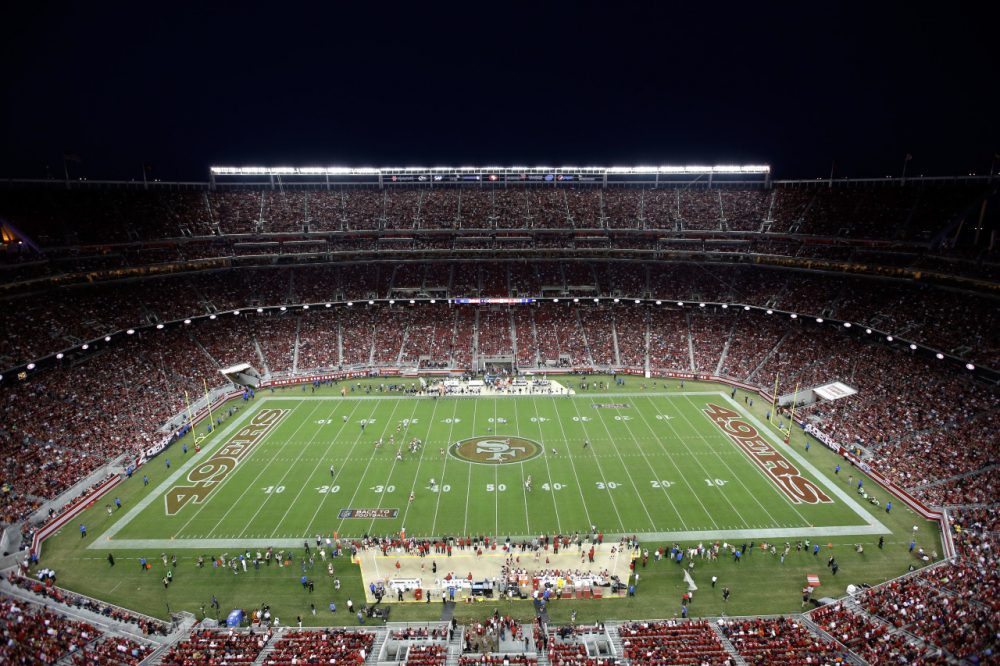 This article is more than 6 years old.
After what has been billed one of the worst PR weeks in NFL history, fans did not turn off their TVs Sunday.
In fact, ratings for NBC's Sunday Night Football broadcast of the Bears-49ers matchup were up 3 percent compared to a year ago, according to preliminary figures released Monday. The 14.0 average rating gave NBC the night's top rating -- including among adult females — over ABC, CBS and Fox.
Criticism is nothing new for the NFL, which has continued to flourish despite increased concerns about the league's handling of head injuries, but some onlookers have speculated that the ongoing scandal involving former Baltimore running back Ray Rice might be enough to turn off fans.
But national and local ratings climbed. Although 49ers defensive tackle Ray McDonald is playing while facing a felony domestic violence charge, the ratings in the San Francisco-Oakland market Sunday night were the highest in the Niners' home market in 11 years.
Sunday night's game came just six days after TMZ released footage of Rice knocking out his then-fiance. The video prompted the Ravens to release Rice, and it also led NFL Commissioner Roger Goodell — who claimed he had not seen the video — to revise his initial two-game suspension and instead ban the running back indefinitely.
But Goodell's avowal came into question Wednesday when the Associated Press reported that a person within the NFL had received the video from a law enforcement official months ago. The league has since launched an investigation headed by former FBI director Robert Mueller and overseen by two NFL team owners.
Then on Friday, news broke that another star running back, Adrian Peterson of the Minnesota Vikings, was charged with child abuse for disciplining his son with a stick. Peterson has issued a statement. He did not play over the weekend, but is expected to play on Sunday.
In an interview with Only A Game on Friday, Sports on Earth's Will Leitch said he believes the NFL's handling of the Rice / Goodell saga and the league's problems with domestic violence will damage the NFL brand.
"This is the first time it looks like the NFL is either being deceitful or willfully ignorant of a major societal issue that they seem to be perpetuating," Leitch said. "Frankly, this is how empires fall."
At least after one week, though, the empire only seems to be expanding.
Earlier: