Helene Elliott's 2014-15 NHL Season Preview
04:16
Play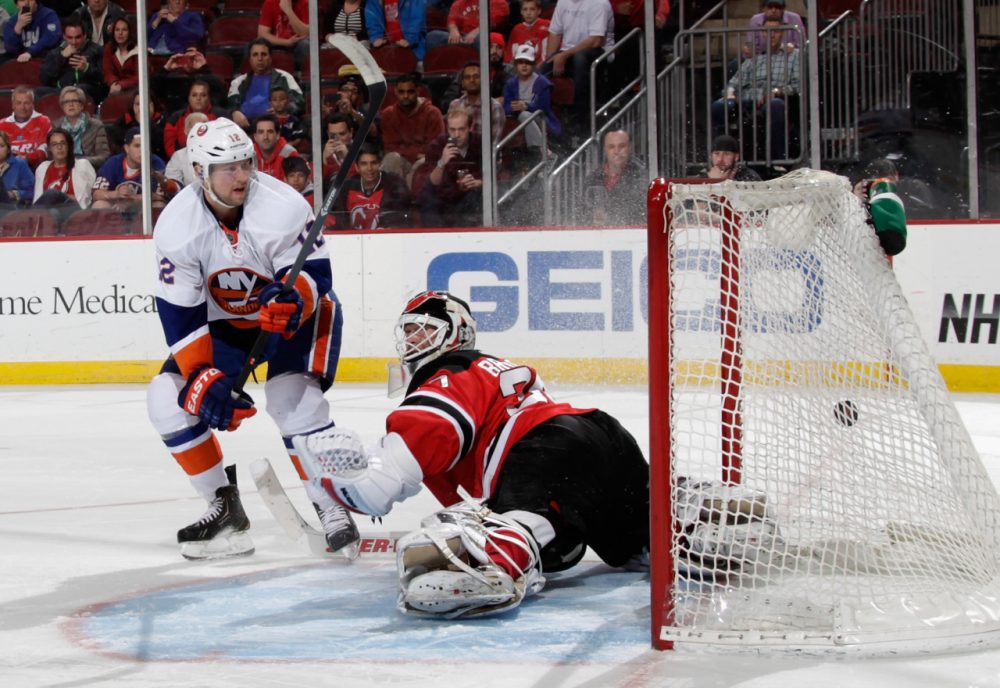 This article is more than 6 years old.
Will the Los Angeles Kings win their third Stanley Cup in four seasons? Will the Pittsburgh Penguins once more waddle to the top of the Metropolitan Division? And are goalies rejoicing after the banning of the dreaded spin-o-rama move?
With the NHL season set to begin on Wednesday, Los Angeles Times hockey scribe and Only A Game analyst Helene Elliott joined Bill Littlefield to discuss the pressing questions about the 2014-15 campaign.
BL: You have covered the Kings for years now. Tell us what two Stanley Cups in three years means to hockey fans in L.A.
Ovechkin should be a leader and should be capable of carrying that team on his back and he really hasn't done that.

Helene Elliott, L.A. Times
BL: And everything is pouring out of the Cup.
HE: Absolutely true. It means that up is down, and down is up, and north is south. And just the idea that the Kings are considered an elite team — it's just completely mind-boggling. It's just completely contrary to anything any hockey fan here ever grew up with or ever took as truth. It's just a lot to get your mind around.
And the fun thing about the Kings' Stanley Cup run is that it was so different from the first one. In 2012, they won the first three games of every series they played. There was absolutely no drama. This time around, they went to Game 7 on the road the first three rounds and won Game 7 on the road. They ended up playing 26 playoff games. They avoided elimination seven times. So yeah, I mean, it was just really remarkable.
BL: Colorado was the NHL's second-best team last year. They have a developing core of young players and they've added a future Hall of Famer in Jarome Iginla. Could this be Colorado's year?
HE: You know, it's funny. I've seen a lot of people who have been predicting Colorado to have a really big dropoff, and I don't understand why. I think they have so much young talent. [Gabriel] Landeskog and [Matt] Duchene and rookie of the year Nathan MacKinnon.
The team that I'm thinking is probably the biggest threat to the Kings repeating is the Chicago Blackhawks. They're a very good team and they got better by signing Brad Richards to be a No. 2 center. I think there could be an epic Chicago-LA Western Conference Final battle again.
BL: In nine seasons with superstar Alex Ovechkin, Washington has failed to win a Stanley Cup. Have the Capitals failed to surround Ovechkin with suitable talent or is he not quite championship-caliber as a star?
HE: That is a very good question. You're at the point where you say, "You know what, they should have been at the Stanley Cup Finals with this group by now. They should have won the Cup by now." And they haven't. I think there's some holes in the lineup, but Ovechkin should be a leader and should be capable of carrying that team on his back and he really hasn't done that.
BL: Tell us about some of the teams that could surprise us this year?
[sidebar title="Southern California's Budding Hockey Rivalry" width="630" align="right"]There is a budding rivalry between the Anaheim Ducks and the L.A. Kings.[/sidebar]HE: I think the Anaheim Ducks, just up the road here from the Kings. The two teams played an incredible, second-round, seven-game playoff series last spring. I think the Ducks will be a team to be reckoned with again. They added Ryan Kesler from the Vancouver Canucks, specifically because they thought they needed a second-line center to match up better with the Kings.
I think the Kings got in the Ducks head. Everything that you read — seriously, any time that you talk to the Ducks, it's, "The Kings are the champions. We want to be like them. We spent all summer being upset over losing to them. They're the model of the type of team you have to have."
BL: There are seven teams based in Canada but only one of them made the 2014 postseason. I'm looking at last year's regular season standings, and the four worst Western Conference teams were Edmonton, Calgary, Vancouver and Winnipeg. Will our northern friends rally this year — or ever?
HE: Alas, I do not think our northern friends will see a Stanley Cup this year. The drought will continue. The Montreal Canadiens probably have the best chance. Calgary and Edmonton, I think, are going to be on the outside looking in. Winnipeg as well. I think Vancouver might get back to the playoffs this year, but Montreal could possibly go to the East Final. I wouldn't be surprised.
BL: Among the rule changes taking affect this season, stiffer fines for players when they dive or embellish. Coaches could be fined when that happens as well. And there will now be a ban on the so-called "spin-o-rama" move during shootouts and penalty shots. Tell us what the spin-o-rama is and whether that's a good change?
HE: Oh, I think it's a terrible change. The spin-o-rama — which allowed a player to kind of do a 360 and deke and do something exciting and distinctive — why would the NHL want to allow that? The NHL has banned that because there was a lot of dispute over whether — when you're doing that little spin-o-rama — whether that constitutes forward progress.
You're supposed to be continually making progress toward the goal and if you're doing a spin-o-rama you may be going laterally or you may be moving back, but they took all the fun out of it, and I think that's wrong.
This segment aired on October 4, 2014.