Baseball Hall Of Fame Elects Four New Members
04:19
Play
This article is more than 6 years old.
On Tuesday, John Smoltz learned that he'd be entering the Baseball Hall of Fame with fellow pitchers Randy Johnson and Pedro Martinez. He responded to the news with modesty.
"I'm not in their class when you talk about the numbers that they put up," Smoltz said. "But I'm probably not in anyone's class because of the strangeness of my career and the uniqueness of what I did. It kind of sets me apart a little bit."
You can certainly make a case that this is the first time since Walter Johnson and Christy Mathewson went in in 1936 that two pitchers of this ilk have gone in at the same time.

Tim Kurkjian, ESPN analyst
Just a little bit. For 17 of his 21 years in the major leagues, Smoltz had no saves. But over the course of four years in the middle of that career, he had 154 of them. One season he led the National League with 55. And of course he won 213 games as a starter.
So, yes, his statistics set him apart.
In a press conference following his election to the Hall, Randy Johnson talked at length about how unimpressive he'd been during the early part of his career, and how grateful he was for the patience his various employers had displayed. Unlike Smoltz, who spent his entire career with Atlanta, Johnson pitched for six teams. Was he proud and happy to be going to Cooperstown? Yes, he was.
"It was something five years ago people were talking to me about, and I put it off, because five years just flew by," Johnson said.  "And now we're at this day where I got the call. And I'm so appreciative and honored. I never joined a fraternity in college, and now I'm amongst one of the coolest in the world."
During the five years since his retirement, Johnson has been around the world twice, visiting troops with the USO. He's developed what he calls a passionate interest in photography. In short, he has, as he says, removed himself from baseball. But this week the memories flooded back.
"I remember putting tape on my wooden garage door, and I would throw in this little tape box," Johnson said.  "That was my strike zone, and I was Vida Blue with a tennis ball.  Well, after about half an hour, my dad would come out, and he'd have a hammer in his hand, and he'd say, "You make sure you pound all those nails back in the garage door.'"
Like  Johnson and  Smoltz, fellow electee Pedro Martinez had some spectacularly successful seasons. In 1999, he won 23 games while losing just four, and his earned run average was 2.07. The next season it was an otherworldly 1.74. Over 18 seasons, Martinez won 219 games and lost just 100.
When a reporter mentioned that he was one of only 50 players to be elected to the Hall in his first year of eligibility, Martinez seemed surprised:
"Thank you for the info," Martinez answered.  "I didn't know that. It's humbling and a great honor to become part of history."
History was also on the mind of ESPN's Tim Kurkjian this week. He puts Martinez and Johnson in some exceptional company, even by Hall of Fame standards.
[sidebar title="Willie Mays And The 'Cheshire Cat' Grin" width="630" align="right"] After including a poem about his childhood hero in his new book, "Take Me Out," Bill Littlefield got some exciting news. [/sidebar]"You can certainly make a case that this is the first time since Walter Johnson and Christy Mathewson went in in 1936 that two pitchers of this ilk have gone in at the same time," Kurkjian said. "So to me, this was historic. Certainly one of the four, five best classes in baseball history."
The only non-pitcher to make the cut this time around was Craig Biggio, who spent his entire  20-year career with the Houston Astros. He accumulated 3,060 hits. Still, until Tuesday, he didn't assume he'd be elected to the Hall of Fame.
"I didn't take it for granted," Biggio said. "It was a very emotional phone call when I received the news and humbling. Like I said, I just loved playing the game of baseball and every minute of it, every inning of it."
Kurkjian, on the other hand, feels Biggio probably should have anticipated the honor he received.
"He has more doubles than Hank Aaron; he had more extra base hits than Mickey Mantle; he reached base 4,500 times," Kurkjian said.  "Only 18 players have done that and they're all in the Hall of Fame except for Barry Bonds, Pete Rose, and Derek Jeter. He got hit by a pitch more times than anyone in modern baseball history, and he went an entire year without grounding into a double play once. Those are the little numbers that really make his value even greater than you'd think."
The induction ceremonies for John Smoltz, Randy Johnson, Pedro Martinez, and Craig Biggio will be held in Cooperstown on July 26.
Related:
This segment aired on January 10, 2015.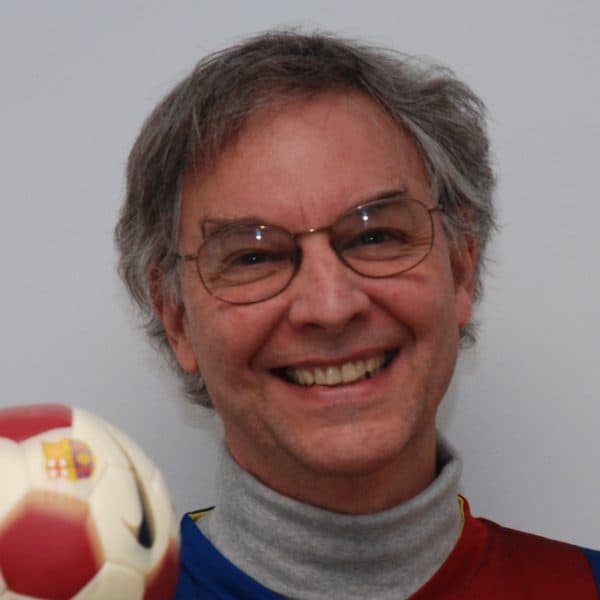 Bill Littlefield Host, Only A Game
Bill Littlefield was the host of Only A Game from 1993 until 2018.