NFL Free Agency Begins Before It Begins
03:58
Play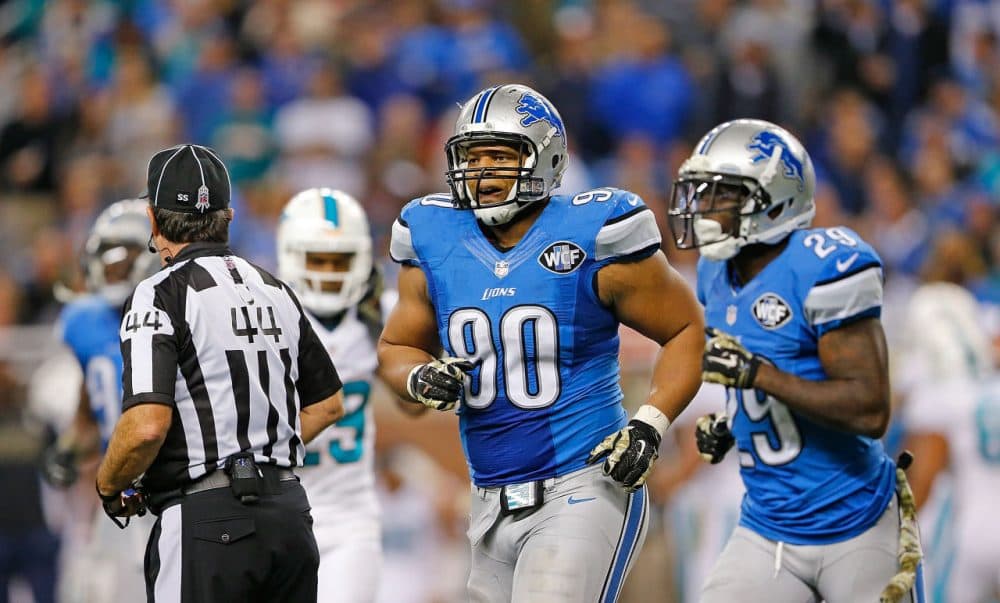 This article is more than 5 years old.
On Tuesday at 4:00 p.m. EDT, the rivers ran green with banknotes and loyalties melted away. The NFL's official free agency period began, and teams began negotiating with and signing players without contracts for the 2015 season and beyond. And if you believe that's precisely when the talks began and the deals were made, I have a Brooklyn NFL franchise to sell you. Act now, you get the bridge.
Mike Tanier of Bleacher Report claims that before the official free agency period even began, he could write a free agent "Winners and Losers" column. He joined Bill Littlefield to explain.
BL: Mike, why did you feel you could make that claim?
We may see less of that crazy tampering -- not because the NFL gets involved but because it may not be the best business model.

Mike Tanier, Bleacher Report
Well, lo and behold, during that three-day window, dozens of free agent signings were announced and most of them turned out to be official in the long run, and so those introductory talks wound up being actually the finalization of negotiations, all the way down to the point where people felt confident to start tweeting and sending text messages to reporters that these were done deals.
BL: Why were teams so much more brazen this year about finalizing deals in that so-called "open negotiation" period. Weren't they worrying about accusations of tampering?
MT: Nobody was doing it officially. And the NFL knew in the past that while no one would ever make any kind of  announcement officially until 4 p.m. the start of the day. that these things were going on, so it's not a lot of risk. You know, there was some talk -- Ndamukong Suh was the most famous of the deals. It was announced on Saturday afternoon, two-and-a-half days before anything was supposed to start, and it was a $114 million contract. So it's not like they were dusting something off and handing it to him.
The NFL claims that they're investigating and seeing if tampering was going on. What that's doing is making an announcement to everyone else that, "Stop or we'll say stop again. And if you jump the gun too much we will come after to you."
BL: The prevailing wisdom used to be that the best way to build a roster was through the draft. But this week, the free agent money has flowed, and there were many trades involving top talent as well. What accounts for all this?
MT: Well, there are a lot of teams that are still building through the draft and maybe acquiring that one player. The wisdom is you build through the draft but then a hot spot opens up where you might not have the guy you want, you need to get better fast 'cause you're close to the Super Bowl, and there's a guy.
The Seattle Seahawks is a great example. That team is built through the draft. They drafted Russell Wilson and Richard Sherman and made a very low-level trade years ago for Marshawn Lynch. They go to the Super Bowl. They come up one play short. So then they see an All-Pro player available and they go after him in Jimmy Graham. A lot of teams are doing things the old-fashioned way — maybe grabbing a guy or two and then preparing for the draft.
BL: Are we likely to see this sort of free agency bonanza henceforth, or will NFL teams eventually revert to the old method of building through the draft rather than through trades and these big free agent signings?
MT: I think you're always going to see those handful of major free agents. I think you're going to see a bunch of teams who are always extremely active because they are trying a new philosophy. I think you will see less of the premature contract announcements for a couple of reasons. One of them is there was one high-profile case — Frank Gore, who was going to go from the 49ers to the Eagles — and he had second thoughts. And what you don't want — a realtor knows — you don't want someone siting around for three days thinking about it.
Meanwhile there's national news about what they're doing. That can get in their minds a little bit. I think agents are going to say, "Before we tweet this out, we want to make sure this guy has thought about it" — that he's not getting talked about on Twitter when he hasn't signed a contract yet or has four days until he can do it. So we may see less of that crazy tampering — not because the NFL gets involved but because it may not be the best business model.
This segment aired on March 14, 2015.