Americans Suit Up In Iraqi Basketball League
03:41
Play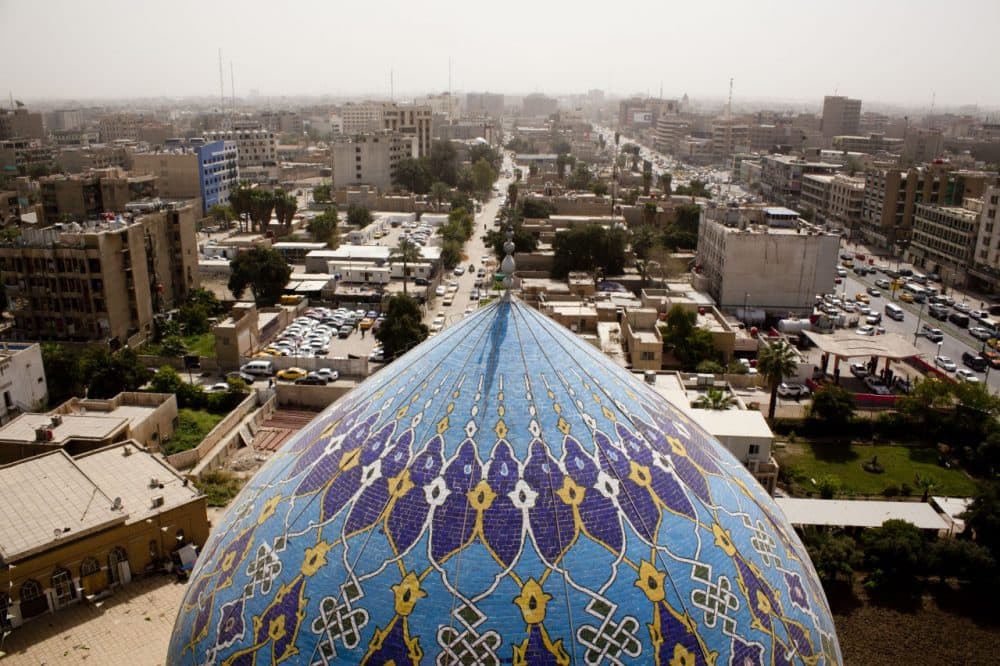 This article is more than 5 years old.
Only a fraction of the basketball players participating in March Madness will be good enough to make the NBA. Some of the rest will play in Italy. Some of them will play in Spain. And some of them will play in Iraq.
Tamer El-Ghobashy recently wrote about that phenomenon for the Wall Street Journal, and he joined Bill Littlefield.
BL: Your story focuses on Mychal Kearse. You say he brings "a dose of swagger" to pro basketball in Iraq, but how does Kearse end up bringing swagger to a war zone?
What they've experienced has been an Iraqi public that's very curious about them in a positive way.

Tamer El-Ghobashy, Wall Street Journal
The league is comprised of about 10 teams at any given time, but this year only seven teams could participate. These teams are sponsored by ministries, whether it's the oil ministry, education ministry, the ministry of the interior, the police — these are ministries that are experiencing extraordinary cutbacks because of the fight against ISIS and the way instability in the country has reduced oil revenues. It's a league that is just barely hanging on, and yet they continue. As one player DeAndre Rice said, he was astonished by the fact that basketball remains relevant, as he said, at a time when the nation is really undergoing an enormous crisis.
BL: Kearse told you, "I thought it was going to be all bad, with everything you see on TV about Iraq." But if he stayed for three years, it can't be all bad, right?
TE: Not at all. In fact, I spoke to a number of players. They all uniformly said that their image of Iraq was of a war-torn nation that had none of the comforts of home. Now, granted, Iraq is going through its worst security crisis since American troops withdrew. But life does go on there, especially in a big city like Baghdad.
What they've experienced has been an Iraqi public that's very curious about them in a positive way. I've actually run into these players coming in at the airport, and you see a lot of the airport authorities after they stamp their passport asking for a selfie with some of these American players.
BL: The players do have some complaints, as I understand it, and it's not just the food and the lack of nightlife. How do they spend their free time?
[sidebar title="An American Soccer Pro In Afghanistan" width="630" align="right"] After his graduation, former Williams College men's soccer captain Nick Pugliese took his talents to…Afghanistan.[/sidebar]TE: They're pretty much confined to very modest hotels around Baghdad where they're looked over by the team staff. It gets very monotonous. Even for me as a journalist who frequently goes to Baghdad, my movements are very calculated. So it's not necessarily the most comfortable life, but it's not at all the trying war zone that they had imagined in their mind.
BL: The league in Iraq seems to be always trying to recruit new players from the U.S. Hey, you were there. If you had the skills, would you sign up?
TE: Sure, I mean, look, if I had my choice I would love to play in the NBA or even some of the more competitive leagues in Europe. But if I had few options and was reaching the kind of twilight of my career, why not? And beyond that, it's just an extraordinary cultural exchange.
Americans typically go there for some kind of diplomacy or maybe as military contractors, which Iraqis, I think, resent in a lot of ways because there is this element of making money off of their tragedy. Here, this is a group of Americans who are there to support a league that I think a lot of these Iraqi athletes really value both for a livelihood and for the spirit of the game.
This segment aired on March 21, 2015.