Inspired By MLB Star, Teenage Girl Trades Softball For Baseball
Resume
I've seen a lot of fans holding signs over the past week at JetBlue Park in Fort Myers, Florida — the spring training home of the Boston Red Sox. Some made me laugh, others made me groan, but during batting practice on Tuesday morning, one sign near the Boston dugout made me turn around and walk back.
Young athletes often dream of growing up to become their sports idols. But the girl holding the sign is taking that inspiration seriously. She switched sports and is competing with boys all because of Red Sox second baseman Dustin Pedroia.
Sydney Dore is 14-years-old. She's about 5-foot-3 with blond hair, blue eyes and a big smile that's lined with shiny braces. She's down here for spring training. Standing near the Sox dugout at Jet Blue Park, she held a sign:
This GIRL plays JV high school BASEball because Dustin Pedroia said, "Tell us what we can't do. Tell us what we can't be. One of us is gonna be right." I did and I am, so ... "Go ahead. I've never heard it before. Tell me."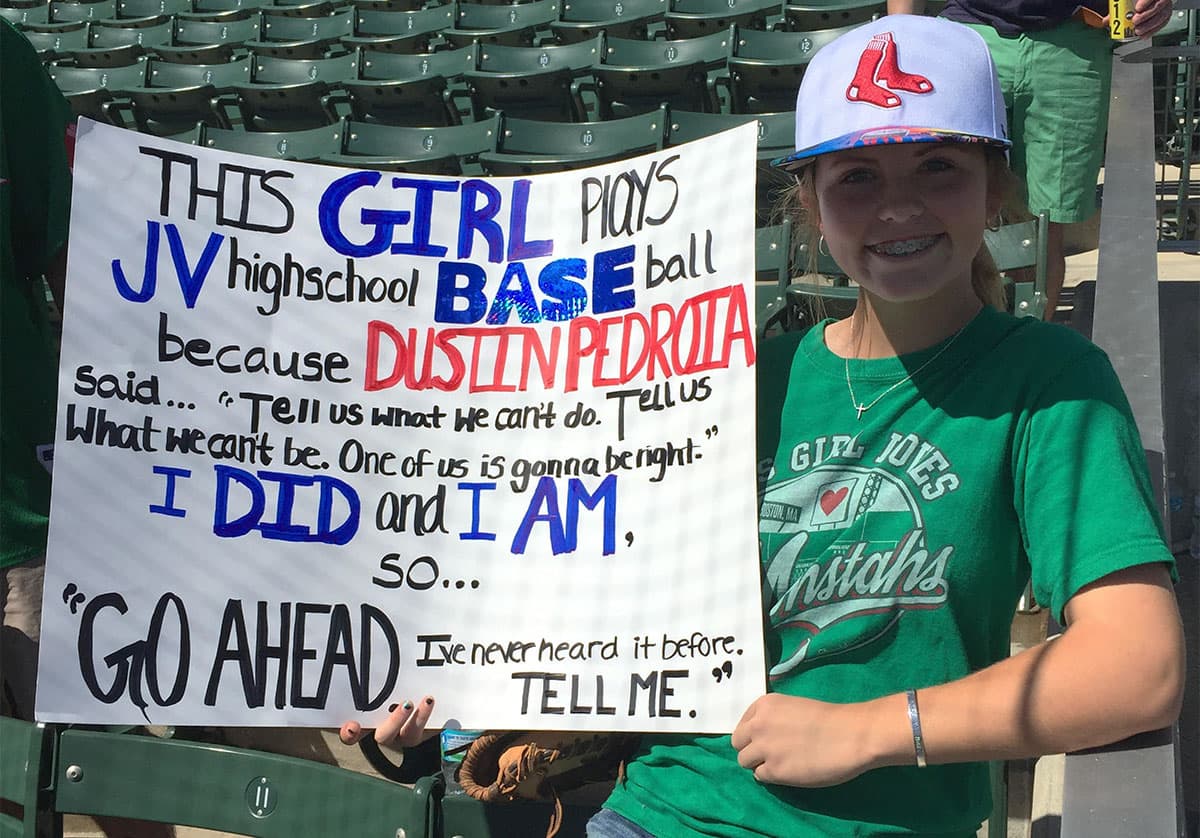 "Dustin Pedroia is my favorite player on the Red Sox. He is very awesome. I follow him all the time, just follow his stats," Sydney said.
But Sydney hadn't gotten the chance to meet him.
"I would love to though. That would be my biggest dream in the whole world," she said.
Sydney was born into a family of Red Sox fans. They moved from Barnstead, New Hampshire, to Lakeland, Florida, in October 2004 — just as Boston was winning its first World Series in 86 years.
She became a softball player. But this year the eighth-grader decided to follow her love of baseball, and the boys' team was the only option.
[sidebar title="Strong(wo)men Can Lift, Too"] A strongwoman who loves pink? Sure. Why not? Only A Game's Karen Given has our profile of Brittany Diamond. [/sidebar]"She tried out and there was no way I could say, 'You're not good enough to be on this team.' There was just no possible way to do that," said Lorne Wheatcraft, head coach of the junior varsity baseball team at McKeel Academy of Technology, a charter middle and high school in Lakeland.
As a first-year player, Sydney comes off the bench. She's a catcher and occasional second baseman.
"The first time she got up, she got an RBI. She helped us win one of our games by hitting a bases-loaded single, scoring a couple runs," Wheatcraft said.
Wheatcraft says the school and the other players have been happy to have a girl on the team, but the teams they play aren't always as friendly.
"We had an away game and the third baseman of the opposing team hollers at me, says, 'Hey, coach. I see you got a girl on the team. Does McKeel not have a softball team?' I said, 'Yeah. We got a softball team.' And he says, 'Well, why doesn't she play softball?' And I said, 'She's got a better arm to first than you do, so don't you worry about it,'" Wheatcraft said, laughing. "And there was nothing said after that."
"There would be nothing that would bring me back to softball because that's not my love. Baseball's my love..."

Sydney Dore
At the ballpark, while I was talking with Sydney, I noticed a woman taking our picture: her mom. Kellie Dore made the more than two-hour drive to Fort Myers — on a school day — so Sydney could see Pedroia. She says her daughter's decision to play baseball came as a surprise, but she couldn't be prouder.
"You know we've pulled up to a couple of high schools for a game, and people have said, 'Oh, you know the softball field is over across the street.' And we're like, 'OK, we're good.' Then they see her with the rest of team and they're like, 'Wow,' " Kellie said. "And it brings in people to watch because she's a girl. It's just, it's very funny."
Those quotes from Pedroia that Sydney wrote on her sign were part of a television ad he did a few years ago, but they are a real part of his story. The former American League MVP is listed at 5-foot-9, has admitted to 5-foot-8 and looks about 5-foot-6. Coaches, scouts and general managers wrote him off time and again because of his size. He likes Sydney's story.
"It's great. I mean, it's one of the reasons why we play and you want to act right is someone's always watching. And hopefully it impacts 'em the right way and it's great to hear," Pedroia said. "If she puts her mind to it, she can do it. And obviously she's doing that, and it's pretty cool."
Sydney got to meet her hero and get his autograph:

I met Dustin Pedroia. How'd your day go? #SoxSpring @RedSox @15Lasershow @MccawleyShawnee @Wally97pic.twitter.com/clxbmjOB4z

— Sydney Levi (@sydneylevi_) March 17, 2015

Her next dream is to make the varsity baseball team and maybe even play in college. Would Sydney switch back to softball, say if it was the difference between getting a scholarship and not getting one?

"I would never just because there would be nothing that would bring me back to softball because that's not my love," she said. "Baseball's my love no matter if I play or not."

Sydney's playing days are far from over. And she's got a very well-known former underdog rooting for her in the big leagues.
This segment aired on March 21, 2015.