John Lucas: Former NBA Player, Former Coach And Recovering Addict
05:42
Play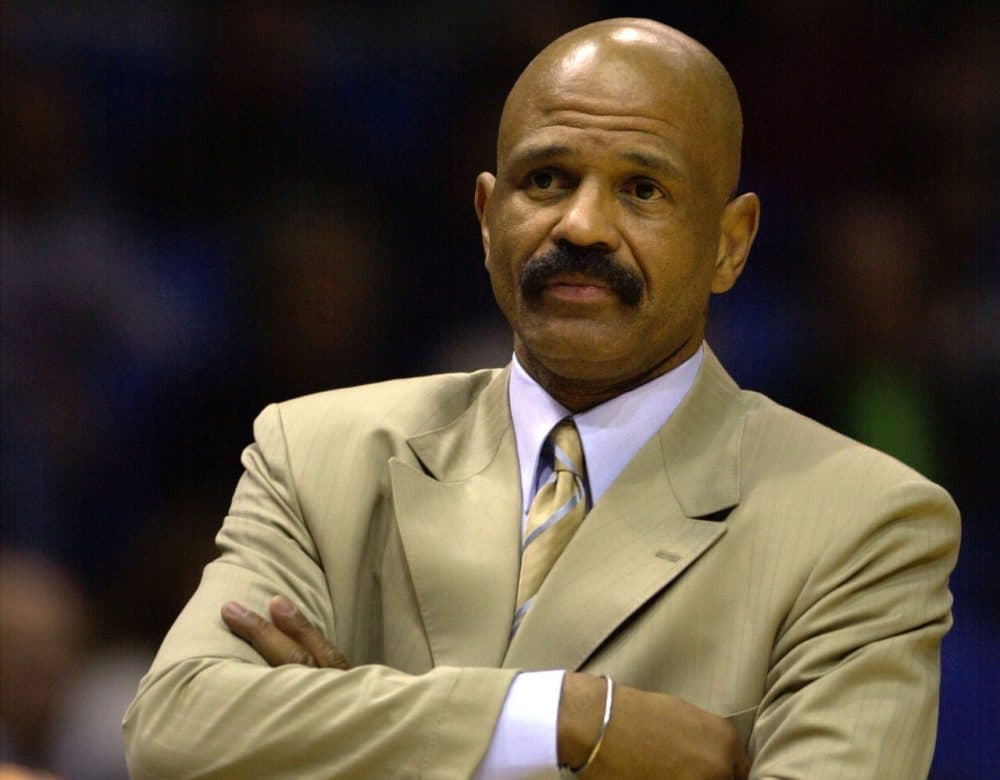 This article is more than 5 years old.
Perhaps as dramatically as any former professional athlete, John Lucas has grown beyond his game. Lucas was an excellent college player at Maryland in the mid-'70s. During his pro career he bounced between teams from 1976 until 1990. Addiction cost him money and time, and it might have permanently ruined his life, if he hadn't found and worked at recovery.
He has since spent an enormous part of his time and energy passing on that recovery, and he joined Bill Littlefield to share his story.
BL: John, for listeners not familiar with your story, I want to start by asking you to describe your struggles with addiction and how it affected your NBA career and beyond that your personal life.
JL: You know, drugs and alcohol made me violate every value I ever had. I was the No. 1 pick in the draft, and once I got to the NBA, Bill, I said to myself "now what?" So I grew up as an adult athlete; I never grew up as an adult. So now, once I'd admitted to having a drug problem, for the last 29 years, I've had to go back and grow up as an adult. And guess what? It's painful. But recovery has been the greatest gift I have ever gotten. It's given me life after basketball.
BL: In 1994, you were a guest on Only A Game -- you were coaching the San Antonio Spurs then. At that time, you told me something about how you had built that team:
"I did it based almost like a 12 step type recovery type of approach. We crushed each other's egos, accepted our shortcomings, believed in something greater than ourselves and learned to care about each other."

If you were to go back to the NBA as a coach today, would your approach be the same?
JL: Absolutely. You know [Gregg] Popovich has said he wants people who are already over themselves. It's the same thing about crushing your ego. You've got to have some kind of belief in your teammate that they'll be there for you. And then lastly is I empowered the players. You know, we had, like, a president. He set the times we would travel. Vice President Sean Elliott — they set rules and fines for the team and I just held them accountable for what they did.
BL: You have earned a reputation for helping players and coaches who are addicts to find recovery, as you yourself have done and are doing. Are there particular people of whom you're especially proud?
JL: All of them. My job is to try to help them move forward so they can help the next one. So all of them that I'm proud of. And those that haven't made it yet, I'm proud of them, too. Hopefully they get a great gift that I got. I hope they get desperate enough that they want to stop.
[sidebar title="After Drugs Drove Him From The NBA, Chris Herren Makes Off-Court Comeback" align="right"]Chris Herren's struggles with addiction cut his NBA career short. Now, the former Boston Celtic educates young people on the dangers of drug use.[/sidebar]BL: John, let's turn to some current basketball matters. The NBA's featured Sunday game is Houston versus Washington. You have a unique perspective on that game because you played for both teams during your career. Washington's John Wall and Houston's James Harden are both All-Star guards. How would a young John Lucas have fared against each of them?
JL: Well, with the rules today, I would've probably've had to be more offensive-minded right off the bat. That would be a big difference. But I look at this year, I really believe James Harden is having an MVP-type of season. And it's been great to see the maturation of John Wall. He's now getting ready to hit his prime and guess what? He's now getting ready to be paid the bigger dollars.
BL: There's another John Lucas in the NBA today. He's your son, he's a guard for the Detroit Pistons. How often you get to see him play?
JL: I don't go to any of his games. That's his life. As a former coach, I don't want to go because then I end up trying to be the coach. I just watch at home, then I can turn the TV off and then have no ownership in that game. Me and my wife can't watch when he gets in the game, because I'm so angry because he only grew to be about 5-foot-10, so when he's in the game people take advantage of him. He can't do things — they post him up, so I look at her. If I'd have married somebody else — now I'm blaming her! I'm blaming her for his height. He's got my last name on the back of his shirt.
But I'm really, really proud of John. He's been a ball boy ever since he was like 6-years-old. It's always been a dream of his to play.
BL: When we spoke back in '94, I asked you about your plans beyond coaching, and perhaps beyond basketball. Here's what you said then:
"Today I'm the coach of the Spurs. How long am I going to coach? I don't think I'm going to coach long. But, you know, people don't say, 'John Lucas, the coach of the Spurs.' They say, 'John Lucas, the first recovering addict/alcoholic to coach a major league team.'  And I hope that I can stay sober so I can give other people the opportunity. But, coaching? I feel like I coached all my life anyway."
Do you still feel as if you're coaching all your life anyway in all sorts of ways?
JL: Yes I do. And, you know, I don't normally share this, but you guys seem to get me to talk about my feelings. When I coached the Spurs, we won 60 and 57 games. And I was miserable. And I was miserable because they were going to win 50 or 60 games without me as a coach. Then I left because I thought I was a coaching genius, and I went to Philadelphia and ended up coaching a team that did not have the talent. I went from like the third-rated coach to the 29th-rated coach in one year — what happened?
Then when I went to Cleveland to coach, it was about getting LeBron James. And then they fired me before we could get to LeBron James. So what I did was started camps for fourth, fifth, and sixth graders at an elite level. Seventh and eighth graders at an elite level. I always say to them: greatness is overrated, but everyone wants a little bit of greatness at some time.
This segment aired on March 28, 2015.