After Drugs Drove Him From The NBA, Chris Herren Makes Off-Court Comeback
Play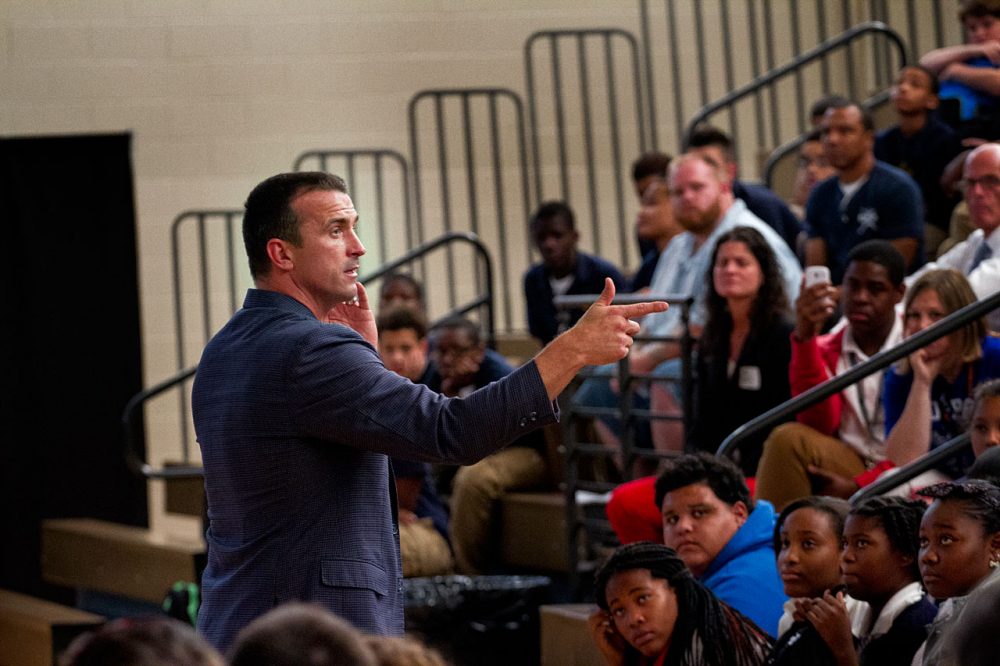 This article is more than 8 years old.
Part of any athlete's story is statistics. When Chris Herren, who was a great high school basketball player in Fall River, Mass. during the early 1990s, speaks to youngsters he trots out a heck of a stat. He talks about how, at one point while he was in the NBA, he was spending upwards of $20,000 a month on Oxycontin, heroin and various other narcotics.
He lays that on the kids in part because during his glory days as the Massachusetts High School Player of the Year and as a McDonald's All-American, most of them hadn't been born. They don't know he played part of a season at Boston College until he was suspended for drug use, and then at Fresno State, where he also tested positive, and then for the Denver Nuggets and Boston Celtics until drugs shut down those opportunities and relegated him to brief, addled stints with teams in China, Turkey and elsewhere.
"I said, 'I'll do [cocaine] once,' and that one try lasted 14 years."

Chris Herren
And when Chris Herren speaks to groups of kids and to older athletes as well, which he has been doing for several years now under the auspices of the Herren Project, they do respond. One of the first places he appeared after achieving sobriety was South Dartmouth, Mass., at the invitation of his former high school teammate, Jeff Caron, who's now the athletic director for the Dartmouth Public Schools. Then, as now, Herren's message included an honest account of his own self-destructive behavior.
"I was a drinker," Herren said. "I smoked pot, but I always said, 'That's where it would begin and end.' Cocaine ... I was scared to death, and I said, 'I'll do it once,' and that one try lasted 14 years."

Jeff Caron remembers how effective that message was.
"There was no focus on anything other than him and his story," Caron said. "Afterwards, I tried to get him a good exit out, because I knew that he still has that celebrity status. Especially, this is six years ago now, he was closer to his playing days and the number of kids lined up to see him afterwards. But it wasn't to say, 'Hey, I saw you play.' It was, 'I'm ready to quit. Here's my drugs. I'm an addict, too.' Crying. Sharing. I wasn't prepared for that."
"Three 14-year-olds have been buried in the last year from popping pills," Herren said, addressing the students. "There's nothing cool about speaking at a school and looking at children who just buried their best friend."

Herren's Troubled Past
Among the chroniclers of Chris Herren's basketball triumphs and wasted years is sports columnist Bill Reynolds. He remembers being concerned about Herren's future in 1994, when some of the most successful college basketball coaches in the country were wooing the high school star.
"[John] Calipari was there one night," Reynolds recalled. "Jim O'Brien was there from Boston College. So after one of those nights, we're driving around, it's a rainy night, and I said, 'Chris, what are you doing? Why don't you just pick one?' The whole process was becoming kind of drawn out. And he said, 'Reynolds, I wish there was a University of Fall River.' And right then, I said, 'But there's not.'"
Reynolds has written two books about Herren. He's helped him financially from time to time and has tried to remain his friend and ally since Herren was a 16-year-old phenom and into the days when his addictions included cocaine, heroin and various other opiates. It hasn't been easy.
"He would show up periodically at the Providence Journal, where I worked," Reynolds said. "And I would walk him around the building once in a while, and there would be tears in his eyes. And he said, 'Reynolds, my kids are in the dark, there's no heat, the TV doesn't work. What am I supposed to do?' And what do you say to somebody like that?"

Making A Difference
Fortunately for Chris Herren, a counselor he met during one of several stints in rehab did know what to say. Or, more likely, Herren had reached the point where he was willing and able to confront the circumstances he'd created.
"A guy told me to play dead," he recollected. "He said, 'You should just vanish, disappear. Tell your kids you died in a car accident. Have your wife explain it to the children. And live your life and let them be.' And I've been sober since he said that."
"'Tell your kids you died in a car accident. Have your wife explain it to the children. And live your life and let them be.' And I've been sober since he said that."

Chris Herren on advice he received from a counselor
"If you listen to him, and I believe him when he says, he's making a greater difference in peoples' lives having gone through that then he ever would have playing basketball," Caron said.
As his opportunities have grown, Herren has found himself addressing not only youngsters but pro football teams, MLB teams, and NBA teams as well. Celtics head coach Brad Stevens, who was present at the Reggie Lewis Center the day Herren spoke there, first met him at a fund-raising event, and feels the pros, perhaps especially the rookies, should hear his message.
"Those guys are just big kids, right?", Stevens said. "I mean they're barely older than some of the high school groups that he talks to. But it's something that young people need to hear, it's something that everybody needs to hear. And also, the idea that he's standing up there talking about it is very redemptive and really inspiring from my point of view. Because here's a guy that, clearly didn't live all the years the way he now wants to live them, but he's telling his story so that other people can learn from it."
Asked afterward about the impact of Herren's presentation, one 13-year-old boy said his step-father drank too much and his biological father was on drugs, and that Herren had encouraged him to avoid both. That wouldn't have surprised Herren, who has witnessed more dramatic responses.
"I see kids crying," he said. "I see parents sitting on the side of a 19-year-old boy who's in the middle of nodding out because he's high on heroin and the mom wants him to hear the message. I've seen quite a bit over the last four years doing this. The beauty of this story, in my opinion, is that there is a whole lot of struggle, but there's a whole lot of hope. Kids might not get it today, but maybe some boy or girl 15 years from now remembers the speaker that came to their school."
Watch Chris Herren give a TEDx Talk at UMass Amherst:
This segment aired on October 11, 2014.