Tim Kurkjian's Strange And Surprising Opening Day Stories
Play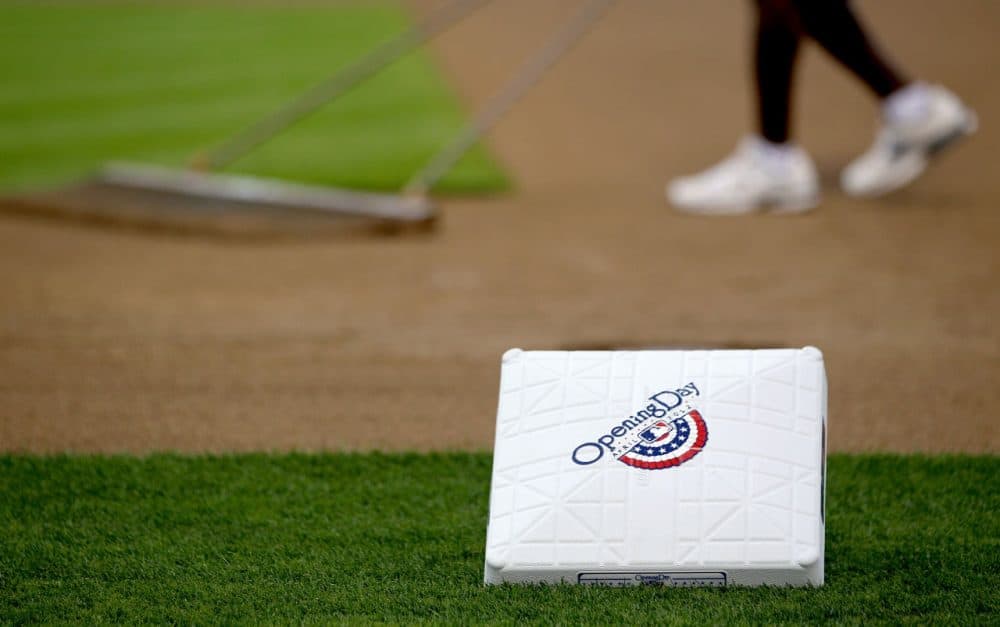 This article is more than 7 years old.
Twenty years ago this week, Major League Baseball got back to work after the longest interruption in MLB history.
ESPN's Tim Kurkjian joined Bill Littlefield to share his memories of the start of the 1995 season and some other Opening Day gems.
BL: That strike began in August 1994, wiped out the World Series, finally ended on March 31, 1995. That pushed Opening Day back to late April. And many fans didn't exactly welcome baseball back with joyous celebration. What are your memories of the beginning of that season?
TK: I was just thrilled to have baseball back because I wasn't quite sure what to do with my life without it, which shows you how pathetic my life is, and I remember just thinking, "Great, let's play again." But there was a part of me that said, "Wow, it's not even a real season. It's not a full season."
But you're right about the fans, Bill. A lot of them took a really, really long time to come back. And it's another lesson, Bill: you cannot not play baseball because the next time we do this, people aren't going to come back.
BL: What's the most memorable Opening Day reception you've ever seen for a player new to a team?
TK: When I covered the Orioles, the ovation that Cal Ripken used to get every single opening day was as good as just about anything I've ever seen. I'll also never forget when Paul Molitor, he went back to Milwaukee for the first time, and people cheered him as a member of the Blue Jays, which is something that should have been done.
But then they started booing him, and I never could understand how you could boo Paul Molitor who got a ton more money and a much better opportunity to go to the Blue Jays. Fickle fans — never quite understood them.
BL: Tim, there's a reason for the expression "mid-season form" because it can take players a while to get their grooves back, even after spring training. But what are some of the more unusually outstanding Opening Day performances in baseball history?
TK: We had a no-hitter on Opening Day by Bob Feller in 1940. That's the first and only no-hitter on Opening Day, which is the answer, of course, to a trivia question: what's the only time that every player on a team started the game with the exact same batting average that they ended the game? Because everyone was .000 going in and at the end they were all .000 again. That was a pretty good Opening Day performance.
A fellow named Tuffy Rhodes in the mid-90s hit three home runs on Opening Day against Dwight Gooden. And Tuffy Rhodes finished with like 20 homers in his Major League career and he had three on Opening Day. That was pretty hard to do. And I was at the game when Glenn Davis of the Astros got hit by a pitch three times on Opening Day. That had never happened and hasn't happened since. And poor Ron Karkovice of the White Sox once went 0-for-5 with five strikeouts on Opening Day. That's first and only time that's ever happened.

BL: Is there a particular Opening Day game about which you're especially excited this season?
TK: I'm very excited to see Max Scherzer pitch for his new team. The Nationals have one of the great rotations maybe that we've seen in the last 30 or 40 years. That's how good it could be. And I'm also really looking forward to opening night in Chicago because it's the Cubs and the Cardinals, which is a great matchup historically. Whitey Herzog always told me, "It's the best matchup in baseball history. Better than Dodgers-Giants and better than Red Sox-Yankees." It's at Wrigley Field and it's on Sunday night, and I'll be there so I'll be paying attention that one a little bit more than the rest.
This segment aired on April 4, 2015.