Duke's Tyus Jones: From WNBA Practice Team To The Final Four
03:45
Play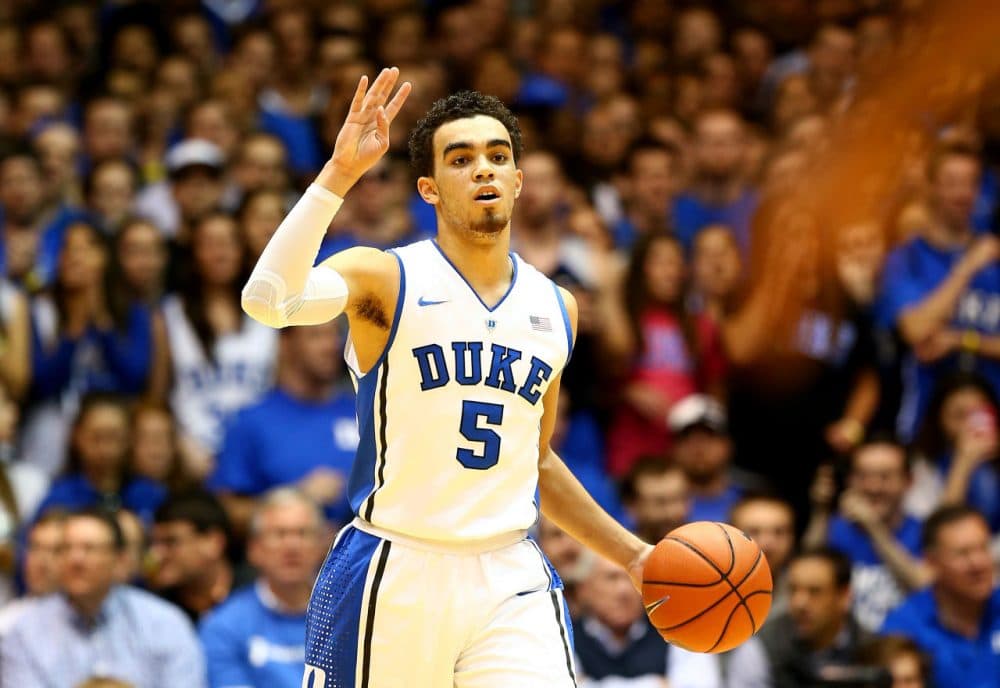 This article is more than 6 years old.
Tyus Jones is a freshman on the Duke men's basketball team. This season the 6-foot-1 guard has averaged nearly 12 points, 6 assists, and 4 rebounds per game.
Jones played a critical role in helping the Blue Devils reach this weekend's Final Four — the biggest stage in men's college basketball — and part of his training for this moment came playing against women.
Sports Illustrated's Andrew Lawrence wrote about Jones' journey to one of college basketball's most storied franchises.
BL: In the WNBA, as in many sports leagues, teams will use so-called scout teams to imitate opponents during practice. Tell us how Tyus Jones ended up on the Minnesota Lynx scout team while he was still in high school.
He came in with such mutual respect for them, and they really liked that.

Andrew Lawrence, Sports Illustrated
When [Jones] arrived, it wasn't with the expectation that he would practice, but once he kind of got the gist of what was going on, they totally gave him the greenlight to come on and he was off and running from there.
BL: The Lynx aren't just another WNBA team. What kind of competition was Jones up against in these scrimmages?
AL: During the time that he practiced with them, which was from 2011 to 2013, the Lynx were arguably the WNBA's best and deepest basketball team. Two guards in particular, Lindsay Whalen and Seimone Augustus, are the highly decorated college players — multiple WNBA All-Stars — who would pretty much lead that team to two championships in that three-year span. So this was really steep competition.
BL: In your article about Jones, you can tell how much the staff and players on the Lynx respect and admire him. He's only 18 years old at this point. What is it about Jones that has left such a lasting impression on the players on the Lynx?
[sidebar title="A Conversation With Coach K" width="630" align="right"] Duke's Mike Krzyzewski tells Bill Littlefield about coaching LeBron, joint reconstruction and college basketball's one-and-done phenomenon.[/sidebar]AL: Well, I think it's two things: No. 1. I think it's because he came in with such mutual respect for them, and they really liked that. He was also very advanced from an IQ — a basketball IQ — standpoint. He was watching a lot of them, and he was watching a lot of just the league in general, and he was skilled enough to be able to execute it in the same way.
So it's really they — very rarely do they get a chance to practice against a player of his caliber, and that still stands out even now.
BL: Just out of curiosity, are these guys on the scout teams playing against WNBA players paid for their work? 
AL: They are not. I mean, the most they can hope for is maybe a couple free lunches in between. But basically, they're playing for the love of the game. I mean, the Lynx treat their practice players better than most in that when they win, the practice players are guaranteed they will have their own float in the celebration parade to sort of bask in the moment and throw beads from and just sort of enjoy themselves. But other than that, there's no promise of getting rich doing this.
This segment aired on April 4, 2015.