Rocky Balboa, Hall of Famer? Voting Underway For Fictitious Athlete Hall Of Fame
04:54
Play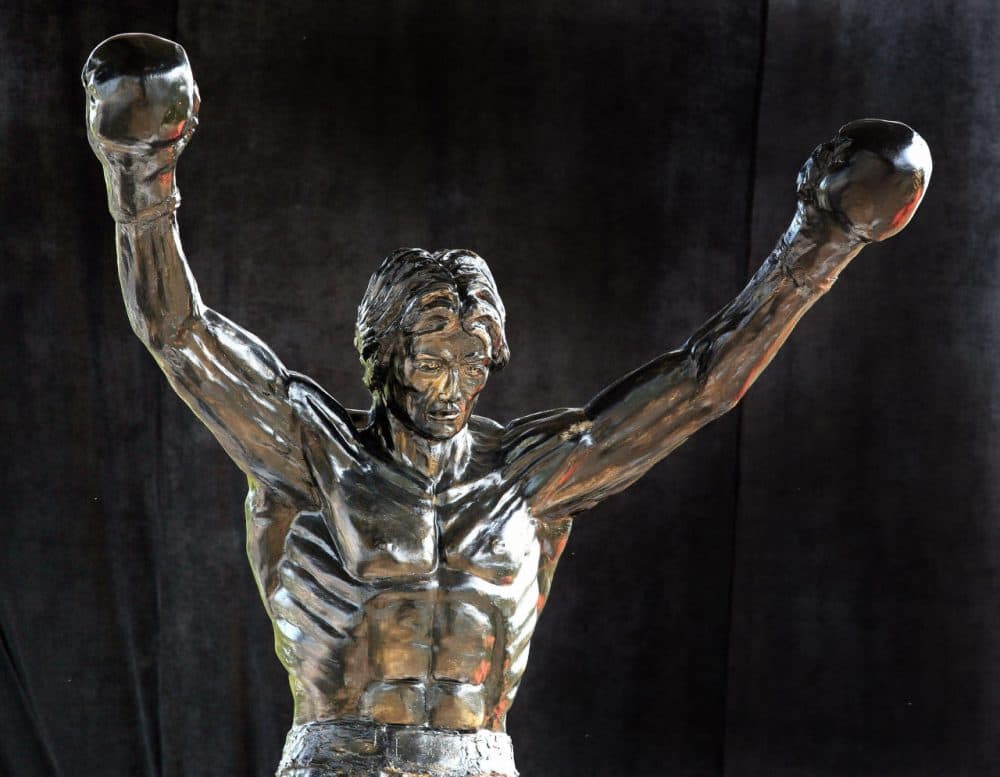 This article is more than 6 years old.
Perhaps you are a sports fan and a fan of fiction, too.
If so, there is a Hall of Fame entirely for you!
This hall includes Crash Davis, also Rocky, and Roy Hobbs,
The Hanson Brothers may soon join, though they were sort of slobs.
For a preview of who might actually be inducted next into the Fictitious Athlete Hall of Fame, Bill Littlefield spoke with the man who came up with the idea for the institution, Kirk Buchner.
BL: There are many Halls of Fame dedicated to the enshrinement of actual athletes who've done actual athletic things. Why is there a need for a Hall of Fame fictitious athletes?
KB: There's probably not — just an inspiration I came up with one day.
BL: I think we're off to a terrific start. Forgive me if I have missed an important bit of pop culture — it wouldn't be the first time — but what exactly were the athletic contributions of Al Bundy and Homer Simpson?
KB: Al Bundy scored four touchdowns in a high school football game and never let anyone forget it. Homer Simpson had multiple occasions with athletics. He represented the U.S. in mixed curling, he was a little league coach, he was also the star of his company softball team
BL: I want to give our audience a sense of why I think one guy on your list should be a shoo-in:
That, of course, is famed fictional race car driver Ricky Bobby from "Talladega Nights." Do you like his chances?
KB: He was a semifinalist last year, he's a semifinalist again this year, with a higher percentage of the vote. Yeah, I do!
BL: Sam "May Day" Malone is a semifinalist, Kirk. By the time we meet him in "Cheers," Malone is long-retired. We haven't seen him pitch. We have to rely on guys like Norm and Cliff for tales of Malone's talent. Maybe that should be a concern …  
KB: Absolutely it is. And I think what really doesn't help "Cheers," and specifically that character — I'm going to take it that you're a "Cheers" fan?
BL: Well I used to be — wasn't everybody?
KB: I would think so — it was a great show back in the day. But for whatever reason, "Cheers" just isn't on reruns that much anymore. So, I think that hurts him more than anything.
BL: I'm not surprised that Rocky Balboa was in the first class of inductees. Likewise Crash Davis and Roy Hobbs as well. Did you hear from either Sylvester Stallone, Kevin Costner or Robert Redford about the characters they played achieving immortality?
[sidebar title="Class of 2015 Says Thanks" width="630" align="right"]In actual Hall of Fame news, Only A Game's Doug Tribou caught up with some of the inductees of football's 2015 Hall of Fame class.[/sidebar]
KB: No, but I got politely turned down by Carl Weathers, whose agent informed me that he no longer wants to discuss being Apollo Creed anymore.
BL: He was Apollo Creed in four "Rocky" movies, right?
KB: Apollo Creed in four "Rocky" movies, Chubbs Peterson in "Happy Gilmore," a former football player. Like it or not, Mr. Weathers, you're Apollo Creed — and that's not the worst thing to be.
BL: Finally, Kirk, is there an actual hall? I mean, is there somewhere that I would be able to go to see the likenesses of the honorees? Plaques, perhaps? Or at least publicity stills?
KB: Well, since this is a fictitious hall celebrating fictitious athletes, I decided it's a fictitious hall too. Long story short, I don't have the funds yet. But I like my first answer a little bit better.
BL: Well, you just wait until people hear about this on Only A Game and the money starts rolling in, my friend.
KB: I will cut you in on that, sir.
This segment aired on May 2, 2015.