Sand Volleyball's Popularity Spikes Upward
05:43
Play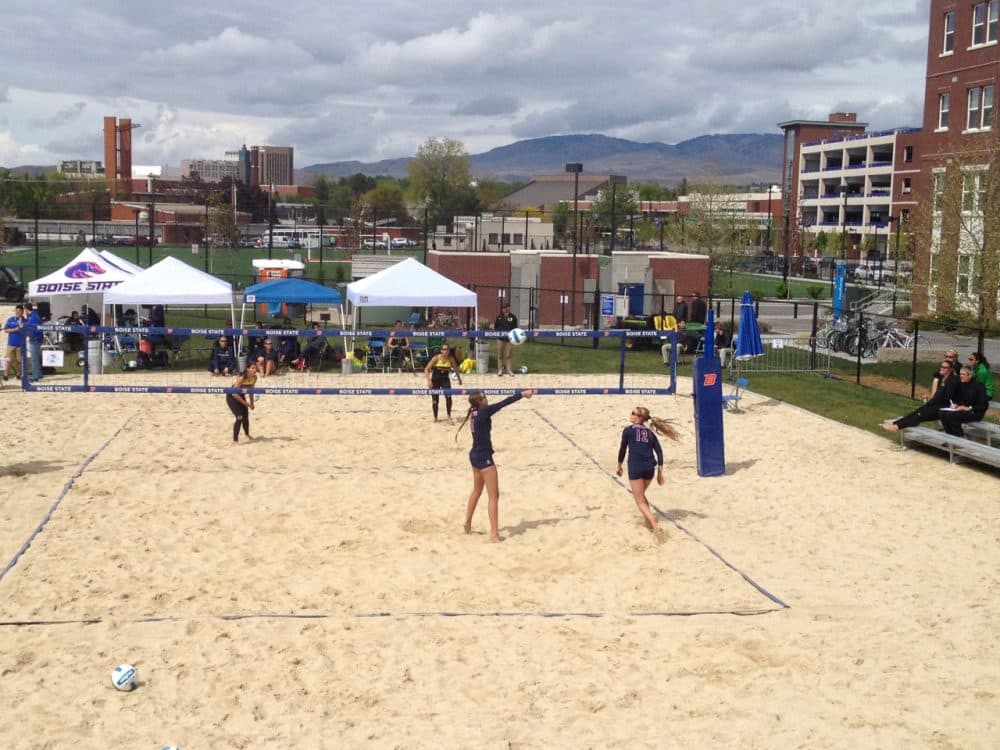 This article is more than 6 years old.
This is a story about a sport that — pardon the pun — has seen its popularity spike ever since August 2004. That summer, U.S. fans watching the Athens Olympics saw a young athletic duo from California dominate their beach volleyball competition en route to a gold medal.
Misty May-Treanor and Kerri Walsh-Jennings repeated in 2008 in Beijing. Four years later, they won gold again in London before retirement ended their run. With every win, the sport's profile grew.
"What they did to put the sport of beach volleyball on the map is legendary and I think will never be repeated," said Kathy DeBoer, executive director of the American Volleyball Coaches Association. "You have a whole generation of little girls growing up watching beach volleyball as an Olympic sport — very, very popular sport played at a very, very high level."
Data from the Sports and Fitness Industry Association show huge growth in the number of young people playing sand volleyball  -- as it's called by the NCAA — during those gold medal runs. Between 2007 and 2013, sand volleyball added 1.4 million participants. Among girls ages 6 to 24, participation jumped by 45 percent.
More Training = Better Programs
When the NCAA begins to manage the sport next year, more than 50 schools will offer sand volleyball. It's the fastest sport to go from the NCAA's "emerging sport" list to obtaining championship status.
Today, that popularity is showing up on college campuses in places like Los Angeles, Tallahassee, and Honolulu. Last week in Boise, teams from Boise State, Oregon and Arizona played round-robin matches in cloudy and cool weather. For Boise State junior Taylor Murphey and her teammates, it was their first-ever home match.
"My freshman year I would have never thought that I'd be playing sand the last two years I was in college," Murphey said. "I hadn't even really watched a whole lot of sand besides Olympics, so when Shawn told us 'Yeah we're getting a sand program,' it was completely different because I had no idea what other teams had sand programs. And from last year to this year, there are so many teams that have been added."
Shawn is Murphey's head coach, Shawn Garus. He's the person most responsible for convincing administrators at a school known for football and blue turf that sand volleyball made sense. Garus is also the school's indoor volleyball coach and sold the idea as a way to improve the indoor program.
"What is it worth to get five more weeks of a competitive season to any sport? What would football do for five more weeks of training? What would basketball do for five more weeks?" Garus said. "Sand volleyball offered us an opportunity to add a sport but use the same athletes, use the same coaching staff. For a very minimal budget we could get five more weeks of training that's gonna make us a better program overall."
In 2013, Boise State became the first school in the Intermountain West and Northwest to announce it was adding a sand volleyball program. Garus said last fall's indoor volleyball campaign was the school's best in two decades, and he thinks the sand volleyball schedule last spring was one reason why. Sophomore Laney Hayes says the sand game has improved her skills.
"It's more of a strategic game, I guess, and it's harder to jump," she said. "So, when I get back into the indoor game I'll be jumping higher, I'll be reading people better because it's a lot more shots out here. So, it definitely helps indoor game, and there's overlap."

Championship Status
In Tucson, the University of Arizona last year made sand volleyball its first new sport in 16 years. Now, the program is ranked in the top 10 and head coach Steve Walker is taking calls from other schools — some in cold weather states — who are also interested in adding sand volleyball.
"I think the Midwest programs want to add. I really do," Walker said. "I've fielded inquiries from a number of Big Ten schools on a facility and how to add. You know, Nebraska has an underground facility. I could see us picking up five to 10 schools annually. And I don't see it slowing down any time soon."
Next year, the NCAA will take over management of the sport from the American Volleyball Coaches Association. By then, more than 50 schools will offer sand volleyball. It's the fastest sport to go from the NCAA's "emerging sport" list to obtaining championship status.
One big reason for that is affordability. In South Carolina, the College of Charleston spent just $40,000 to add sand volleyball. Factor in Title IX gender equity benefits, and many schools find the sport too attractive to pass up.
That growth is exciting for DeBoer, but she admits it also has her a little worried. She says if sand volleyball grows too quickly, it risks thinning out the talent pool in the indoor game and volleyball could "cannibalize" itself. But overall, she's excited about the future of sand. When asked if it will ever be able to compete with higher-profile spring sports like college softball, DeBoer doesn't hesitate.
"I think it's gonna happen. I think it's not only possible, I think it's destiny," she said. 
This weekend, eight teams are vying for the collegiate national championship in Gulf Shores, Ala. The NCAA will decide this fall where it will host next year's championship.
This segment aired on May 2, 2015.