Ken Dryden On Canada's Stanley Cup Rivalry With The U.S.
06:15
Play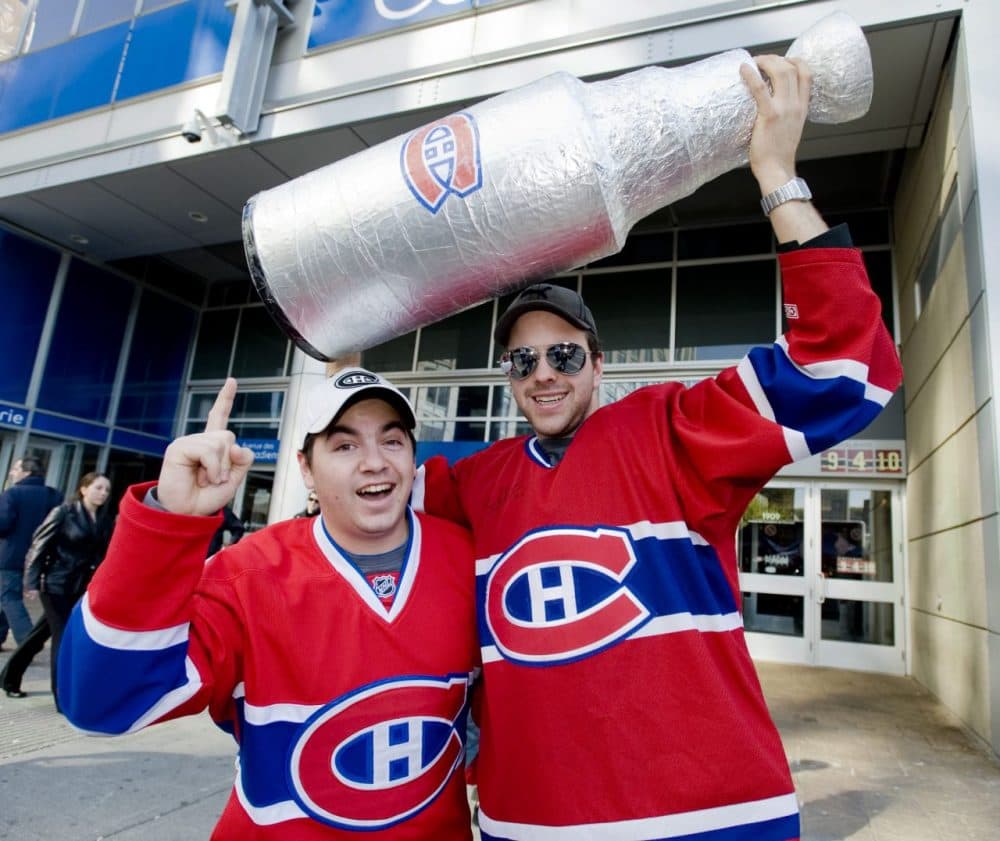 This article is more than 5 years old.
This story is part of Only A Game's "Rivalry Show," which looked at stories of rivalries in sports.
In a recent op-ed for the Wall Street Journal, Hall-of-Fame goaltender Ken Dryden reminds us that the Stanley Cup was donated by an Englishman to the Dominion of Canada back in 1892.
Dryden, who became an attorney and served in the Canadian Parliament after his extraordinarily successful career with the Montreal Canadiens, points out that over the past 22 years, no Canadian team has managed to reclaim that Stanley Cup. It's been in Florida. It's been in southern California. But it hasn't been back home.
Only A Game's Bill Littlefield spoke with the six-time Stanley Cup champion.
---
BL: Obviously fans in any city root for the team in that city. Edmonton fans root for Edmonton, Toronto fans root for Toronto and so on. But after 22 years with the Cup not coming home to Canada, I wonder if all Canadian fans would root for any Canadian team that would have a shot? 
KD: Well that's a very good question, and I think that there's kind of an assumption that's what would happen. But I think that among real fans, would a Canadiens fan hope for the Leafs if they were in the Stanley Cup Final? I don't think so.
I think, in fact, in many ways it would almost be the last team you would hope for. I'm sure it would be the same in Calgary and Edmonton.
But I think that when you do lose for 22 years, you start to notice and you start to wonder why. So maybe there might be a little bit of a weakness for that great rival that might make it to the Finals.
BL: Maybe Canadians can take some solace from their Olympic success. The men's team has won two straight gold medals. The U.S. has not recently been much of a force. Does Canada still see the U.S. as a rival at that level in the men's teams?
KD: I am more speaking for myself in this, and I don't know about the majority of Canadians. I want the final to be Canada against Russia. That, I think, is the deepest, most profound rivalry that exists in hockey. Now the U.S. is doing better than Russia is in most of the international competitions now. It still feels a bit strange to me.
Winning against Russia is an immense triumph, and losing is an extreme disappointment. Winning against the U.S. feels like less of an extreme triumph, and losing feels more like an embarrassment. And it's not — I mean the U.S. is getting really good, but that's what it feels like.
And I think it goes into the kind of larger relationship that Canada has with the U.S., that we often think of ourselves as sort of a lesser version of what it is you are, as opposed to an important version of what we are.
BL: Maybe the best rivalry between the two countries is in women's hockey. Canada leads in World Championships, 10-6, and in Olympic gold medals, 4-1. But as women's hockey gets better around the world, I wonder whether that rivalry will endure. 
KD: I think it will. It is a great rivalry. I mean every year, they not only make the Finals against each other, but it is absolutely a toss up as to who is going to win.
BL: In the context of this week's theme, I found myself wondering if the CFL and the NFL are rivals in any significant sense. And all I could come up with was the fact that a few players have left the CFL to find success in the NFL — Warren Moon and Doug Flutie, for example — and that probably irked their supporters in Canada. Am I missing something?
KD: There's such a difference in the level of the two that when somebody like Warren Moon becomes a star in the U.S., instead of it irking Canadians, I think it's a point of pride. And it's actually the same in terms of baseball and basketball. When Steve Nash was a great star for so many years and won the MVP, that was a point of terrific pride for Canadians. [And] Andrew Wiggins, the new Rookie of the Year.
BL: Plus Neil Young!
KD: Well I mean, yeah the singers: I mean Joni Mitchell, Neil Young, on and on. The writers: Margaret Atwood, Alice Munro. When I was at Cornell, I would interrupt every conversation to tell them that that person was a Canadian. That's what we do. The happy part of it is that there are just more and more names. Whether its Arcade Fire or — its endless now and that's wonderful.
BL: You were an impossibly successful goaltender at Cornell and for the Montreal Canadians, with whom you won the Stanley Cup six times. I wonder, after you'd won it five times, did you even bother to take the Cup back to your hometown again? Or was everybody tired of seeing it?
KD: Well that tradition didn't start until the mid-1990's, so I never had my day with the Cup. But a couple of years ago, I persuaded the Hockey Hall of Fame to allow me a day with the Cup.
So in 2012, I had the Cup at our old house that we grew up in, where our parents had paved our backyard so all of the neighborhood ball hockey games could take place there. We had one final game there in our backyard with all the original players, their kids, their grandkids — with the Cup, with one of the original nets and the other net was a net from the last game at the Montreal Forum. And we had the anthem singer of the Toronto Maple Leafs singing the anthem.
BL: I wish I'd been there. 
KD: [Laughs] It was great.
This segment aired on June 27, 2015.