Islanders Fans Say Goodbye To Their 'Wonderful Dump,' Nassau Coliseum
06:19
Play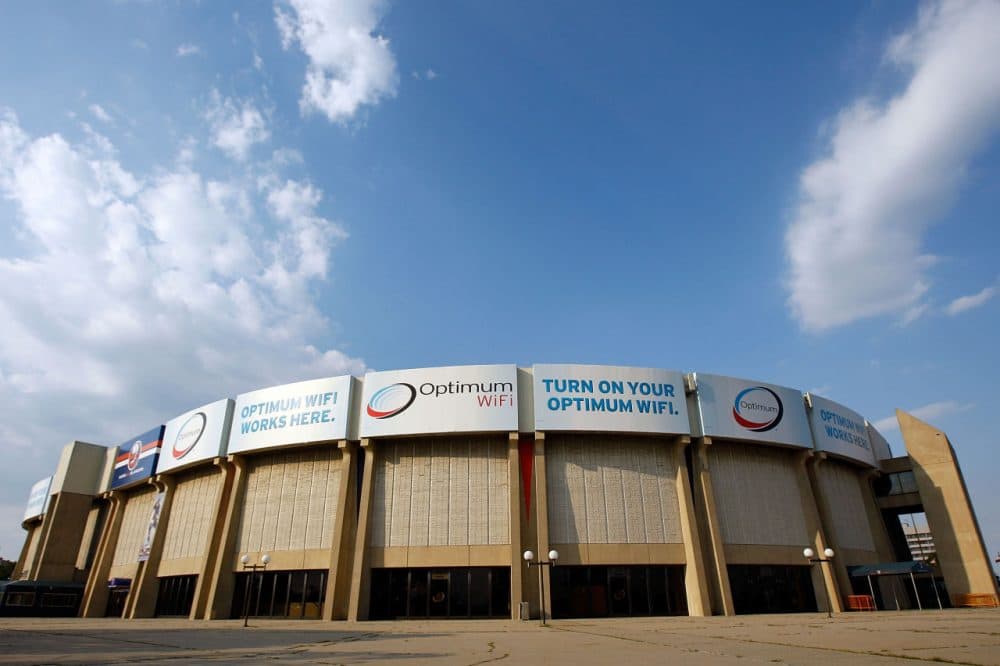 This article is more than 6 years old.
The NHL playoffs began on Wednesday. The New York Rangers are early favorites to go all the way, but their counterparts across the East River and just down the Long Island Expressway are probably the sentimental favorites. The New York Islanders are playing their final games at Nassau Coliseum.
The squat, concrete stadium in the middle of a parking lot on Long Island was the center of the North American hockey world from the 1980 to 1983, when the Islanders were winning four Stanley Cups in a row. But next season, the team will move to the Barclays Center in Brooklyn.
'A Wonderful Dump'
One way Islanders fans define themselves is by what they're not: they're not Rangers fans. David Martin, the diehard Islanders fan who drove me to a recent game at the Nassau Coliseum, breaks it down.
"It's a dump. But it's a wonderful dump because it's intimate."

David Martin, Islanders fan on the Nassau Coliseum
"You know that I'm a Rangers fan," I say.
"Oh, my gosh, I didn't," he says. "Oh, my word. I guess I should retract everything I said — except I won't."
The Rangers play in world-famous Madison Square Garden in the middle of glamorous Manhattan. The Islanders play in a stadium that looks like a food dish for a giant sad dog.
"It's a dump," Martin says. "But it's a wonderful dump because it's intimate. There's not a bad sight line. So when they move to Brooklyn, that's all gonna be lost."
Islanders fans love the Coliseum because it's theirs. It's where they've gone for decades to root their hearts out for their team.
Martin has been coming to the Coliseum for 12 years — since he moved to New York from Virginia, got a job in publishing and fell for the team. He's my guide, so, with Mozart playing in his 2005 Toyota Corolla, I ask him to describe his fellow fans.
"People from Nassau and Suffolk — I'm trying to think how to put it," he says. "I mean, strong Islanders. Blue collar. People with mustaches, grizzled."
The Mozart continues to play in the background.
"I actually know what she's singing about at this moment," he says.
"What's she singing?" I ask. "What's the emotion she's expressing?"
"Well, she is asking for her daughter back," Martin explains. "Her daughter has been --"
"Oh," I say, "just like you're asking for your Coliseum back for the Islanders."
"I'm choked up a little bit right now 'cause, Jim, you're right," he says wryly. "I think what's so touching, in a way, is that when Mozart wrote this opera 240 years ago, it was for this moment. It was entirely for this moment."
'Woody's Gang'
It's an afternoon game between the Islanders and the Anaheim Ducks on a Saturday in late March. In the early going, the home team has chances to score, but they have trouble putting the puck in the net.
After two periods, the Islanders trail the Ducks, 3-1, so we head to a hot dog stand, where we run into Frances Hoey, a fan from Floral Park who's been coming to Islander games with her dad since she was a kid. Her heart belongs to the Coliseum.
"It's special," she says. "Everything — tailgating. And when they go to the Barclays Center, they won't be able to do that anymore. Everyone's gonna' be taking the train."
[sidebar title="Luring The Dodgers To L.A." width="630" align="right"]Brooklyn will get a new team when the Islanders move to the Barclays Center next season, but back in the '50s the borough lost the Dodgers to L.A. We hear from the L.A. City Councilwoman behind the move.[/sidebar]"You tailgate before games?" I ask.
"Uh, we have a couple of times," she says.
"What do you do when you tailgate?"
"Well, you know," she says.
By "you know," she means, "we drink beer and eat meat in the parking lot," a tradition dating to the Coliseum's opening in 1972. It's now the second oldest building in the National Hockey League. The oldest: Madison Square Garden.
Islanders owner Charles Wang proposed to spend $3.4 billion to renovate the arena and develop the area with restaurants, sports facilities, a luxury hotel and a 60-story tower designed to look like a lighthouse. But when local opposition killed the deal in 2011, Wang basically took his team and said, "I'm outta here."
At the Islanders' game that afternoon, Martin and I ran into one of the Coliseum's regulars.
"Here's Sparky," Martin says. "Oh my God, Sparky!"
"Sparky?" I ask. "Oh, the mascot!"
Sparky The Mascot is a monstrous hybrid of man-body and dragon-head who roams the Coliseum, high-fiving the proletariat — although reports say he might not be cool enough to make the move to Brooklyn. Fan Blaise Ognebany doesn't care: he likes Sparky and Sparky's home.
"Ah man, I'm gonna miss this place," he says. "I'll tell ya that right now. Great place."
"What are you going to miss about it?" I ask.
"Just the history of it," he says. "New York Islanders. I mean, when I was a kid, that was it, man."
His older brother Woody got him hooked on the team.
"He was a big Islander fan, very big Islander fan," Ognebany explains.
The brothers went to games together until Woody passed away in 2001. On this day, Blaise Ognebany is sitting with his family in section 317, holding a sign that says, "Woody's Gang."
"We're here with like 60 people today," he says. "We're actually here because, you know what it is, we lost my brother in 9/11 in the World Trade Center."
"So, in a sense, is this one way to keep his memory alive?" I ask.
"Yeah, we keep his memory alive. This was his love."
The Islanders mount a mini-comeback in the third period but end up losing, 3 -2.
Saying Goodbye
"OK, the game is over," I say as I get back in the car with Martin. "Is this your swan song for the Nassau Coliseum?"
"Yeah, I think, sadly, I don't know if I'm going to be coming to any more games," he says.
"This might be the end for you."
"Yeah, absolutely. When you put it like that."
"Do you want to say goodbye to the building over there?"
Martin breaks out into song: "My friends, the end is near --
"OK," I say, "That's enough."
"Do we we have the rights to that?" Martin asks.
The Islanders will play at least two more games at Nassau Coliseum. New York is facing the Washington Capitals in the opening round of the NHL playoffs. 
This segment aired on April 18, 2015.