The Woman Who Lured The Dodgers To L.A.
07:40
Play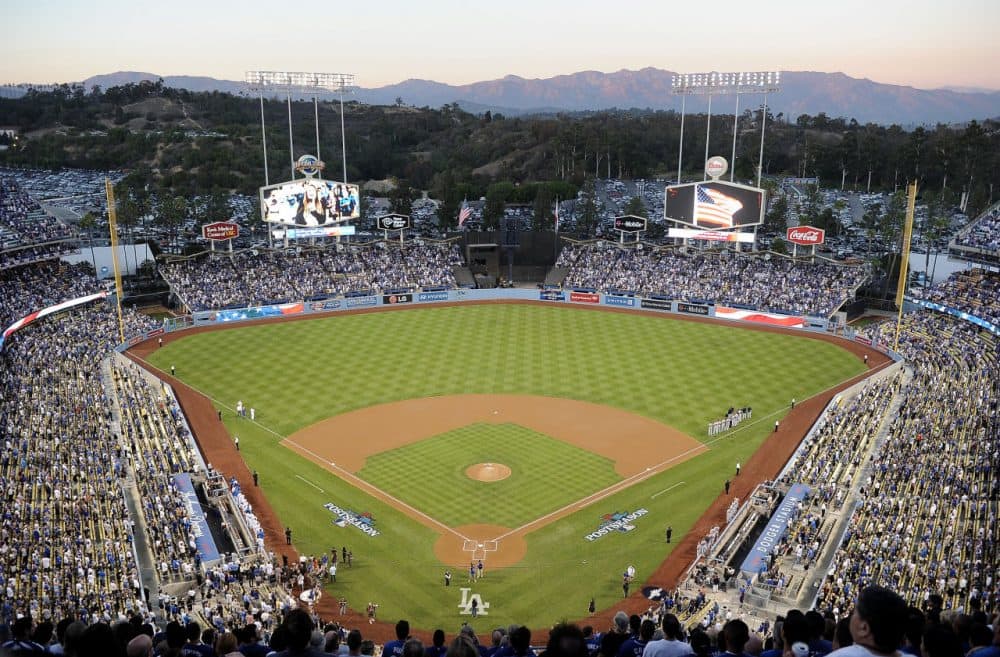 This article is more than 6 years old.
When the Dodgers left Brooklyn in 1957, they broke hearts throughout the borough.
Everybody knows that. Even people who weren't born when Brooklyn's beloved Bums deserted Ebbets Field for a ballpark-to-be-named later.
And everybody who's researched the matter knows that the villain of the piece was Walter O'Malley, the Dodgers owner who led the team's fans to believe he was interested in building a new ballpark in Brooklyn while he was secretly plotting to relocate to sunny and profitable L.A.
But — as KPCC's John Rabe found out — that's not the whole story. 
Getting To 'The Big Leagues'
"I want you to know that we picked these seats out when the stadium was being built, and I have paid for my tickets every single year," Roz Wyman tells me. "I never got one free ticket in my seat." And they're good seats. Former Dodgers manager Tommy Lasorda and basketball great Magic Johnson sit nearby.
I figured it would be good for business. ... People wanted sports.

Roz Wyman, former L.A. City Councilwoman
"It's always an exciting day, Opening Day. Haven't missed one," she says. "But I'm getting a little old for this. I'm going to be 85 this year."
Wyman was elected to the L.A. City Council in 1953. At 22, she was not only its youngest member ever but only its second woman and Jewish to boot. She and her husband were big Democrats. Hubert Humphrey stayed at their Bel Air home, and the studios would send over first-run films to screen in their living room.
I asked Wyman to take us back to the 1950s to give us a sense of what Los Angeles was like at that time.
"We were not really important, believe it or not, Los Angeles," Wyman says. "But I figured it would be good for business. And, you know, we had a survey that was taken for recruiting people in the better companies, and one of the questions they asked on the survey: 'Do you like sports?' "Do you like arts?' And we got overwhelming — they told us, the business community — that people wanted sports. They wanted the arts."
"But what would having a baseball team do for the city?" I ask. "What did you think then?"
"Well, one, it showed you were in the big leagues with the East and the East Coast," Wyman says. "There was no team west of the Mississippi at that time. The St. Louis Cardinals were the furthest."
Making The Pitch
Meanwhile, Dodgers owner Walter O'Malley was trying and failing to replace the team's stadium in Brooklyn — Ebbets Field. That's when the L.A. City Council made its pitch in a letter sent on Sept. 1, 1955:
Dear Mr. O'Malley,

On numerous occasions the City Council has voiced its interest in obtaining a major league baseball club for the local populous. We have been authorized by the Los Angeles City Council to discuss the matter with you.

Very truly yours,

Rosalyn Wyman
At first, O'Malley rebuffed Wyman, but his relations with New York kept getting worse, and she kept pressing. And in 1957 he made a helicopter flight over Los Angeles, looking for stadium sites. He found Chavez Ravine, a former Mexican-American hillside neighborhood. It had been cleared for a public housing project that was never built and had easy access to the freeways.
"So when we went back to talk to him, he was willing to talk to us at this point," Wyman remembers. "And one other thing: the last day when I went to talk to him about coming — you know, I had all these great arguments about how good it would be for our business — but I said to him, 'You will not have rain outs!' Now how many years have they been here? We've had 17 rain outs only. It's a record beyond belief."
In September of 1957, the city officially voted to make a deal with the Dodgers, and the day after, Walter O'Malley's PR man, "Red" Patterson, gave the team's response:
"In view of the action of the Los Angeles City Council yesterday and in accordance with the resolution made with the National League on Oct. 1, the stockholders and directors of the Brooklyn baseball club have today met and unanimously agreed that the necessary steps be taken to draft the Los Angeles territory."
A Full House
After more politics, more votes and several court rulings, Dodger Stadium finally opened in 1962. But more than 50 years later, there's one thing that still rankles Wyman, the sole surviving politician from that time.
Over the decades, the Dodgers became a shorthand for the destruction of the Chavez Ravine neighborhood, when in fact, the Dodgers came to town after the land was vacant except for a few holdouts.
"That story is 150 percent wrong," she says. "And before I die, I keep telling people, and people will say, 'Oh, I didn't know that.' The Dodgers, when O'Malley looked at this, [the land] was clear, practically. There was nothing here. [His visit] was five-to-eight years later."
[sidebar title="The Story Of 'India-no-place'" width="630" align="right"]Like L.A., Indianapolis has used sports to boost its economy.[/sidebar]On that first Opening Day in 1958, more than 78,000 Angelinos turned out to see their new baseball team. The Boys in Blue have won five World Series since, and in March, Forbes put the team's value at $2.4 billion — making it one of the world's most valuable sports franchises.
And Roz Wyman? She served three terms on the city council before losing her seat in the mid-60s. But she still never misses Opening Day.
"Do you feel proud," I ask, "that you played such a major role in bringing the Dodgers here?"
"Yes I do," she says. "I feel very proud. It's really great, in my opinion, because I didn't want to leave office and feel [in] those 12 years I didn't achieve something that was important for my city. And I'm very proud of the fact that we have a full house today."
This segment aired on April 11, 2015.