Has The Wrong Coolidge Been Added To The Nats' Presidents Race?
04:06
Play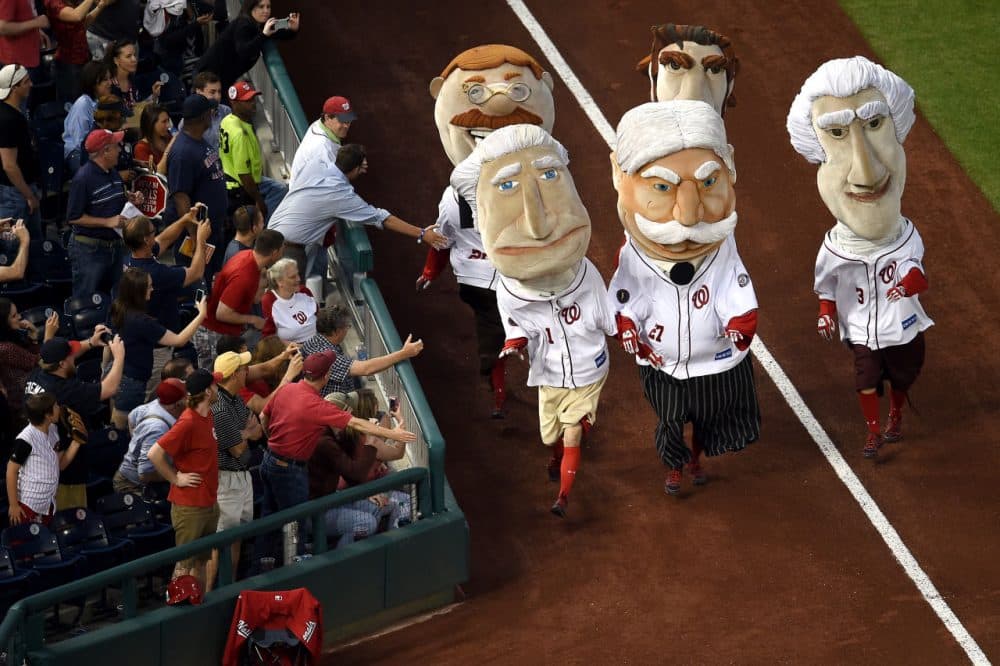 This article is more than 5 years old.
There's a new entrant in the Presidents Race. No, we're not talking Republicans and Democrats looking toward the 2016 election. It's the fourth-inning mascot race at Washington Nationals home games we have in mind.
Calvin Coolidge joined that race on Friday night, running alongside Teddy Roosevelt, George Washington, Thomas Jefferson, Abe Lincoln and William Howard Taft.
I spoke earlier this week to Valerie Camillo, chief revenue and marketing officer for the Nationals. Camillo said the mascot based on the 30th president took his opportunity seriously.
There are a lot of reports of [Coolidge] leaving games in the fourth inning or the seventh inning or as soon as a little bit of rain came along.

Ben Freed, the Washingtonian
"He's been putting in wind sprints," she said. "We've got him his Under Armour shoes. He's getting ready for the big day, so he's working out. And we've seen him in some preliminary trials. He's doing pretty good. He's holding his own."
Coolidge owes his chance at mascot glory to a partnership between the Nationals and White House Historical Association. The group, which releases a new Christmas tree ornament each year, has decided this year to honor Silent Cal — and that provided Coolidge with the opportunity to join the race at Nationals Park.
Given the company he's joining — particularly George Washington and Abraham Lincoln — Calvin Coolidge's credentials for elite mascot status might be questioned, but then again there's Taft, perhaps the least likely runner among all past presidents. Anyway, Camillo was quick to defend Coolidge's inclusion in the race.
"There's a lot of reasons why Coolidge was a good fit," she said. "Coolidge was the last president that threw out the first pitch for a Washington-based team in a World Series, so maybe he'll bring us some luck."
Maybe so. Still, doubts persist, at least in the mind of the Washingtonian's Ben Freed, who joined Bill Littlfield to discuss his diligent investigative work.
BL: Ben, what did you learn about President Coolidge's passion for baseball?
BF: Well, I found that it didn't really exist.
BL: Coolidge did attend some games, though, right?
BF: He did attend a lot of season openers and he attended several games of the 1924 World Series that the Washington Senators won. But whether or not he actually saw the Senators ever win a game? Well maybe not.
There are a lot of reports of him leaving games in the fourth inning or the seventh inning or as soon as a little bit of rain came a long. So did he stay for all nine innings or extra innings? It doesn't look that way.
BL: Let me just get this straight, Ben: President Coolidge attended World Series games and left early?
BF: Many of the games he attended he did not stay for the whole time, which is mediocre fan etiquette in the regular season, I think a lot of people would say, and in the playoffs is unthinkable.
BL: However, his wife Grace Coolidge was a serious baseball fan, right? We can document that.
[sidebar title="Presidential Pastime: The Politics Of Golf" width="630" align="right"]Golf has become the go-to presidential sport. Find out how the tradition began.[/sidebar]
BF: Grace Coolidge might be the biggest baseball fan to ever live in the White House, and I know that includes a guy who owned the Texas Rangers. By all accounts she stayed through games. She stayed through rain delays. She kept the box score for herself. She got peanuts from the vendors.
And she was a lifelong fan. This was not just a temporary fixation for her while she was First Lady. She actually got a lifetime pass from the American League and went to games for pretty much all her life.
There's a letter from her sometime in the early 1950s when she wrote a friend, "I venture to say that not one of you cares a hoot about baseball, but to me it is my very life."
BL: What a wonderful quotation, that's terrific. So, I wonder if your willing to go far enough out on a limb to say that the Nationals really got it all wrong: it should be Grace Coolidge racing in the fourth inning.
BF:I think they should swap Coolidges. Calvin Coolidge had plenty of accomplishments as president but being a real baseball fan was not one of them.
This segment aired on July 4, 2015.