Tom Watson, A Man Of Many Titles, Winds Down His Career
07:19
Play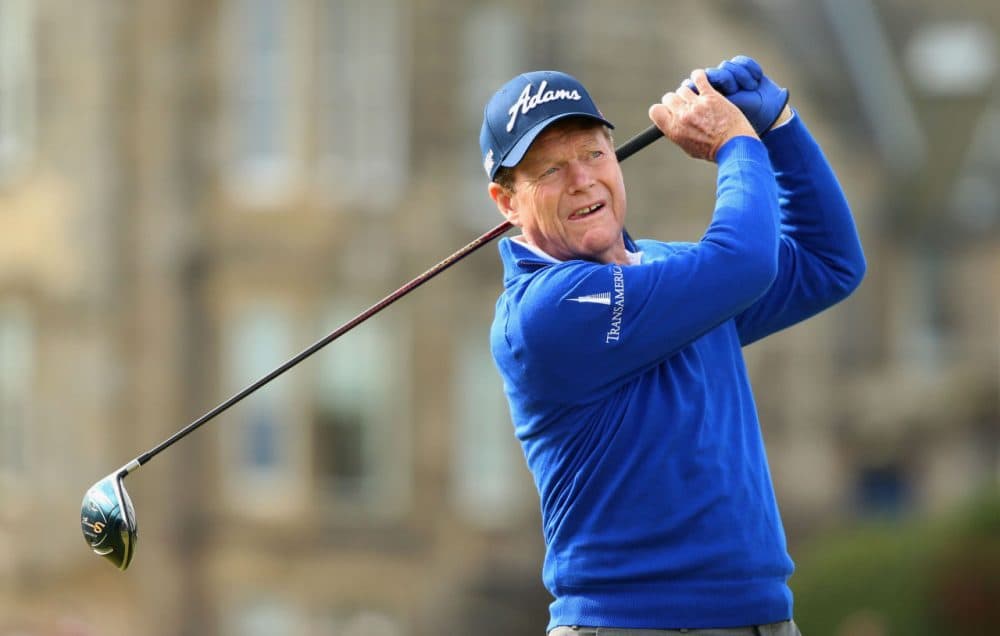 This article is more than 6 years old.
This story is part of Only A Game's "Time Show" which examines how the passage of time influences sports.
Tom Watson won 39 times on the PGA Tour, including eight majors. He's a six-time PGA Player of the Year, and he has won 13 times playing on the over-50 Champions Tour. He was elected to the PGA World Golf Hall of Fame in 1988.
Watson joined Bill Littlefield to reflect upon his impressive — but not yet over — career.
BL: Tom, you just played your last British Open, which you have won five times. You've announced that the 2016 Masters will be your last at Augusta National. I'm not sure if you have plans to actually retire, but it's clear that you've chosen to wind down your career. Tell us a little bit about that decision.
TW: Well, the decision is pretty easy about Augusta. It's a golf course that's just too long for me anymore. I've struggled the last eight or 10 years with the added length to the course. The kids hit the ball a lot farther than the old guys do. It just makes it very, very difficult to compete on a course like that, so it's time. It's time for me to leave another spot for somebody who's more capable than I am to compete there.
BL: Back in July, you said, "The toolbox is kind of half-empty with the tools I used to be able to play good golf. Those tools are missing right now, or ... pretty rusty — rusty like me." When did you begin to come to that conclusion?
TW: Well, in the past couple of years my distance has left me. You have to be able to carry the ball 270 to 280 [yards] in the air, and I can't do that anymore. Up until about two years ago, I could carry it 260 in the air and now it's just 250, so that distance tool has left me.
At age 14 beating the men, it either gave me a big head or it gave me the dream that maybe someday I could be the golfer that I wanted to be and compete against the likes of Arnold Palmer, my hero, and beat the villain, Jack Nicklaus, at the time.

Tom Watson
BL: You first learned golf when you were just 6 years old, so you've been playing the game for over six decades. You've witnessed a lot of change over that time. Talk a little bit about some of the differences between the game of golf 20, 30, 40, even 50 years ago and the games as it stands now? 
TW: Well, let me preface that by saying the game significantly hasn't changed: You use tools to hit a 1.68-inch golf ball into a 4.25-inch hole. And it really hasn't changed. Now, if you put it in another context, the equipment with which we play now — compared to the hickory shafted clubs with all the torque and the different swing you had to put on that; then the invention of the steel shaft, which made it a lot easier to hit the ball straighter; to the invention of the golf balls that go farther and straighter and higher — the game has changed somewhat in that respect. And they've adequately lengthened the golf courses to try to keep the scores pretty much in comparison to the scores of yesteryear.
But it seems after this last week at the PGA when Jason Day shot 20-under-par to win the PGA [Championship] on a very difficult Whistling Straits course that maybe there is something to [the claim] that the game has changed significantly with the invention of new equipment.
BL: You know, as I was getting ready for this conversation, I thought I might perhaps ask you for your most memorable moment from your decades of competition, but I'm going to take a wild guess and I'm going to say that it might have been your chip from the Pebble Beach rough to birdie the 71st hole of the 1982 US Open:
Describe what that moment was like for you when you edged Jack Nicklaus to win that tournament for the first time.
TW: Well, the U.S. Open is the tournament that I always wanted to win the most. I had won the British Open. I had won The Masters, and I hadn't won the PGA or the U.S. Open, but the U.S. Open was the prime tournament that I wanted to win. My dad always was a U.S. Open aficionado. He knew the names of all the great champions from year one in 1895 on, and I grew up with that. To win it was the most important thing in my life — in my career — is to win the U.S. Open. And when I chipped that lucky chip in and it propelled me on to win, it was maybe the most special moment in my career.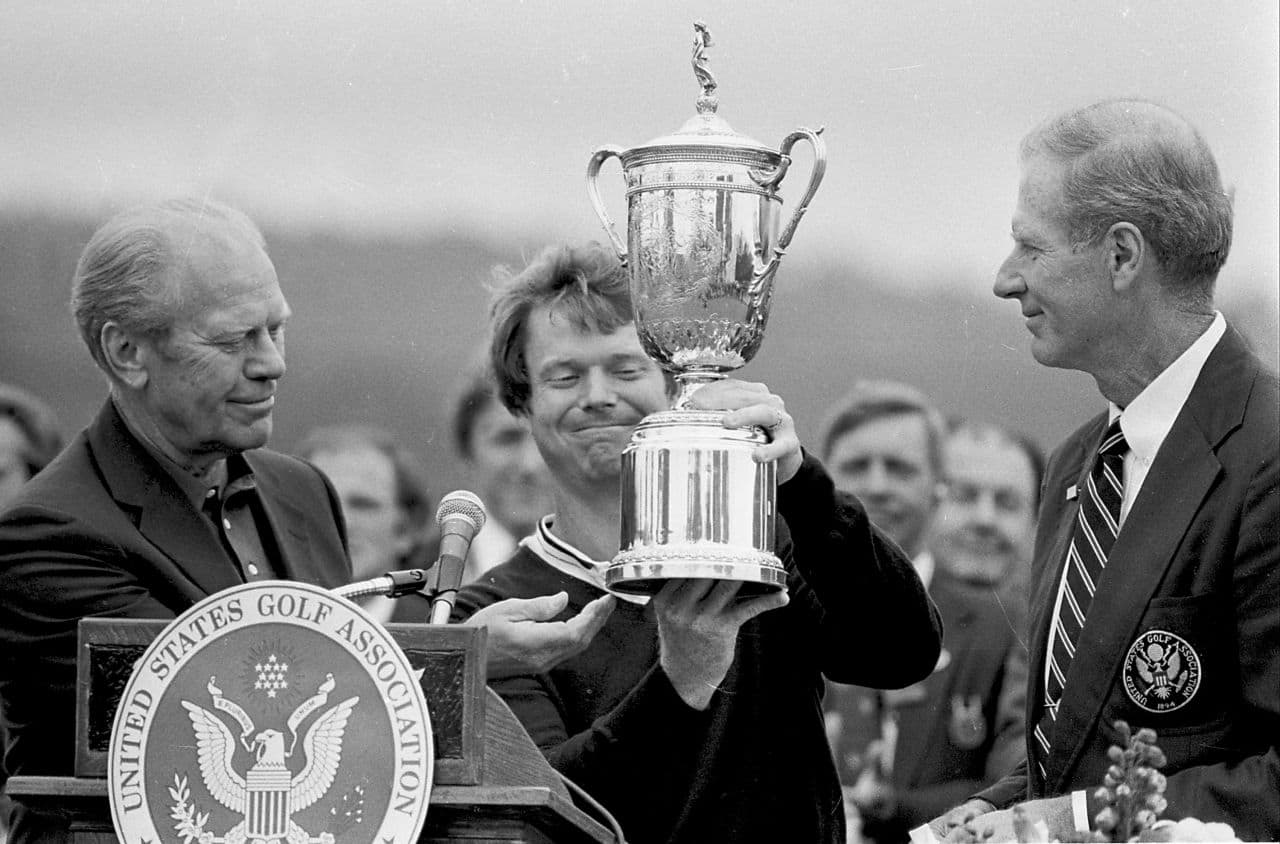 BL: Do you have other favorite memories of particular tournaments or rounds or rivals?  
TW: I do. Actually my favorite memory — and I blogged about it — is when I was 14 years old. I loved the game and I played some golf here in Kansas City against the men when I was 13, and then at age 14, I entered into and played in the Kansas City Men's Match Play Championship. I got into the finals against a man by the name of Bob Devine. He had me three-down after 19 holes, and I ended up winning 4-and-3. And at age 14 beating the men, it either gave me a big head or it gave me the dream that maybe someday I could be the golfer that I wanted to be and compete against the likes of Arnold Palmer, my hero, and beat the villain, Jack Nicklaus, at the time.
BL: Well, what about today's golfers? As you look sort of at the tournaments today, are there particular young golfers you think are especially good for the game?
TW: Well, right now, I think the professional game is in the best shape it's been in years. When you look at Rory McIlroy and what he's done over the last three years and then what Jordan Spieth did this year — [it] was the best from a scoring standpoint in the history of the game, and then you include Jason Day who was the best golfer never to win a major championship until this last week at the PGA — you have three golfers right there [who] have the platform to carry this game on for the next decade and for a long, long time.
BL: In addition to your golf career, you have been quite active as a businessman and as a philanthropist. When your competitive career does end, will you focus on those things or are there other projects with which you're going to become involved?
TW: Well, I've always enjoyed trying to teach the game. Through our First Tee program here in Kansas City, we reached out to over 2,500 kids in summer programs, and you add another 5,000 to 6,000 kids in the winter programs in schools. Trying to promote the game, trying to get the kids interested in playing the game — we have a real problem with that.
The time spent on social media and the cell phones has taken away the time that kids used to be able to spend on sports and, in particular, golf. Golf takes quite a long time to play. We have to really address this seriously and try to get kids out to play and have fun playing. And that probably means shorter sessions to get them out to the golf course to play one or two or three holes. PGA, the teachers, the golf professionals, they have to carry the ball and get to the kids, and through their parents, to get on the golf course, to get out there and enjoy the game, learn the game, so that we have golfers for the future.
BL: I'm told that you have a degree in psychology from Stanford. I thought maybe you would be out there offering psychoanalytic services to golfers who had the yips.
TW: I need one for myself.
This segment aired on August 22, 2015.