No Sibling Rivalry Here: Katie And Michael Ledecky
05:34
Play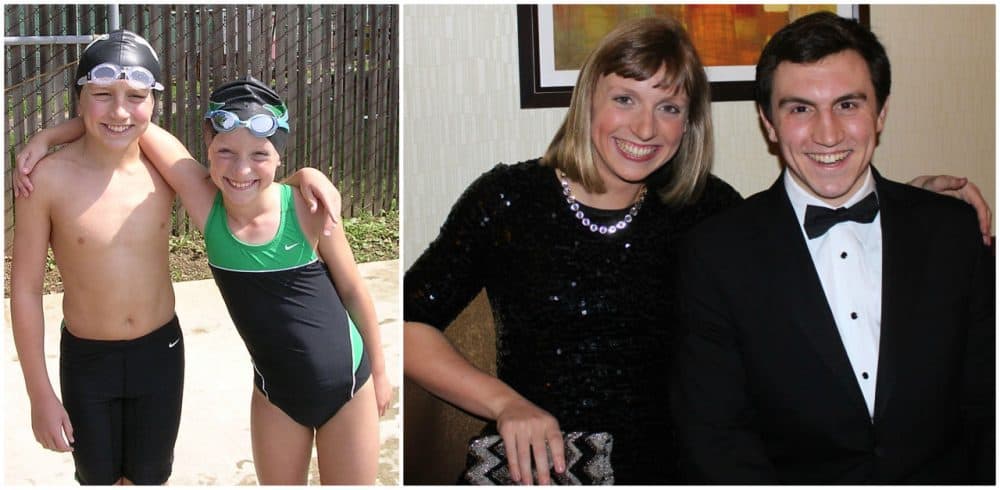 This article is more than 6 years old.
Katie Ledecky. With the 2016 Summer Olympics in Rio less than a year away, it's a name you should get used to hearing. Earlier this month, the 18-year-old swimmer won five gold medals and set two world records at the world swimming championships in Russia. She also became the first swimmer to sweep the 200, 400, 800 and 1500-meter freestyle.
If you watched any of Ledecky's races, you may have noticed the camera pan to a young man in the stands pumping his fist in the air. That's her older brother Michael.
The Ledecky siblings joined Bill Littlefield to talk about their close relationship and their earliest days in the pool.
BL: Michael, I'm going to start with you. What was it like for you to watch your sister compete in Russia?
ML: It's always a thrill. I've been on these international trips since 2012 when she broke in at London, and it's always just a highlight of my summer. I love watching her swim. She always finds some way to surprise us every time. This year was no different.
I think if I didn't have my brother swimming with me, I don't know if I would have loved it as much as I did and still do.

Katie Ledecky
BL: Katie, what do you think: is your brother your No. 1 fan?
KL: I'm my brother's No. 1 fan. It's been great to always have his support and my family's support throughout the years. They've always been there for me and they've always been at my meets cheering me on. I always try to pick them out in the stands before each one of my races. So it always means a lot to have them there and to share all of these great moments and memories that I know I'll have for the rest of my life.
BL: I understand that your brother gave you your start in swimming. I'm not sure how that would work, but tell me about that.
KL: When I was 6 years old and my brother was 9, my brother wanted to join a summer league pool and a summer league swim team. So we joined the Palisades Pool and became Palisades Porpoises on the swim team. We loved our first summer of swimming there and we decided to join a year-round swim team.
And I swam with my brother throughout that and always followed him to the pool and wanted to be in the same group as him in everything. I just always enjoyed swimming with him and I think that's how I really found my love of the sport. I think if I didn't have my brother swimming with me, I don't know if I would have loved it as much as I did and still do.
BL: Michael, I don't know if this happened while you and Katie were still Palisades Porpoises, but do you remember the first time Katie beat you?
ML: Oh, that's a good question, Bill. It was pretty early on, I think, unfortunately. I think the pattern was for awhile that she'd always beat my personal best that I had made the preceding year, so that would go on for a while. Even though we were three years apart in age, she was maybe one year behind me in swimming. And then I think by the time she was in high school, she was catching up and beating me in the longer events and now I don't think I can beat her in a 25-[meter race].
KL: I bet he still could.
BL: Oh Katie, you're sweet. That's very sweet.
ML: Nah, no. That's very kind of you, Katie.
BL: Michael, Katie was 15 when she won a gold medal at the 2012 Olympics. That was the summer before you started at Harvard, where you now cover sports for the student newspaper and call men's hockey games on the radio. How often did you find yourself watching that 2012 race on YouTube while you were supposed to be in class?
ML: I would tell my friends at The Harvard Crimson that I'd maybe watch that race almost once a day. It really pumped me up and got a smile on my face. It was a good procrastination tool, I guess, in a way, but since it's a long race — yeah, maybe Katie should have picked a shorter event, so I wouldn't being wasting so much time in school watching her swim.
BL:  Katie, you could have advised him to just skip to the end of that 12-minute video, right? I mean, then he could have seen you win.
KL: Yeah, he was there live, so I don't know what he was doing --
ML: I usually skip to the end.
KL: I totally understand where he's coming from. I think I had to watch that a few times right after probably, probably every day for a month after that just to kind of let it sink in.
BL: Katie, as a terrifically successful competitor, I don't know what your relationship is these days with sports writers in general but do you ever get a chance to read Michael's stuff?
KL: Oh, for sure. Whenever I wake up early for early-morning swim practice, I always check The Harvard Crimson website and see if he has a new article up. I'm probably the first to read it in the morning, so as I said, I'm his biggest fan.
BL: Katie, I understand that after competing in Rio next summer you plan to swim at Stanford. You preserved your NCAA eligibility by opting not to turn pro after the 2012 Games in London. Tell me a little about how you came to that decision?
KL: It never really seemed to be a choice for me. I think I always knew I wanted to swim collegiately and have that experience. I've heard so many great things about competing in the NCAA, and that's something I've just always wanted to do. I think it's the best decision for myself. I think that way I will continue to improve. There's a great swim team at Stanford. I think I can just really see myself studying and swimming as a student-athlete at Stanford University.
This segment aired on August 29, 2015.