'Saban' Sheds Light On College Football's Premier Coach
08:07
Play
This article is more than 5 years old.
Measured by national championships, wins and certainly by salary, Nick Saban is today's most successful college football coach. He has been celebrated — even idolized — by fans of the schools where he has coached, at least until he has left and then he has been reviled.
In "Saban: The Making of a Coach," Monte Burke writes about the man to whom success has been so unsatisfying that after his team won the national championship, he called an old friend to ask, "Why don't I feel happy?"
Burke joined Bill Littlefield.
---
Highlights From Bill's Conversation With Monte Burke
BL: Let's start with that phone call after LSU, coached by Nick Saban, won the 2003 national championship. What does that question — "Why don't I feel happy?" — tell you about Nick Saban?
MB: I think it says everything about him. It's a cliché, but he's a man who enjoys the journey and not necessarily the destination. He appears, when we watch him on television or we see him at a press conference, he appears to be a very unhappy man. He gets red-faced. He yells at his players. He is demeaning to reporters.
But he is very happy actually when he is deeply involved in the minutia of running a football program, whether that's managing his assistant coaches or his players or watching that 10th hour of recruiting tape. That is what really makes him very happy.
BL: Saban's story starts , perhaps, with his father who, apparently, was never satisfied with anything anybody was doing, at least that's the way I read it.
MB: There's a caricature of the 1950s, 1960s father as being kind of overbearing and unrelenting, and, in the words of Terry Saban (Nick's wife), "Big Nick," as he was called, was 100 times that. He never was satisfied with any effort his son gave. And his son was a good kid. He was a National Honors Society kid. He played sports. He did pretty much everything right, but he could never please his father. His father really demanded, I guess, an impossible perfection from his son.
His father also happened to be his first football coach, and Nick Saban would throw a touchdown and run over to the sideline and his father wouldn't say congratulations or good pass; he would say that spiral was a little wobbly and your footwork was all messed up.
And to me, I think one of the more revealing quotes in the book is from one of Nick Saban's best childhood friends, and he said, "Because of that pressure that his father put on him, I really thought this kid was either going to go crazy or become a great success." And I think the reason that the latter happened is because he sort of learned how to adapt his behavior and not worry about how to please his father, how to reach that impossible perfection and he learned how to embrace and love the steps taken in pursuit of that, which to a certain degree he's done on a bigger level everywhere he's coached — that's his sort of philosophy; that's what's now known as "the process."
BL: Saban characterizes himself as a great recruiter rather than a great football strategist. Besides the history of coaching winners and getting guys into the National Football League, what has Nick Saban got that other college coaches lack when he goes to visit a potential recruit?
Another thing I think that separates him is the homework he does on these recruits and their families. I mean he talks to everybody. He talks to their teammates, their coaches, their aunts, their uncles. One former assistant coach of Saban's told me that one time they went into a recruit's living room and he knew which brand of chewing gum this recruit chewed, so I think these recruits are impressed that this man who is so famous now has spent this much time paying attention to them.
---
Bill's Thoughts On 'Saban: The Making Of A Coach'
Nick Saban is like the other guys coaching football teams at the universities that most lavishly support and most passionately value the game, only more so.
[sidebar title="An Excerpt From 'Saban: The Making of a Coach'" align="right"]Read an excerpt from "Saban: The Making of a Coach" by Monte Burke.[/sidebar]According to Monte Burke, who wrote this biography without Saban's assistance or approval, the coach's chronic inability to celebrate or even acknowledge his team's numerous successes stems from Saban's relationship to his father, "Big Nick." Coached by his father when he was a Pop Warner quarterback, Saban heard only about his shortcomings, even as the team piled up win after win. According to Burke, Coach Saban is committed to something he calls "the process," and in that commitment there is no room for satisfaction, let alone celebration. Every win becomes a new enemy, because it carries with it the potential for complacency.
Nick Saban has said he doesn't think anybody should write a book about somebody he doesn't know. This would put contemporary biographers of such people as Abraham Lincoln and Karl Marx in a tough spot, and Saban has little reason to complain about Burke's book. The author finally has no problem with the notion that in order to be a successful coach at the highest level of college football, a man has to be driven, even monomaniacal. He finds it unremarkable that Saban used to interrupt his own press conferences in order to confess that he was neglecting his wife and children. That, as they say, is why he and the other most highly regarded coaches are paid the big money. As Burke points out, Nick Saban is currently making about $7 million a year, or about 70 times as much as the governor of Alabama.
This segment aired on September 26, 2015.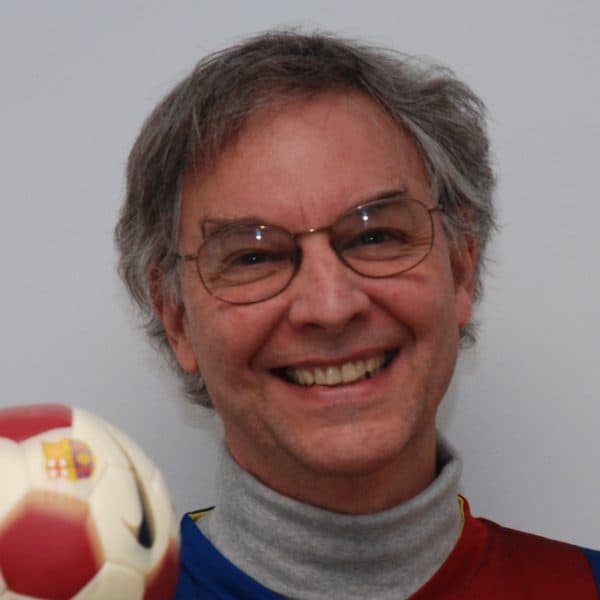 Bill Littlefield Host, Only A Game
Bill Littlefield was the host of Only A Game from 1993 until 2018.