The Gospel Of Tony Franklin: Tempo, Tempo, Tempo — And Sharing
Resume
On a recent Tuesday afternoon, the members of the Minnechaug High School football team in Wilbraham, Mass. ran through a practice. And there was a lot of running involved, a lot of stutter-stepping around cones and some passing, too. And plenty of encouragement.
In at least one respect, the practice reflected the way Minnechaug plays. Nobody was standing around. Everybody was involved. Quarterback Kyle Trombley wouldn't have it any other way.
"I mean, the tempo of it, the fast pace, I've never seen anything like it before," he said. "It was kind of hard to learn at first, but now that we got the hang of it, it's awesome."
Kyle Trombley's coach, Steve Allosso, couldn't agree more. For years he's embraced a no-huddle offense featuring continuous movement: the uptempo approach to what is so often a game of three yards and a cloud of dust.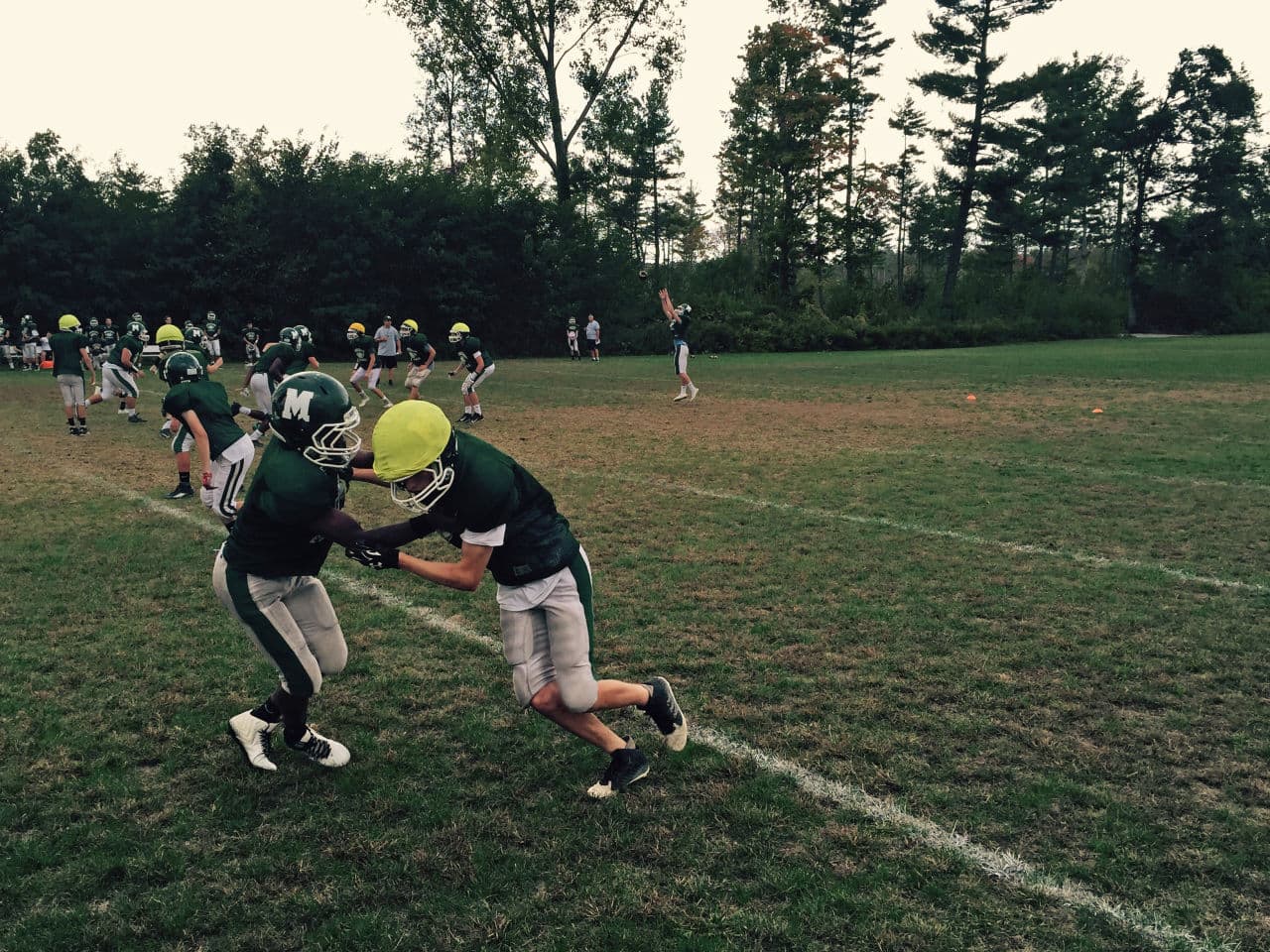 "My dog's named Tempo," Allosso said. "I named my dog Tempo. I have a Bernese Mountain Dog I named Tempo. That's how committed I am. Tempo changed my life."
This is not to suggest that Coach Allosso and his quarterback agree on everything. In fact, Allosso recently took to the phone because Trombley didn't like a play Allosso wanted to run.
On the other end of the conference call that included scores of high school coaches was Tony Franklin, the offensive coordinator at the University of California at Berkeley. He's the inventor of the uptempo offense he markets to Allosso and his other subscribers.
The conference calls occur each week, but Franklin is also available to his clients via email. He says he's as likely to learn from the high school coaches as they are from him.
"Whenever I do a seminar and whenever I do a conference call on a Sunday, I listen to their ideas," Franklin said. "I'll listen to them say, 'Coach, I'm having this issue,' and another coach will come on the phone, and he'll go, 'We did this two weeks ago against somebody.' And I'll sit there and go, 'Wow! That's brilliant. I wish I had thought of that.' And then I'll go and implement it myself."
Franklin's theory is that no coach ever convinced a student to come out for football by promising him drudgery.
And so the idea is that the more people that touch the ball, the more people that are involved in it, then the greater the camaraderie that you have on your football team, the more people want to come out.

Tony Franklin, UC Berkeley football coach
More people coming out means a greater chance that you get the good athletes on your team. So Franklin's offense provides lots of players with lots of opportunities. Steve Allosso said it works for Minnechaug High.
"I think one year I had seven guys who had 10 receptions or more," he said. "I mean, that's pretty impressive for high school. And, you know, last game, I think we had 13 or 14 players touch the ball. It's a great program builder, too. Plus it's exciting."
Exciting, and then some. Allosso referenced one especially frantic game involving two teams employing the Tony Franklin system. At the end, the scoreboard read: 82-80. And remember, that was football, not basketball, though the confusion might be understandable.
"If the offense is executed correctly, it's almost like basketball on grass," Allosso said. "It's really a thing of beauty."
OK, a thing of beauty. But since it's also a thing lots of coaches talk about on the telephone with each other each week, isn't that offense also a thing opponents could steal? Most coaches worry about that possibility, but Tony Franklin maintains that if the offense is run effectively, it shouldn't matter if the opponent knows what's coming, and he's put that theory to the test.
"Sometimes I'm on the field during the game, and I'll yell at a [defensive back] and tell him, 'We're gonna run a streak; we're gonna run it right by you,'" he said. "And most of the time they think I'm teasing 'em, but I'm usually telling the truth."
Franklin came up with the system and the plan for marketing it when he was between coaching jobs years ago. At each interview since then, he's made sure potential employers are comfortable with his sideline and the attendant accumulation of high school coaches as secular acolytes.
So far this season, the offense Franklin runs at Cal Berkeley has been exceptionally successful. The team is among the nation's top 25 for the first time since 2010. Tony Franklin has reason to be proud of that, but he says he takes more pride in his work as a coach/businessman, making scores of high school coaches and players happier in their work and play with the system he shares with them each week in those conference calls.
This segment aired on October 10, 2015.