Michael Brown: My Years As The Notre Dame Leprechaun
Resume
Since 1965 the official mascot of Notre Dame university has been the Leprechaun. Dressed in tights and waving a shillelagh, the Leprechaun keeps the crowds revved up and help to improve morale when the going gets tough.
Michael Brown served as the Notre Dame leprechaun from 1999-2001 and was the first African-American to do so. He was urged to try out for the mascot spot by his roommates.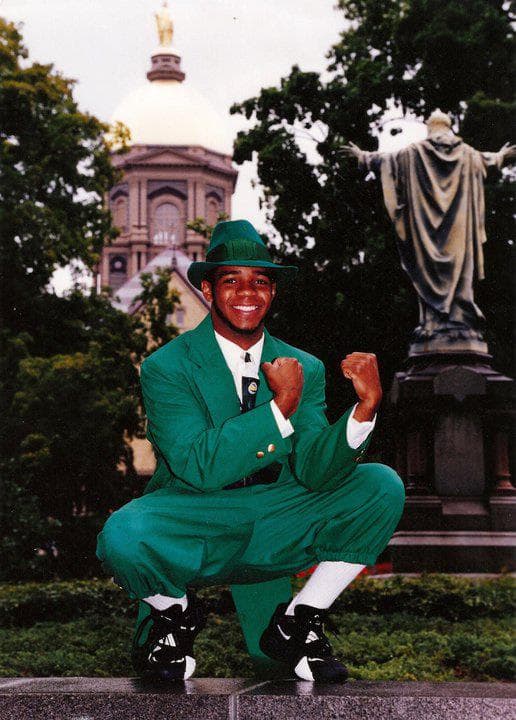 Despite a lack of cheerleading experience, Brown got the job and used his energy and passion to excite Notre Dame fans.
"This was my very first pep rally. Oh my gosh, I remember it like it was yesterday. I started running, but I had a bad habit of not necessarily looking where I was going. And, so, there was a stack of megaphones directly to my left as I started The Wave. And I ran over the megaphones, tripped, fell hard, got back up and started running again. And, of course,  I slipped again, in front of 12 or 13 thousand people. But, you know what, I got back up and just kept running.  And so, yeah, a nice way to kick off your inaugural pep rally as a leprechaun."
In this edition of "In Their Own Words," Brown tells Only A Game about his time as Notre Dame's mascot and what it was like being the school's first African-American leprechaun.
To hear the full story, click the play button below the headline at the top of the page. 
This segment aired on October 17, 2015.