Keeping Players Healthy: The NBA's 'Most Intriguing Arms Race'
05:08
Play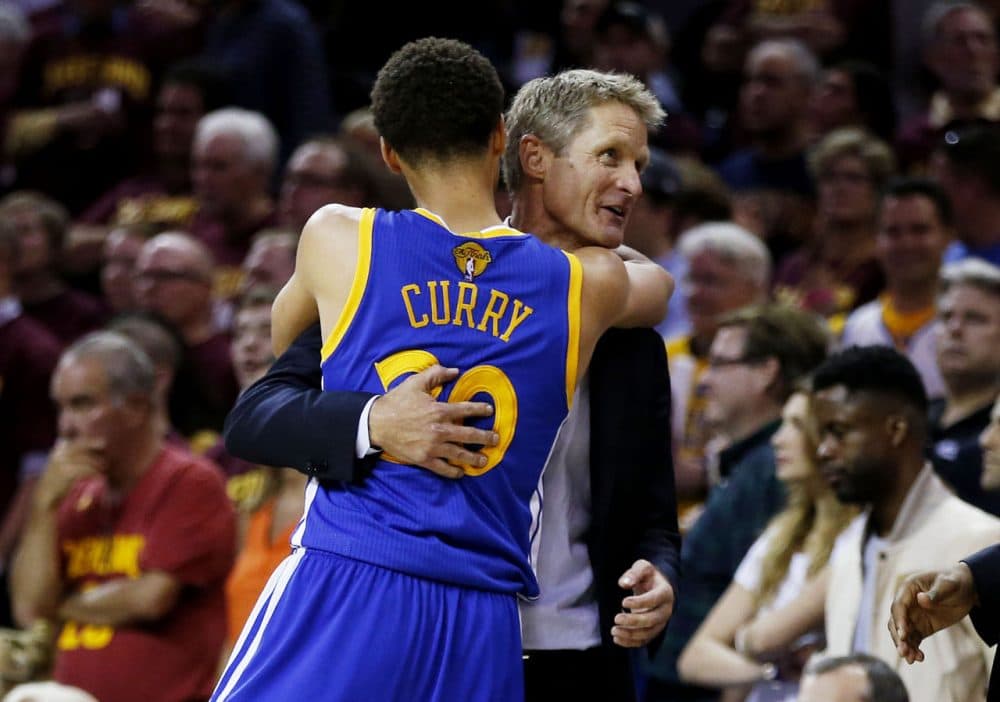 This article is more than 5 years old.
The 2015-16 NBA season began this week. The Golden State Warriors are hoping to defend their title. The Wall Street Journal's Ben Cohen has written about an off-court competition among NBA teams that is also underway. Team executives describe it as the "most intriguing arms race in professional basketball."
Cohen joined Bill Littlefield.
BL: Ben, what is this arms race — and why is it suddenly drawing so much attention?
Executives, coaches, players across the NBA have really come to realize that who is playing on your team at the start of the season is actually far less important than who's going to be on the team at the end of the season.

Ben Cohen, Wall Street Journal
BL: You note that there has not been a spike in the total number of injuries. What has changed?
BC: The people who have studied the data say that what has really changed is the number of traumatic injuries to a lot of the league's superstars — the people who, when they get injured, we actually remember — at key times of the season. So, for example, you had the Cleveland Cavaliers last year in the Finals — I mean there are sticks of butter that were healthier than the Cavaliers by the end of the season. Meanwhile you had the Golden State Warriors on the other side who, of course, became the champions. But they were among the least-injured teams in the league.
BL: Were they just lucky? Or were they doing something that other teams weren't doing to keep most of their players relatively healthy?
BL: Spurs coach Gregg Popovich famously back in 2012 sat four of his top players for a game so that they would be rested. And of course the blowback from that was, "Hey, I bought an expensive ticket. I didn't get to see the guys I wanted to see play." Is there any sort of response to that?
BC: It's kind of crazy to me that that only happened three years ago, because it was so counterintuitive and in some ways controversial at that time. And yet almost every smart team is doing that now. They've realized now that you need to rest your players at points during the season and potentially sacrifice some regular season wins for benefit in the postseason.
BL: The NBA is tweaking the schedule — cutting down on the number of back to back games to try to help players get more rest. But since money is the ultimate object in this business-oriented league, they're not going to cut the number of games, are they?
BC: Not currently. I think what you would see first is they would cut the number of games in the preseason because these players are so well-conditioned now, they probably don't need an eight-game preseason. And when you cut the preseason you can cut out games in the regular season a little bit more.
BL: Final question: is all of this business we're talking about unique to basketball? Because it seems to me this would be true of any sport. If your team is relatively healthy when it matters most, if you get into the playoffs, you get to the championship, you have a tremendous advantage. 
BC: I think that's certainly true. I think one thing that might separate basketball a little bit is that one transcendent player in basketball can make such a huge difference. If you're an NBA team, you want to do everything you can to make sure that the two or three superstars on your team are as healthy as possible. Because whether or not they're on the court could be the difference between whether or not you win a championship that year, whether or not you have a job the next year. There's a lot on the line for these teams and keeping them healthy has become a priority because of that.
BL: So if you buy one of those expensive tickets to go see an NBA game, you cross your fingers and hope this isn't the night they're going to rest the superstar.
BC: Or the night that that superstar gets injured.
This segment aired on October 31, 2015.