Missouri And The Future Of Athlete Activism On Campus
Play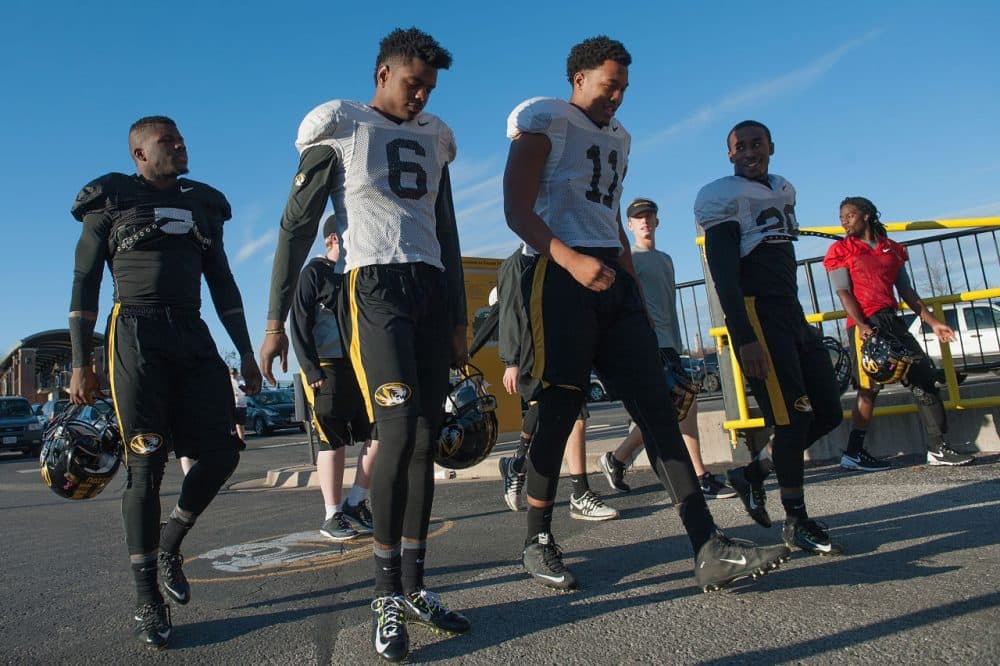 This article is more than 7 years old.
The boycott of football-related activities by members of the University of Missouri team to protest racism on the campus is over, and the president and chancellor of the university have resigned. Bill Littlefield considers the potential impact of the action on athletes at other campuses.
We can't know to what extent the boycott called by members of the football team at the University of Missouri was responsible for the resignation of university president Tim Wolfe.
That's because lots of other people also wanted him out.
But imagine what football players — and perhaps basketball players and other athletes — at other universities are thinking these days. For better and worse, these athletes draw a lot of attention. In the past, they've not exercised a lot of power. Most of them have done what they've been told to do by coaches who could bench them or pull their scholarships if they didn't.
Are they wondering if they might be able to exercise more control over their lives than they had previously assumed?
Athletes — especially the men who play football and basketball at the schools that rely on those programs for money and prestige — are often regarded — probably rightfully so — as separate from the rest of the student body. The athletes are on campus to play games. Perhaps they are diligent and well enough prepared to get an education in the hours not taken up by practices, team meetings, required sessions in the weight room, travel to and from games and various other obligations that come with their scholarships. If so, good for them. They're traveling a tough road. The term "student-athlete," invented by the NCAA to limit its obligations and the obligations of the colleges, has long been recognized as less than accurate.
But consider what happened at Missouri. The athletes on the football team identified with the students who'd challenged the president of the university to address racism on the campus, and then called for his resignation when he failed to take their protest as seriously as they felt he should take it. The football players — and, significantly, their coach — decided to suspend football-related activities in support of this cause until the president resigned.
Circumstances at the University of Missouri have been complicated. Who knows how significantly the departures of the president and the chancellor will influence the culture there? It's also too early to assess the impact of the action by the football team and the solidarity between the football players and the students who'd responded to what one graduate student called "the inequalities and obstacles" faced by minority members of the community. But a change in the way "student-athletes" come to regard their power and their relationship to the student body at large seems likely, if not inevitable.