Remembering The 'Fifth Down Game' Of 1940
03:45
Play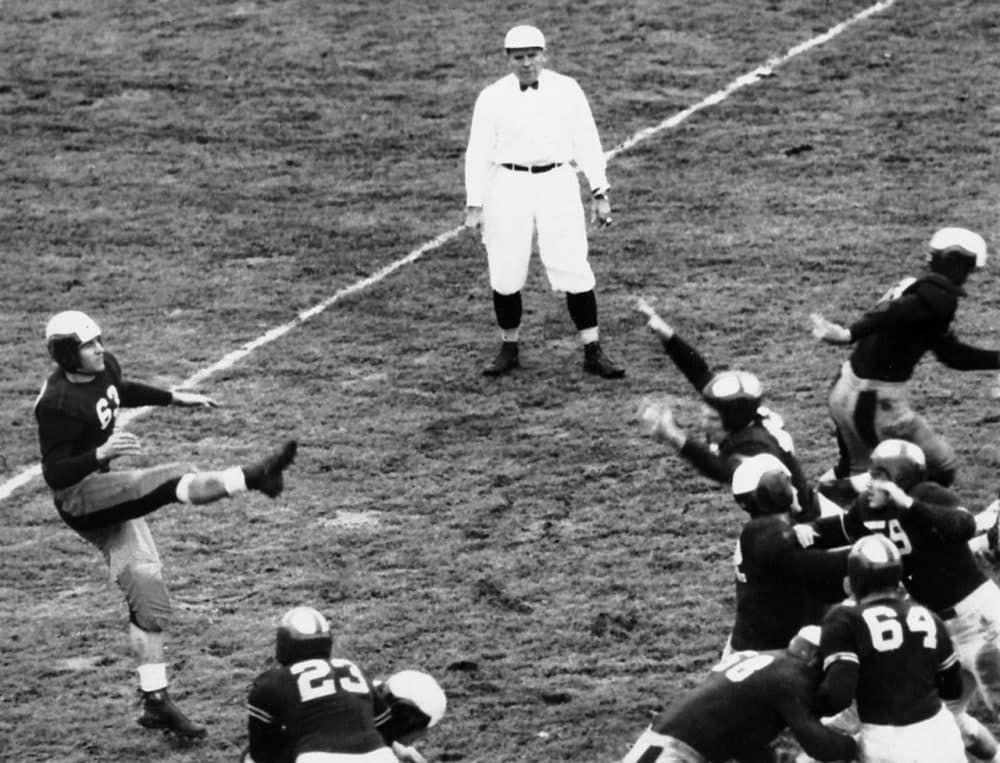 It's not every day that a listener calls to tell me about his parents' honeymoon. But that's what happened last week.
John Mahoney, a long-time listener from Burlington, Vermont, called and left a voicemail for Only A Game:
"Seventy-five years ago," Mahoney said, "my parents, on their wedding honeymoon, attended a college football game at Dartmouth, and it was a game that, I believe, may be the only game in college sports history whose the final outcome was decided after the game."
I want to be the first to admit my very grave error on the extra down, as proven by the motion pictures of both colleges.

Referee Red Friesell in a telegram to Dartmouth
"Decided after the game" — that piqued my interest. It turns out that it was a contest that's long been known as the "Fifth Down" game, and the 75th anniversary of that game is this Monday.
According to the informal historian of Dartmouth sports, Jack DeGange, Dartmouth's opponent on Nov. 16, 1940, had a lot to lose.
"Cornell was on an 18-game unbeaten streak," he said. "They were nationally ranked. They were clearly the dominant team in the Ivy League. And at that point, Dartmouth, by contrast, was 3-4 coming into the game. But there was a lot on the line, especially for Cornell."
It was a low scoring affair, and Dartmouth took a 3-0 lead into the closing seconds of the game. The tension must have been terrific, and maybe it was that tension that effected one of the officials, Red Friesell.
Anyway, Cornell had the ball deep in Dartmouth's territory. After a couple of unsuccessful running plays inside the Dartmouth 10 yard line, it looked as if Cornell might need all four tries to score.
And then they did score a touchdown on a pass play. But it was only after Red Friesell had inadvertently given them…a fifth down.
"And he says, 'I think I may have made a terrible mistake,'" DeGange recalled.
"This is the official, who admits this in the car on his way to the train!" I said.
"Well, yeah," DeGange said, "but they hadn't looked at the film on both teams, which, over the next 24 hours is what happened. They looked at the film and concluded that, in fact, Cornell got the fifth down."
OK, so now what does Cornell do? The right thing, as the administration saw it. But before they could do anything, the president of Dartmouth received a telegram from red-faced Red Friesell: "I want to be the first to admit my very grave error on the extra down, as proven by the motion pictures of both colleges," he wrote.
Not exactly "instant replay," but replay of a sort, nonetheless.
Cornell offered to concede that Dartmouth had won the game, 3-0…which did not sit well with the Cornell players.
"But then, also, the Cornell administration — maybe — didn't expect that Dartmouth would actually accept," DeGange said.
"Ahh," I said, "so they thought, maybe we can make this gesture, but then Dartmouth would say, 'Nah, that's OK. We were having a lousy season, anyway.'"
"Exactly," DeGange said.
But Dartmouth did accept the offer and the win.
For the record, last weekend, Dartmouth beat Cornell, 21-3, a result which may be memorable only to those who were involved…as opposed to the result of that game 75 years ago.
"Well, having heard the details of this 'Fifth Down Game,' I guess it's no wonder that our listener, John Mahoney, is still thinking about that game on its anniversary and called us up to tell us about it," I told DeGange.
"Good for him," DeGange said. "His parents, clearly, it became a moment in time for them, obviously not just because it was their honeymoon, but it ends up being one of the most memorable games in college football history."
This segment aired on November 14, 2015.