The 1951 USF Dons: Uninvited From The Orange Bowl?
06:25
Play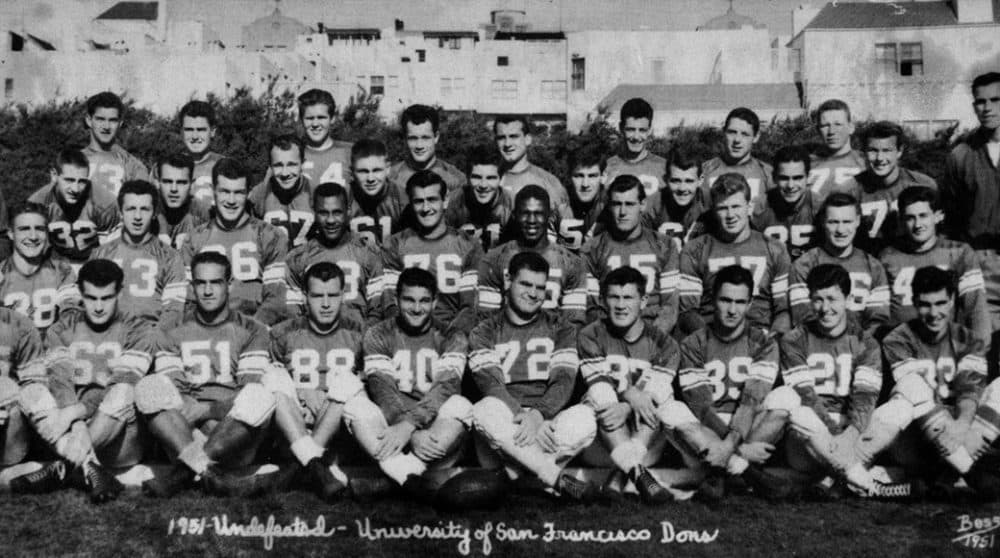 This article is more than 4 years old.
The perfect season. It's the dream of every athlete, isn't it? A whole season without a loss or a tie. And the feeling at the end of it must be incredible, don't you think?
In 1951, the football team at the University of San Francisco, nicknamed the Dons, had such a season. They went 9-0.
"We knew that we were good, but we had not played some of the better teams that we thought were better," says Dick Colombini, one of the '51 Dons. "Like in 1950, we played Cal and Stanford. But in '51, they wouldn't schedule us because here was a school of about 2,000 students at the time. They didn't want to schedule us and have a chance to get beat."
Dick Colombini played linebacker and offensive guard. In those days, lots of guys played both offense and defense. Most of them, in fact.
We played together. We went to school together. They were our teammates, and we had long-lasting friendships forever.

Dick Colombini
"You got to remember the times," says Bill Henneberry, a sometime quarterback and linebacker for the Dons. "We're talking 64 years ago, and the game was played a little bit differently."
And though, as Henneberry says, some things about football were different then, some weren't.
"You thought you were on a track team," he says. "All we did was run, run, run, and hit, hit, hit."
And win, win, win. The teams that elected not to schedule the University of San Francisco for the '51 season were likely happy they'd made that decision. The Dons won games by scores like 39-2, 26-0, 42-7, and 47-14.
Several of the men on that San Francisco team would go on to play in the NFL. Most prominent among them was Ollie Matson, the running back who would log 14 years in the league, make the Pro Bowl six times, and land in the Hall of Fame.
Ollie Matson was one of two black players on that undefeated USF team. The other was Burl Toler, a linebacker who eventually became the first black NFL official. Both are deceased. For reasons that seem ridiculous now, the inclusion of Matson and Toler on the '51 team came to matter, though not in San Francisco. It was when the Dons played in places like Tulsa, Oklahoma, that they couldn't all stay in the same hotel.
"All they were looking at was the talent," says Kristine Clark, who in 2002 wrote a book about those Dons. "So they were fairly naive as to what was going on, as were a lot of the other people in the United States."
An Important Phone Call 
That sort of inconvenience built on the ignorance and prejudice of various inn keepers and restauranteurs would have been the end of it…if the Dons hadn't gone 9-0. But a perfect season is hard to ignore, especially, as Dick Colombini recalls, at the end of that regular season.
"We beat Loyola last game in Los Angeles, came back on the train, and some of the coaches had gotten word by telephone. There were no iPhones then — there was just telephones and telegrams. And they'd gotten word that maybe the Orange Bowl was interested in our team."
There are more bowl games now than anybody can count, but in 1951, there were only eight. The Orange Bowl, held in Miami, was one of the more prestigious, and the opportunity to play there would have been a big deal for the University of San Francisco. But according to the players and the reporters with whom they spoke, the invitation came with an "if," which is why Kristine Clark's book is titled "Undefeated, Untied, and Uninvited."
"The white players were invited to go," Clark says, "as long as they left Ollie and Burl behind."
Bob Springer, a running back on the '51 team, remembers clearly what happened next.
"So we told them, screw those guys," Springer says. "That wasn't the word we used. But we said, 'Screw those guys. Hey, we're just going to end the season right here.' And we did."
Bill Henneberry remembers the communication of the players' unanimous decision, and what it felt like to make that decision.
"No one ever regretted it," Henneberry says. "And when we get together, we never discuss ... what was wrong about the '51 year. We talk about all the good times. And we were like a family. We really were like a family."
A Doomed Program
Bill Henneberry and his former teammates may have let go of the story of the conditional invitation to the Orange Bowl, but Kristine Clark didn't.
"When I called the Orange Bowl up a couple years back, and I had asked them to honor the team after all these years — told them what had happened — they denied everything," she says. "And I said, 'In 1951, they were offered an invitation from the Orange Bowl.' I said, 'Sam Wolfson, at that time, was president of the SEC.' And they said, 'We know nothing about this.' And I said, 'Well, what do you mean you know nothing about it?' I said, 'Don't you have anything from Sam Wolfson? Anything showing the letter that went to USF or anything?' 'No, we know nothing about it, and we're not going to honor this team because we never did anything wrong.' And that was it."
No one ever regretted it.

Bill Henneberry
For the record, that's still the Orange Bowl's position. This week, Larry Wahl, vice president of communications for the Orange Bowl, sent us a statement that read, "All our research shows it's a false story, unsubstantiated. We invited two higher ranked teams."
In any case, the Orange Bowl did not include a team with a black player until 1955.
But the story of the Dons ends in 1951. Even as they went 9-0, the football program at the University of San Francisco was struggling financially. A trip to the Orange Bowl would have meant a paycheck large enough to keep football going. Without those funds, the program was doomed. The players who weren't seniors had to transfer if they wanted to keep playing football. They knew that when they made the decision of which they've spoken. And still, as Dick Colombini remembers it, they didn't hesitate.
"It was no question in our mind," he says, "I mean, we were teammates, and we lived together in the dormitories. We ate together. We played together. We went to school together. They were our teammates, and we had long-lasting friendships forever."
So the story of that undefeated, untied, and — as Columbini, Springer, and Henneberry remember it — uninvited team is a story of particular friendships that began at a time when lots of college football teams couldn't imagine them and didn't allow for them…friendships that have endured for years. OK, Orange Bowl. We'll leave it at that.
This segment aired on January 2, 2016.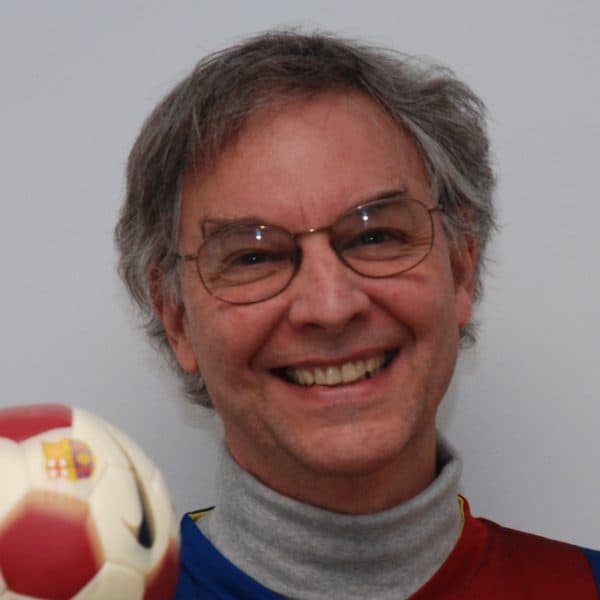 Bill Littlefield Host, Only A Game
Bill Littlefield was the host of Only A Game from 1993 until 2018.