'Brady Vs. Manning' Delves Into QB Rivalry — And Practical Jokes
Play
This article is more than 7 years old.
Nobody is happier than Gary Myers that this weekend's AFC Championship game brought about one more quarterback confrontation between Tom Brady of the New England Patriots and Peyton Manning of the Denver Broncos.
Myers is the author of "Brady Vs. Manning: The Untold Story Of The Rivalry That Transformed The NFL," and he joined Bill Littlefield.
---
Highlights From Bill's Conversation With Gary Myers
BL: You compare the Brady-Manning rivalry to the one that existed between Larry Bird and Magic Johnson. But with Bird and Johnson, we're talking white and black, they didn't play the same position, they're credited with restoring the popularity of the entire NBA and their rivalry began when they were in college. So, as far as I know, none of these apply to Manning and Brady. Make your case for the comparison.
GM: Every rivalry has its own story. No, there's not the sociological implications of Magic-Bird in Manning-Brady, but there's so many other things that make this so compelling. Peyton's very compelling. Peyton was born into football royalty, his father Archie was a quarterback in the NFL for a long time. Tom Brady is a freshman in high school, and his team was 0-8 and didn't score an offensive touchdown, yet he couldn't get off the bench for one play at quarterback. So, his path has been so much different than Peyton Manning's. He struggled at Michigan. Peyton started 3-4 games into his career at Tennessee.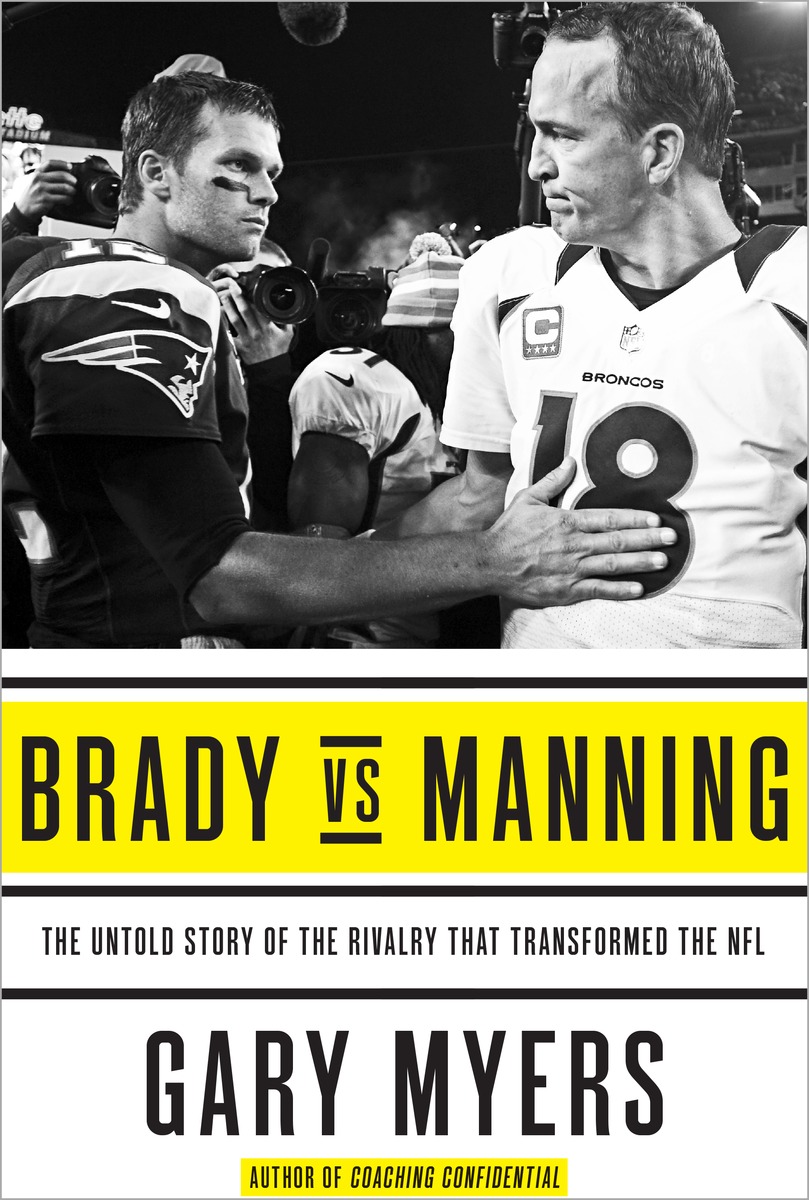 BL: You point out that Tom Brady, obviously owes a lot of his success to Pats head coach Bill Belichick and vice-versa, but Brady told you that the two have never even gone out to dinner together. Does that say something about the quarterback or the coach or about both of them?
GM: I think that says something about the coach. I think Tom Brady would be very happy to go out to dinner with Belichick. The way I had phrased the question to him, "You guys meet for hours upon hours during the week. On a Tuesday night when you put the game plan in, did he ever say to you, "Hey Tom, we got this. Let's just go out and let's find a good pizza place and have a couple of beers." And he said, "No that's never happened." I said, "How about sitting in his office, did he ever say, 'You know, it's pretty cool. I got fired in Cleveland, you were sixth-round pick and look at what we've accomplished together. We shut everybody up.' Did he ever say that?" Brady said, "No, he never said that to me." So, maybe that's how it works for him. I would think, Bill, that at this point he might want to make an exception for Brady
BL: Having gone through all the research you had to go through for this book, did you come up with a favorite Peyton Manning or Tom Brady story?
GM: My favorite chapter in the book is how they're both hall-of-fame practical jokers. This is the chapter where I think people really get to know who they are.
It's toward the end of training camp one year, and the veterans are on the basement floor of the dorm. It's right at the end of camp. So Peyton's roommate is Dallas Clark, one of the Colts' tight ends, and a very, very good player. They're trying to think of a prank to pull on the last day of camp. So, in the middle of the night, they go up the stairwell from the basement to the first floor and they go into the bathroom. There's a 50-gallon garbage can that they start filling up with water. They drag the garbage can out of the room, they knock on the door of a rookie and lean the garbage can against the door. They run for the stairwell yelling like school kids. The guy opens the door, and it's Niagara Falls. The room is just flooded with water as they're running down the steps.
So, they get to their room. They open their door. Clark looks inside. Peyton's outside. Clark goes, "I think we've made a big mistake." Peyton goes,"What did we do?" He goes, "That room is right over ours." The water was coming through the ceiling over everything they owned that was in that dorm room.
BL: Why "Brady vs. Manning?" Why not "Manning vs. Brady?" The people of Denver and Manning fans across the land want to know.
GM: Well, I will give you the politically correct answer. Alphabetical, Bill.
---
Bill's Thoughts On 'Brady Vs. Manning: The Untold Story Of The Rivalry That Transformed The NFL'
It's easy to be skeptical of books that include the phrase "untold story of" in their subtitles.
Lots of the stories in Brady vs. Manning have been told. And told again. It could hardly be otherwise in a book about two of the most popular and thoroughly covered men in the nation's most popular and thoroughly covered sport.
[sidebar title="An Excerpt From 'Brady Vs. Manning'" align="right"]Read an excerpt from "Brady Vs. Manning: The Untold Story Of The Rivalry That Transformed The NFL" by Gary Myers.[/sidebar]
Almost everybody who's a fan of football is a fan of Peyton Manning. He's been consistently effective on the field, and he's been consistently likeable off it, whether in TV commercials or turning in perhaps the funniest performance of any pro athlete who's ever hosted Saturday Night Live.
Fans of the Patriots love Tom Brady. How could it be otherwise? He's won everything there is to win multiple times. Brady's failure to achieve the widespread adulation Manning enjoys has more to do with his coach and the inclination of some fans to dislike a team that wins all the time than with anything Brady has done or failed to do, the silly distraction of "Deflategate" notwithstanding.
In "Brady vs. Manning," Gary Myers reveals that both Manning and Brady enjoy practical jokes and pranks that most men who don't make their living playing games haven't perpetrated on anyone since their fraternity days, and that the two quarterbacks respect each other, at least when anybody's listening. There is also evidence that they like each other, and that their wives like each other, which I'm sure fans of both men will be relieved to learn.
Myers contends that "Brady and Manning could walk into any locker room and within 15 minutes assume a leadership role," which is not surprising. Or "untold."
Still, there's plenty here for fans of the game to enjoy. Gary Myers is a good storyteller, and in his storytelling he avoids the solemn tone so many writers feel compelled to adopt when dealing with football. Brady vs Manning is good company now, and after Feb. 7, fans wondering how they're going to make it from the Super Bowl to the NFL draft will be especially grateful for it.
This segment aired on January 23, 2016.