A Bird In An Elevator
03:53
Play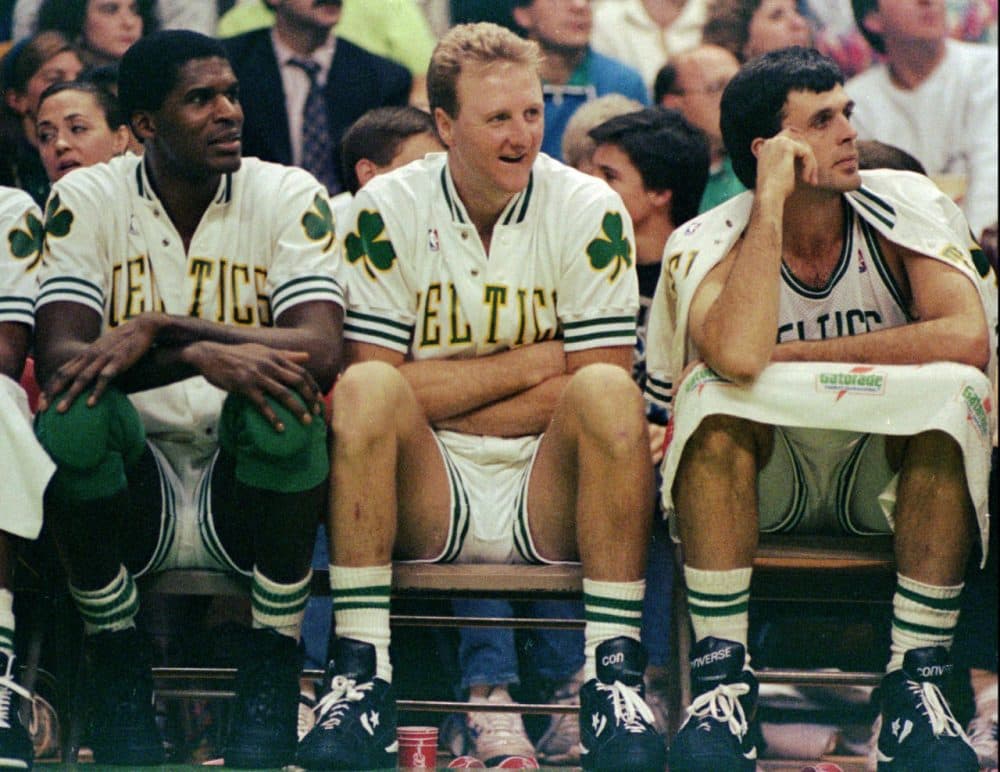 This article is more than 5 years old.
On a quiet weekend morning in 1994, I stopped at the Boston Celtics' office to pick up credentials for the team's annual basketball clinic for city kids. The street level door was slightly ajar, and as I made my way into the lobby, it shut behind me with a loud "bang." I pushed the elevator button. None came.
And then I heard three sharp knocks on the glass door. I turned and froze. It was Larry Bird. Twelve-time All-Star. Three-time league MVP. Three-time NBA title winner. I made my way to the locked door. I let him in. "Hi," I said. That was all I had.
We headed for the elevator. As if on cue, it descended to the lobby and the doors opened. I wondered if he'd know which button to push.
And here's why. Bird retired in 1992 after sustaining a number of injuries. But the Celtics kept him on as "Special Assistant to the General Manager." This meant that he was in charge of fishing and golfing in Florida. Our nickname for him back at the Only A Game office was Larry "What Floor Are the Offices On?" Bird. So I tried an impromptu experiment.
His famously crooked index finger hung in mid-air. I waited until it became too cruel to wait any longer.
I walked into the elevator ahead of Larry, to the right, which left him on the side with the row of buttons. The doors closed behind us. He stood facing the numbers. He raised the right hand that had launched about 8,000 game-winning shots. His famously crooked index finger hung in mid-air. I waited until it became too cruel to wait any longer. I said "five."
"Oh, right," he said.
As we ascended, I imagined the Only A Game folks back in our third floor office chuckling about the basketball legend with a golden parachute and not a clue about where the office was. I stifled a grin. But then I thought about the things I wanted to ask him. About the momentous duels with the Sixers and Lakers and Knicks. About that day's clinic. About his insistence on mowing his own lawn. What superstar does that? I asked him if he'd be available to talk after the clinic, and he said "Yes."
Larry and some of the Celtics who were then on the roster ran the clinic. Kids had fun, and they learned some things about basketball. I talked with Peter Cevoli and his son.
"Dad wants to retire in about 10 years," Cevoli said to his son, "so you're gonna practice, right?"
"Yeah," his son said.
I heard from other basketball hopefuls, too, and when I was done I looked for Bird. But he had already flown the coop. My chance was gone.
On Monday morning, the folks in the Only A Game office laughed at my elevator meeting with Bird. But I wondered then, as I do now, about what was missed.
I might have learned about who Larry Bird was rather than just about who he wasn't.
This segment aired on January 23, 2016.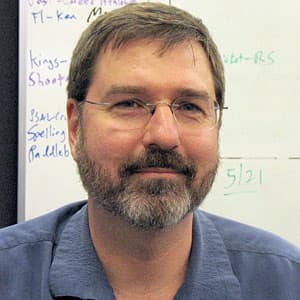 Gary Waleik Producer, Only A Game
Gary Waleik is a producer for Only A Game.