Vernon Davis' Curling Obsession And Other Super Bowl 50 Fun Facts
This article is more than 7 years old.
You might be familiar with the X's and O's surrounding Sunday's Super Bowl 50 matchup, but did you know about Broncos offensive tackle Ryan Harris' stint on MTV? What about Panthers corner back Robert McClain's passion for drawing?
Here are some unusual facts about the players who will be taking the field this weekend in Santa Clara, California.
Broncos LB Von Miller Is Really Into Chicken Farming
Some pro athletes will have a difficult time deciding what to do after they retire. Not Von Miller. Miller majored in poultry science at Texas A&M and plans to run his own chicken farm in Texas. Miller told Yahoo! Sports that he's already tending to a small, 3,000-square-foot coop outside of Dallas with 40 to 50 chickens.
Panthers QB Cam Newton Played Baseball Growing Up, But Quit Because He Was Scared Of Fastballs
Pass rushers like Miller don't strike fear into the heart of Newton, but fastballs do. For ESPN's "My path to the pros" series, Newton said he took up baseball at age 9, idolizing players like Ken Griffey Jr., Chipper Jones and Derek Jeter. He played a variety of positions including center field, shortstop and third base and relished backyard pickup games.
But, by age 14, Newton became afraid of getting beamed with a pitch.
"The kids started getting better and throwing faster, and it would've hurt getting hit by that ball, so I stopped playing," he explained.
Each Week, Panthers CB Josh Norman Becomes A Different Movie Character
Norman graduated from Coastal Carolina University with a minor in dramatic arts and has put his method acting skills to use. He told The Wall Street Journal that every Sunday he picks a different movie character to model his performance off of.
Some of his recent picks include Russell Crowe's "Maximus" from "Gladiator," Batman and Optimus Prime (which he coincidentally debuted against Calvin "Megatron" Johnson and the Detroit Lions).
It remains to be seen whose essence Norman will try to capture this Sunday.
Broncos TE Vernon Davis Is A Huge Curling Fan
Davis became fascinated with the sport during his time with the 49ers and owns three brooms.
He even served as Team USA's honorary captain at both the 2010 and 2014 Olympic games.
Panthers LB Ben Jacobs Invented "Creedbombing"
According to Jacobs, "Creedbombing" involves shouting lyrics from the '90s band when teammates are least expecting it.
"The key is you've got to make really deep, direct eye contact," Jacobs told The Charlotte Observer. "So if you Creedbomb someone you've got to look them directly in the eye."
He's got Scott Stapp's seal of approval.
Panthers CB Robert McClain Is An Accomplished Artist
McClain, who only joined the Panthers after Week 14, discovered his passion for drawing in the fourth grade and he's kept it up ever since. The former UConn captain uses a variety of mediums and methods and maintains a website where he features and sells his work.
Broncos OT Ryan Harris Appeared On An Episode of MTV's "True Life"
Before he made a name for himself protecting Peyton Manning, Harris got a taste of the limelight when he was featured in a 2003 episode of the series "True Life" titled "I Want the Perfect Body." Cameras followed Harris the summer after his senior year of high school as he attempted to put on enough weight to be able to compete for Notre Dame.
"Once it aired, I left the next day for school and somebody stopped me in the airport and was like, 'Yo, you were on MTV,'" Harris told the Denver Post. "And ever since then — we went to Mexico for spring break and the bus driver was like, 'MTV! MTV!' It was rough as a freshman. You can imagine a freshman coming in and being on MTV, I mean, they're not having any of that. But it worked out. Ended up playing my freshman year, so it kind of dampened it out. It was crazy though."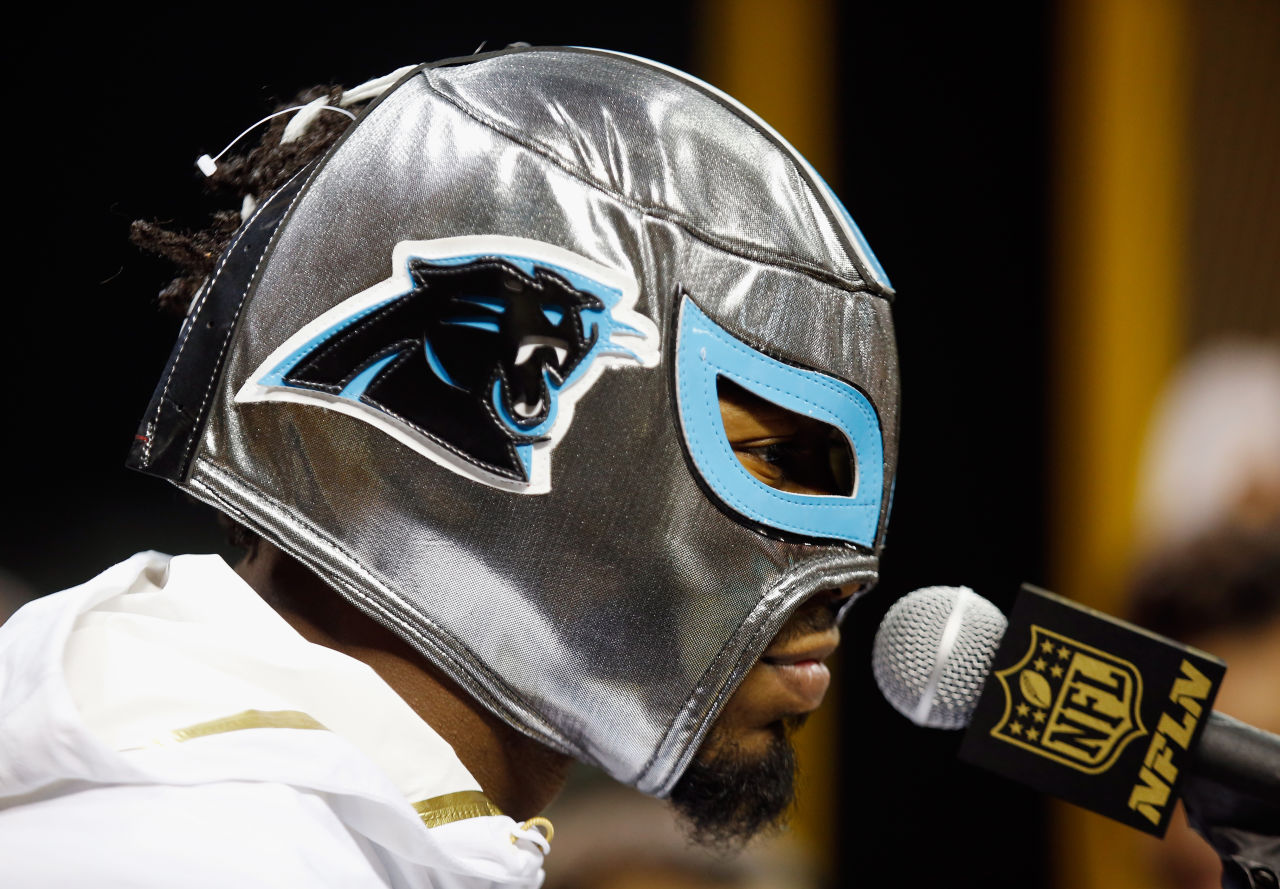 Panthers OT Michael Oher Thinks "The Blind Side" Hurt His Football Career
The hit film about Oher's life story grossed over $300 million (and resulted in an Academy Award for blonde-wig-and-Memphis-accent-donning Sandra Bullock). Still, Oher told ESPN the movie actually has had a negative effect on his football career because of how it thrust him into the spotlight.
Broncos QB Peyton Manning Eats The Same Meal Before Every Game
Want to eat like a five-time NFL MVP? Fuel up with two pieces of grilled chicken, a baked potato, pasta with marinara sauce and broccoli. And, make sure to wash it all down with a Gatorade.
Panthers RB Jonathan Stewart Makes "Dubsmash" Lip-Synching Music Videos With His Teammates
Here's their rendition of Drake and Future's "Big Rings"
And here's their take on Adele's "Hello."
Stewart also dabbles with music production.