Super Bowl 50: A Game Of Numbers
Play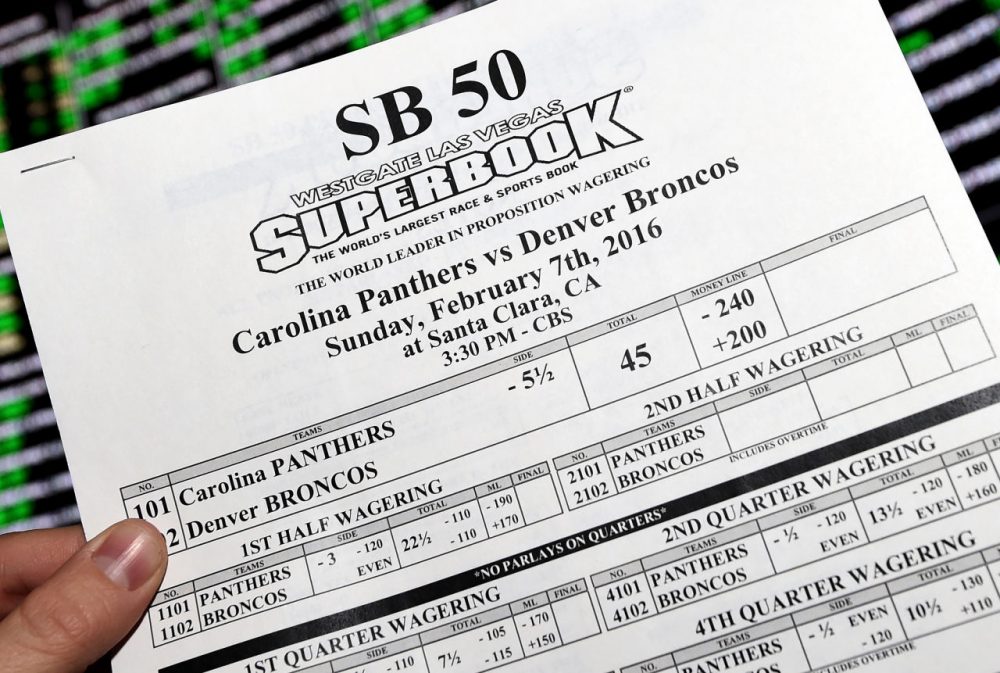 This article is more than 7 years old.
Some people will bet that the Panthers will win, and some will bet on the Broncos. Even if the game turns out to be a mismatch, they, like the twisted people who've bet they'll be an earthquake, will have to wait at least a little while to know whether they've won or lost.
People desperate for instant gratification or instant disappointment will bet on the coin flip. As soon as the referee calls out "Heads!" or "Tails," in every lounge in Las Vegas, "a huge roar goes up."
Jay Rood told Kennedy that. He runs the sports book at the Mirage. The roar sounds like delight. The under-groan, which is a word I just made up, sounds like despair. Or, if not despair, at least temporary disappointment. The bettors who have guessed wrong are off to a bad start. They must hope they guessed right when they bet on which team would record the first sack, or which team would first be penalized or where the clock will be when, for the first time in the game, somebody points to the sky to thank someone or something for whatever just happened down below.
Some of these bets are riskier than others, but they are all risky. That's the nature of gambling. No bookmaker is going to take the other side if you want to bet that there will be a kickoff.
Which is why I'm limiting my involvement with numbers related to Sunday's game. Rather than wagering, I'm just wondering how we got to some of the numbers provided this week by a site called WalletHub. Without my even asking, they have told me that the stadium in which the Super Bowl will be played cost $1.2 billion to build, that airfares to the Bay Area are up some 250 percent pre-Super Bowl, and that the people watching the game on television because they can't afford that airfare will consume more than 8 million pounds of guacamole, whether or not there's an earthquake.