Time To Say Goodbye: Memorable Athlete Retirements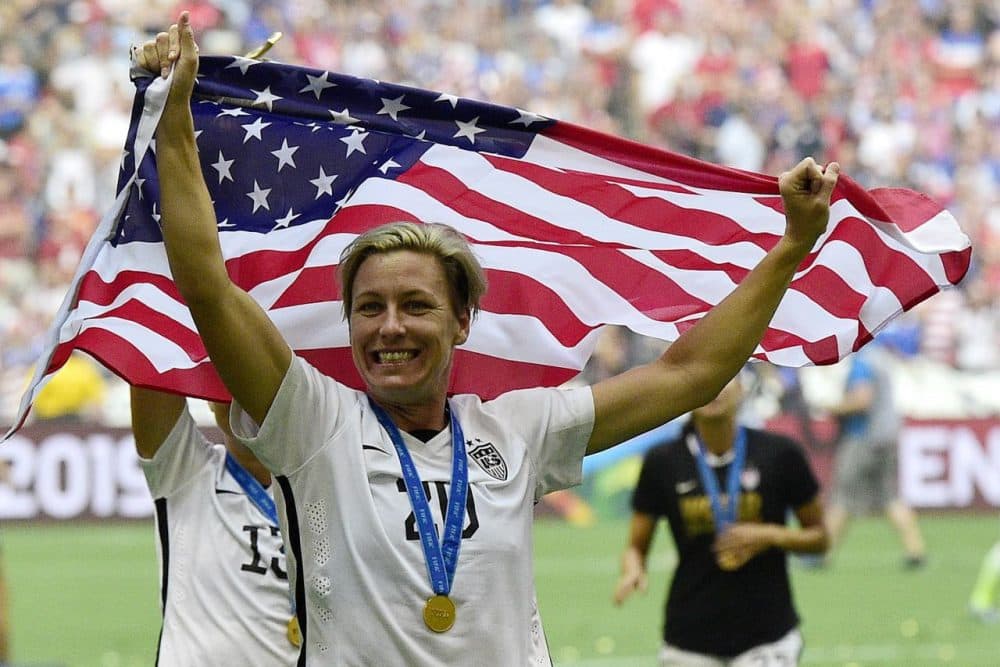 This article is more than 5 years old.
On Monday, Denver Broncos quarterback Peyton Manning called it quits on his 18-year NFL career. The two-time Super Bowl champion held an emotional press conference in which he gave thanks to the game of football and all of those who helped him along the way.
Peyton is not the first, and won't be the last, athlete to retire in memorable fashion. Here's a look back at those who have come before him. (Note: All athletes in this list actually stayed retired. Looking at you, Michael Jordan and Brett Favre.)
Jerry Rice
After a 20-season career, the NFL's all-time leader in receptions, receiving yards and receiving touchdowns decided to hang up his cleats where it all began — San Francisco.
In 2006, the 49ers signed Rice to a one-day $1,985,806.49 contract so he could retire in the same uniform in which he won three Super Bowl titles. The significance of the number? The year he was drafted (1985), his uniform number (80), the year ('06) and a 49 just for emphasis. Rice wasn't actually paid the money, as the contract was strictly ceremonial.
Larry Bird
"Larry Legend" stayed in Boston for the entirety of his 13-year career, giving the Celtics three NBA Championships and, also, his health. So, it was only fair that Boston gave him a night to remember to celebrate his retirement. Instead of simply honoring him at halftime of a game, the Celtics held a two-hour ceremony at the Boston Garden. The event was sold out, with all proceeds going to charity, and Bird was showered with praise from teammates and coaches.
Even Birds' longtime-rival-turned-friend Magic Johnson was in attendance sporting a Celtics shirt (hidden underneath a Laker jacket, of course).
Barry Sanders
Equally as shocking as Sanders' retirement from the NFL at just 30 years old was the manner in which he did it. Never one for pomp and circumstance, Sanders simply faxed a statement to his hometown newspaper in Wichita, Kansas.
Flavia Pennetta
What do you do after winning your first Grand Slam title at age 33? If you're Italian tennis star Flavia Pennetta, you quit while you're ahead. Pennetta downed fellow Italian Roberta Vinci (who ended Serena Williams' calendar Grand Slam bid in the semifinal round) and announced to the crowd, "This is my last match at the U.S. Open, and I couldn't think of a better way."
Jerome Bettis
Bettis, also known as "The Bus," decided to return to the Steelers for the 2004-05 season knowing that season's Super Bowl would be played in his hometown of Detroit.
"Just get me to Detroit," he told his teammates before the AFC Championship Game. Pittsburgh delivered and allowed the Hall-of-Fame running back to walk off with one more title to his name.
Abby Wambach
Since she first joined the U.S. Women's National Team in 2001, Wambach was a fixture of women's soccer. But heading into last summer, Wambach had yet to capture the sport's ultimate prize: the World Cup. After coming just short in 2011, Wambach, 35, knew that the 2015 tournament in Canada would serve as her final chance. With this in mind, the USWNT's all-time scoring leader took a back seat to the team's younger stars. The strategy worked, and coach Jill Ellis sent in Wambach in the final minutes of the World Cup Final so that Wambach could relish in the moment that had eluded her for so long.
Wambach announced her retirement soon after and has shifted her focus to the next generation. Her hope? That she will one day be "forgotten." But for now, she lives on as one of the best American soccer players, male or female, to play the game.
Derek Jeter
Though Jeter's 2014 farewell tour was meticulously planned, "The Captain" could not have scripted a better ending to his 19-year career. In his last at-bat at Yankee Stadium, the five-time World Series champion drove home a walk-off single to beat the Baltimore Orioles.
Kareem Abdul-Jabbar
Long before Jeter earned "Re2pect" nationwide or Kobe Bryant picked up a thesaurus, Abdul-Jabbar paved the way for the athlete retirement tour. Throughout the 1988-89 season, the NBA's all-time scoring leader collected gifts including a motorcycle, a piece of the Celtics' hardwood and a jukebox. Abdul-Jabbar recently announced that he's auctioning off some of these items to benefit his charity, The Skyhook Foundation. If you've ever wanted an over-sized rocking chair (a gift from the Charlotte Hornets), a verdite elephant sculpture (from the Dallas Mavericks) or custom golf clubs (courtesy of the Suns), now is your chance.
Lou Gehrig
Of course, the most impactful moment on this list belongs to Lou Gehrig. After his amyotrophic lateral sclerosis (ALS) diagnosis forced him into retirement, the Yankees honored Gehrig with a special ceremony on July 4, 1939. There, Gehrig delivered a poignant, gracious speech to the adoring crowd, calling himself "the luckiest man alive." ALS, now known as Lou Gehrig's disease, would take his life just two years later.