Mascot Vs. Mascot: Re-Imagining March Madness
Resume
Like most small dogs, my dog Wilson never backs down from a fight. So when filling out her NCAA Tournament bracket, we always pick the team whose mascot would win in hand-to-hand combat. Wilson's bracket almost always comes in last.
Filling out Wilson's bracket takes approximately 25 times longer than filling out my own. Every year we do our research, looking up the strengths and weaknesses of bulldogs, buffaloes and bearcats. Some are obvious, like Ducks vs. Crusaders, or Trojans against Friars. But this year, some first round matchups had us stumped. So we decided to call in the experts.
Owls Vs. Hawks 
"What are we trying to do here?" asks John Wicker of Raptor Rehab of Kentucky. "Trying to set up a scenario where a hawk and an owl is actually fighting?"
One game in the South Region pitted two birds of prey against each other — and quite frankly we weren't sure which is tougher. It was the Temple Owls vs. the Iowa Hawkeyes, whose mascot is Herky the Hawk.
Wicker is quick to stress that a hawk and an owl would never actually fight each other.
"But hypothetically, all things being equal, weight size and everything else, I believe the great horned owl would come out the winner," he says.
"All things being equal, weight size and everything else, I believe the great horned owl would come out the winner [against a hawk]."

John Wicker
Wicker says birds fight feet first, and owls have amazing power in their feet. He says an owl is a formidable opponent even against a person — and he should know. An owl once sunk two of its eight talons into his hand.
"I was off work for six weeks, I was on an IV antibiotic drip for five days, I had plastic surgery on my hand and my medical bills were over $3,000," Wicker says. "That was two talons out of eight."
With strength like that, you'd think this owl could be on its way to the Final Four. Unfortunately for Wilson's bracket, the Hawks prevailed on the court.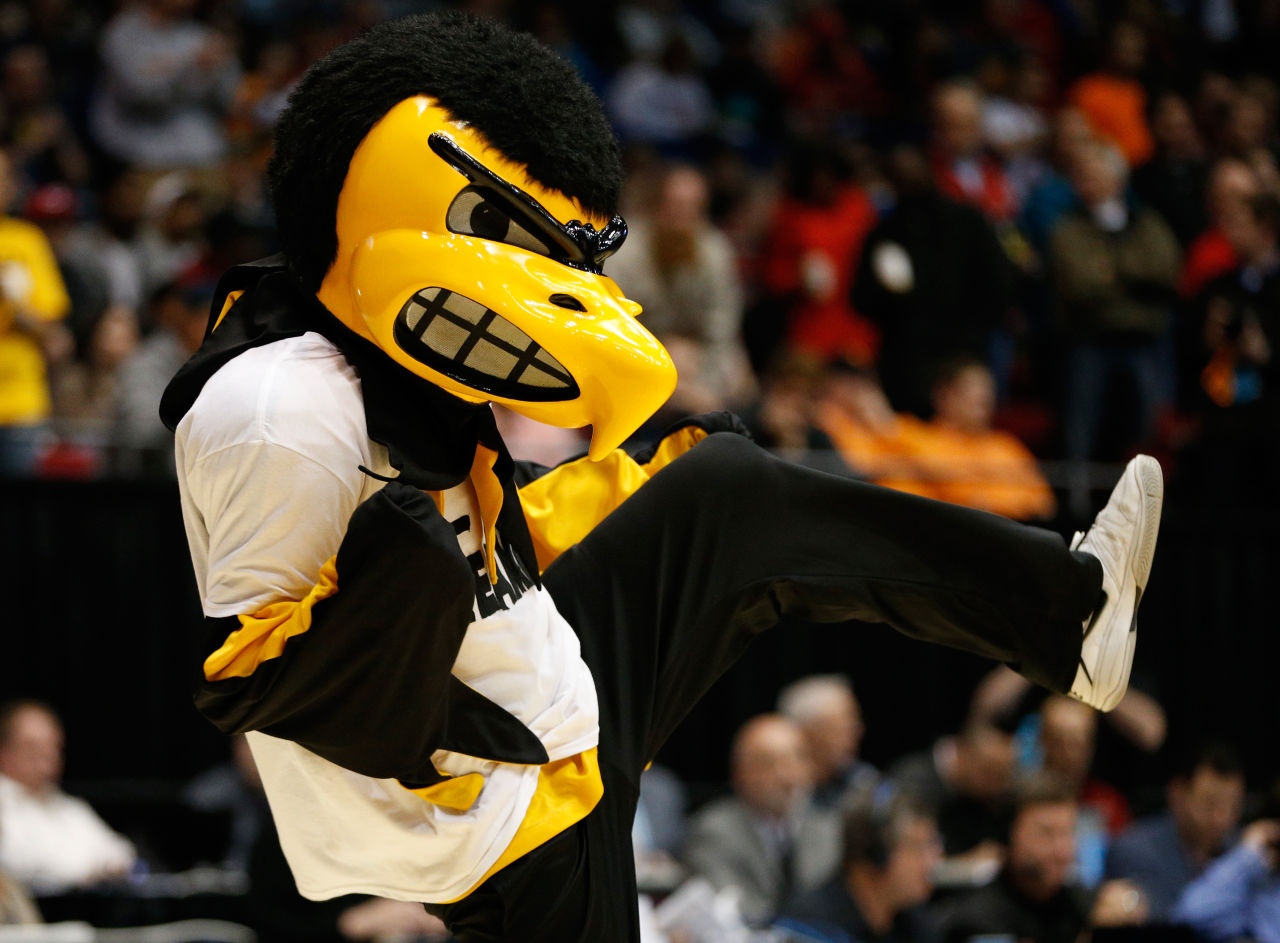 Cavaliers Vs. Pirates 
On the other side of the bracket, it was human vs. human. Specifically, the Virginia Cavaliers vs. the Hampton Pirates. I was pretty sure I knew about pirates, but cavaliers?
"You can trace it back to 1640s English Civil War. The Cavaliers were the people in support of Charles I. They were soldiers," says Tony Dingman, a teaching artist at the Frazier History Museum. "I think when you look at pirates, you've gotta look at the golden age, and that's from 1650 to 1725. They're vessels that are waylaying other vessels, often burning them, but taking whatever loot they can."
Dingman says Cavaliers fought on horseback and carried flintlock muskets, pistols and swords.
"So they were pretty well-geared," Dingman says. "Of course, these weapons are one-shot weapons. And they're not very accurate, so you'd have to be awfully close."
On the other hand, pirates would use anything and everything to win a fight.
"You could see swords, you could see pistols, you could see longer muskets," Dignman says. "You could see axes, bottles — anything, really, to win. I think I'd give the upper hand to the one who would take the underhanded route. I would say, hands down, pirates would win the fight."
But here's what Wilson didn't take into consideration: the Virginia Cavaliers were a No. 1 seed. They defeated the 16-seed Hampton Pirates and then went on to defeat the Butler Bulldogs in the second round.
To be fair, bulldogs are usually unarmed.
Cyclones Vs. Gaels 
So what about mascots that aren't animals or humans?
Like Iowa State, the Cyclones. They were up against Iona College, whose mascot is … the Gaels?
What would happen to this sledgehammer-wielding Celtic warrior in a cyclone?
"It would not be good," says John Belski.
Belski is a meteorologist who's been covering weather in Louisville for more than 30 years. He's seen his fair share of tornadoes.
"Even a weak one would at least pick him up and throw him off to the side a few feet," he says. "Obviously if it was one of the more violent ones, you would probably be carried hundreds of hundreds of feet."
Are there any offensive moves a human could make against a cyclone? Say, maybe, if they had a big sledgehammer?
"You could swing it around. It might break up the cyclone?" I offer.
Belski laughs.
"No," he says. "Nothing you can do to stop a cyclone. Just run."
And the Gaels did run, all the way back to New Rochelle after their first round loss.
Right now Wilson's bracket is in last place. As usual. But she did call the 15-2 upset between Middle Tennessee and Michigan State (Spartans have no defense against Lightning.) Maybe she has a chance this year?
This segment aired on March 26, 2016.