It's Never Too Early To Panic: MLB Fans Take To Twitter
Play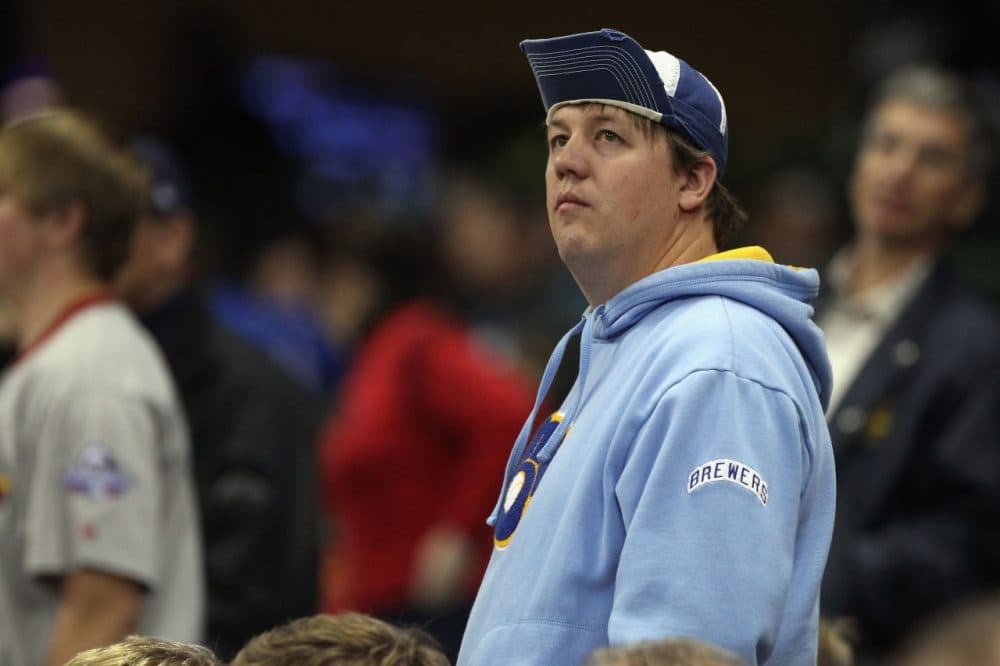 This article is more than 6 years old.
When is it too late for your favorite baseball team to turn its season around? June? July? For Mets fan Pat Lyons, the answer was last week…


The Mets have already ruined my summer
— Pat Lyons (@plyons95) April 13, 2016

Lyons tweeted that on Tuesday night — just seven games into his team's 162-game season. Pat isn't the only fan on Twitter who's already given up.

But we have confidence that Wall Street Journal columnist Jason Gay and ESPN baseball analyst Tim Kurkjian can put some of these early-season tweets into perspective for us.


Oh good the Mets have a day game so they can make work even more miserable
— mush (@R_Murph34) April 13, 2016

TK:  Wow, we have some angry fans out there, Bill. Bitter, bitter people. OK, the Mets just finished a five-game stretch where they scored eight runs. I get it. They have a terrible offensive team, and their pitching hasn't been great yet. But it's going to be great. And they're going to make the playoffs. So just back off a little bit.


Idk why I'm mad at the Braves, everyone knew we were gonna suck this year #pleasedontlose100games
— Savannah OKelley☀️ (@snazzysavvv) April 7, 2016
BL: Now there's ambition, Jason. Please don't lose 100 games!
JG: Can we get that on a shirt? You know, #pleasedontlose100games? Every team wants some sort of viral campaign. I think that's addictive one right there.


At this point, I think the Bad News Bears - at the beginning of the movie - would light up the Red Sox pitching staff.
— Andrew Ansley (@AAnsley_31) April 13, 2016

JG: We all know the Bad News Bears weren't anything until Walter Matthau stepped in, so that is quite an indictment.

BL: Tim, Red Sox as bad as the early-season Bad News Bears?

TK: The Red Sox have bad pitching so far. It's not that bad. Everyone just needs to calm down, especially in Boston.


Braves might be the worst baseball team to ever take the field in the MLB.
— Jamey Barnes (@JBarnesBH) April 12, 2016
BL: Now that is a distinction — the worst-ever to take the field in MLB. What do you think?
TK: Bill, who do you think you're talking to here? This is Tim Kurkjian. I was the beat writer for the 1988 Orioles that lost their first 21 games to start the season. So don't tell me about the worst baseball team in MLB history. I covered that one.
BL: Jason?
JG: I actually have crunched the numbers. And the 2016 Atlanta Braves are the worst team in the history of baseball.
BL: They've only played less than 10 games!
JG: The votes are in, Bill. It's definitive.
BL: OK, so that fan's right on the mark. 


Based on the first inning alone, World Series is a lock #Yankees
— JJ (@BarstoolJJ) April 5, 2016
BL: What do you think? Overly optimistic?
JG: Let me tell you what a Yankees world championship is like in New York City. It's like a real estate closing. Everyone just kind of sits around and goes, "Yup, all right, good work everybody. That's what we expected. All right, that's a wrap."
BL: But maybe it won't be the Yankees in the World Series.


Hey @BarstoolReags I can't wait for this Orioles vs Cubs World Series
— Matthew (@TheeMattEder) April 13, 2016
BL: Yes?
TK: Well, I'm going to say no, but, Bill, what do I know? We've been over this. I picked the Nationals and the Mariners to play in the World Series last year and neither one of them even made the playoffs. So what do I know? Cubs, Orioles? Sure. Why not? Pick any two — you got a shot at it.
TK: No, Bill. With the number of games you play, for people to panic like this, is the equivalent of panicking, literally, halfway through the first quarter of the first Patriots game of the season. Halfway through the first quarter! There is no panic in major sports like there is in baseball.
BL: Jason, from what I have seen in the past, I guess this always happens. But is there any circumstance under which it's legitimate to draw conclusions about a baseball team based on the first 10 or so games of the season?
JG: Absolutely not. That's why baseball plays 795 games a season, Bill. That's part of the joy of it, right? These teams play so often they practically move into your living room. The idea that you can somehow reject them out of hand in the middle of April is absurd. And I blame the social media here, Bill. You know why? Twitter is all complete flying off the handle. And so if you spend too much time and soak in all that pessimism, you're gonna think things are really that bad. And the truth is, Bill, they're not. Except maybe in Atlanta.
This segment aired on April 16, 2016.