Ballparks And Organ Music — A Match Made In Chicago
Play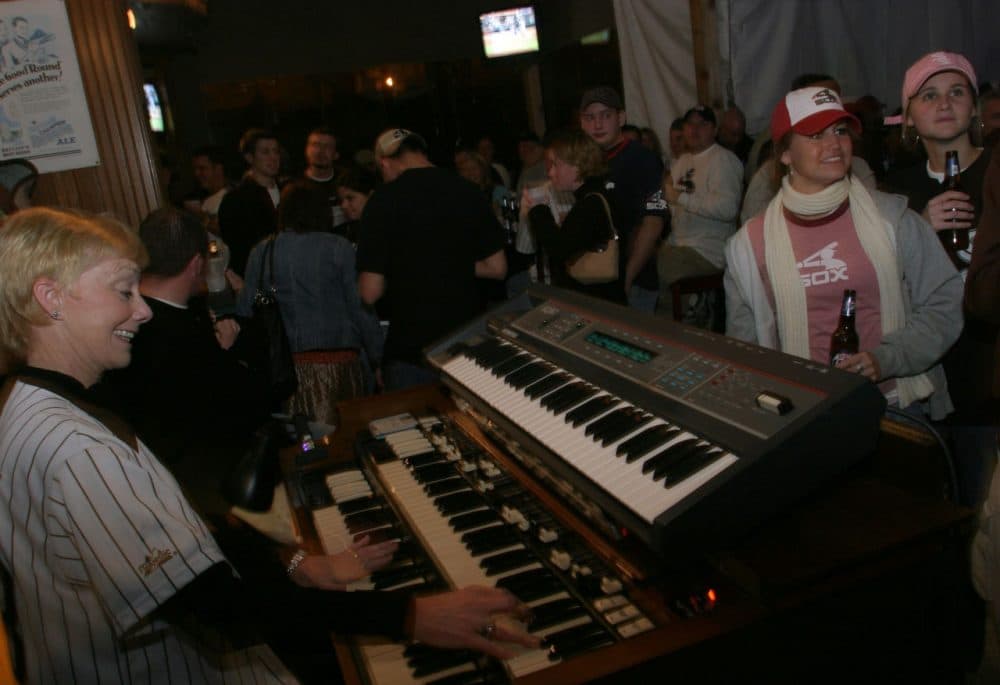 This article is more than 6 years old.
This past Tuesday was the 75th anniversary of the first-ever performance of live organ music at a Major League Baseball game. Ballpark organists Josh Kantor, who plays for the Boston Red Sox, and Bobby Cressey, organist for the San Diego Padres, share the unexpected history of music at the ballpark, starting with that first performance on April 26, 1941 at the Chicago Cubs' Wrigley Field by organist Ray Nelson.
"He probably was pretty famous," Cressey says. "There were a lot more people back then that used to play the organ, so I'm sure it wasn't just anybody that they picked."
I love being able to play a song maybe the day it came out. That's sort of a fun thing. If it's something that maybe has gone viral and maybe people will recognize it and enjoy it.

Josh Kantor, Red Sox organist
While live organ music was new to baseball, it wasn't exactly an unheard of concept in professional sports.
"There's accounts of hockey stadiums in the 1930s that had organists," Kantor says. "So it was not some new, crazy, wild idea. In fact, before that, in the early 20th century, there's a history of pep bands and that kind of thing being hired at baseball games, so the notion of having live music performance at sporting events had been around."
A few days after the organ made its debut at Wrigley Field, the Chicago Tribune published a review.
"And it's just like three short paragraphs that talked about this guy, Ray Nelson," Cressey says, "who on Saturday unveiled his pipe organ behind the grandstand screens. So it was a pipe organ. And also it looks like he was going to try to come up with a theme song. Apparently the name of the theme song was, 'When the Midnight Choo-Choo Leaves For T-U-L-S-A.'"
"I'm not sure why a song about a train to Tulsa would pertain to the Cubs," Kantor says. "Maybe they had a farm team in Tulsa at the time? I don't know. I'm just sort of wildly theorizing here."
"But then it's funny," Cressey says, "because the article quickly says after that, the very next line is, 'Hey, uh, if anyone can think of a better title for this theme song, please send them to the General Manager.' If that's the general manager of the team that's kind of funny 'cause, like, he's an important guy."
Soon, organ players, like the Yankees' Eddie Layton, were dazzling fans at ballparks all across the country.
"The '50s," Kantor says, "was definitely an era of great popularity for the organ, as an in-home instrument — you know, before The Beatles went on Ed Sullivan and all the sudden every kid wanted to play an electric guitar. But, you know, the Red Sox have had organ music at all their home games continually since the start of 1953 which was when John Kiley started, and he was the first organist for the Red Sox and he was there for 37 years."
"The most famous organ player from Padres history was this guy named Danny Topaz," Cressey says. "He was hired by the Krocs — Ray Kroc, the founder of McDonald's who owned the Padres in the early years, who hired him on the spot. He thought he was an amazing organ player and, you know, both Ray and Joan Kroc were organ players themselves, which is so funny because that just speaks to the time."
Some, like Chicago White Sox's Nancy Faust, became legends.
"Nancy Faust, she was the first one to kind of play rock and roll," Cressey says. "She would play 'Na, na, hey hey, goodbye' during a strikeout. So, she got a little more cheeky with it, you know."
But over the decades, ballparks began losing their organ players. Some teams built new stadiums and decided not to bring the instrument along. Others simply didn't hire new musicians when the old ones retired.
Luckily for fans of organ music, that trend has reversed.
"As these entertainment people that work at these different ballparks kind of scratched their heads, always trying to come up with the new thing, a lot of them were like, 'Hey, you know something that's missing here that we could try this year? Like, let's actually try having an organ here,'" Cressey says.
Every ballpark organist has their own style.
"I love being able to play a song maybe the day it came out," Kantor says. "That's sort of a fun thing. If it's something that maybe has gone viral and maybe people will recognize it and enjoy it."
"Last week, we played the Cardinals, so I played the theme to 'Angry Birds,'" Cressey says. "And people are like, 'Whoa, Angry Birds!' And they don't realize, and then I'm like, 'Yeah, we're playing the Cardinals.' And then people are, like, 'Genius.'"
Ballpark organs were almost lost once, so what does the future hold?
"I don't know what it'll look like five, 10, 20 years from now," Kantor says. "Maybe you can call me up for the 100th anniversary and we can look back and see how it went."
This segment aired on April 30, 2016.