How Did This Year's Kentucky Derby Horses Get Their Names?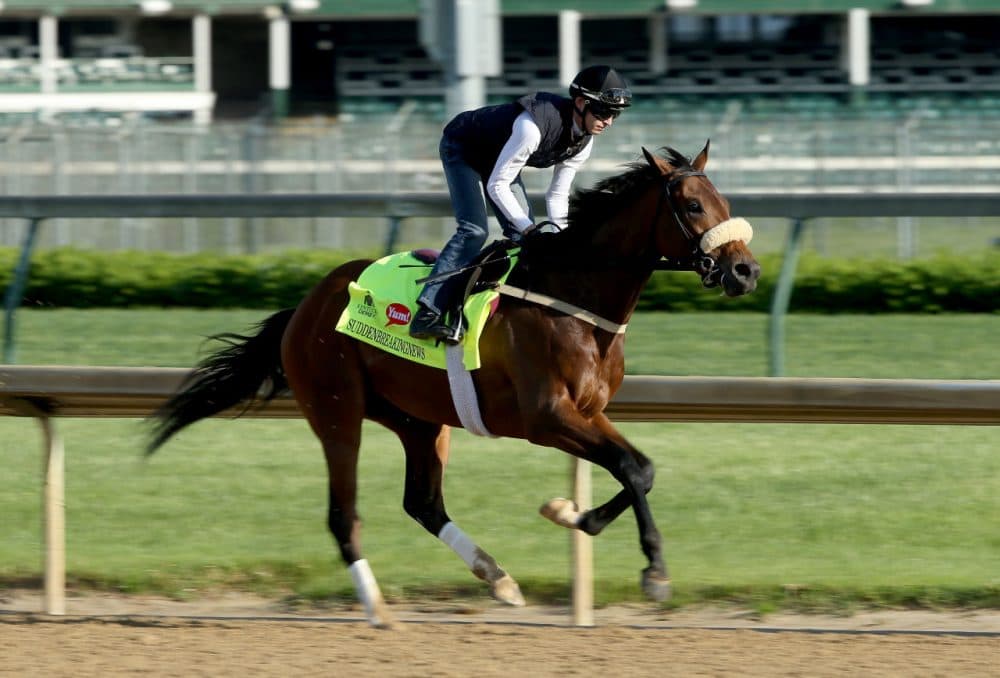 This article is more than 6 years old.
From mint juleps to red roses, the Kentucky Derby is steeped in all sorts of tradition. One of the most fun is the wild names of the horses on the line. Past Derby winners have included Animal Kingdom (2011), Super Saver (2010), Real Quiet (1998), Thunder Gulch (1995) and Dust Commander (1970).
Have you ever wondered why these thoroughbreds have such far-out, and sometimes just plain ridiculous, names? Thanks to an elaborate list of rules regarding thoroughbred names (no initials, must be 18 or fewer characters, nothing with "commercial, artistic or creative significance"), owners have to get a bit creative.
Here are the stories behind some of the horses that will take to Churchill Downs this weekend.
---
Nyquist — J. Paul Reddam named his horse after Gustav Nyquist, a winger for Reddam's beloved Detroit Red Wings. Though the Derby frontrunner's namesake won't be able to watch the race in person (he'll be competing for Sweden at the IIHF World Championships), Nyquist is hoping for some roses this weekend.

Brody's Cause -- This Derby horse gets his name from trainer Dennis Albaugh's nephew's son, Brody, and the horse's sire, Giant's Causeway.
Mor Spirit -- Trainer Michael Lund Petersen's horse is a tribute to his Danish roots.
"Mor means mom in Danish," he told BloodHorse.com. "My mom turns 90 in May, and my wife thinks she's a feisty little woman, so we named the horse after her."
Majesto -- Majesto is a combination of Marco, Jesus and Tony, the names of his three owners.
Trojan Nation -- Owners Aaron Sones and Julie Gilbert are massive UCLA Bruins fans. But, they decided to name their Derby contender after Gilbert's late father, Morty, who rooted for the rival Trojans.
Suddenbreakingnews — Though he told ESPN he's no real news fiend, owner Sam Henderson thought the name Breaking News had a nice ring to it. The Jockey Club rejected his submission because it had already been used by two thoroughbreds, so Henderson went with Suddenbreakingnews.
Creator — Elliott Walden waited and waited for "Creator" to become an available thoroughbred name so he could have a horse named after God.
"All we're trying to do is bring glory to Him," Walden told Louisville's NBC affiliate. "So that doesn't mean he's going to have any special luck on Saturday. He might finish last. All we're trying to do is express our faith in such a way that people might give it a second thought."
Mo Tom, Tom's Ready — G.M.B. Racing's two Derby horses are each named for owner Tom Benson. Benson also owns the New Orleans Pelicans and New Orleans Saints.
Whitmore -- Ron Moquett said his young thoroughbred showed so much raw athletic talent that the horse reminded him of a old high school classmate. That classmate, Wilbur Whitmore, was a running back and linebacker. So, Moquette called up his old friend and asked for permission to name a horse after him.
"It's very exciting, almost hard to believe," Whitmore told Oaklawn Anywhere. "Every time I turn around, especially when the horse does good, I'm getting calls. My family has the same name I do, and it makes us feel good and honored that we know Ronald. I was just honored that he was even thinking of me."