50+ Years After Undefeated Season, 'Bestwick Boys' Rally Around Coach
Play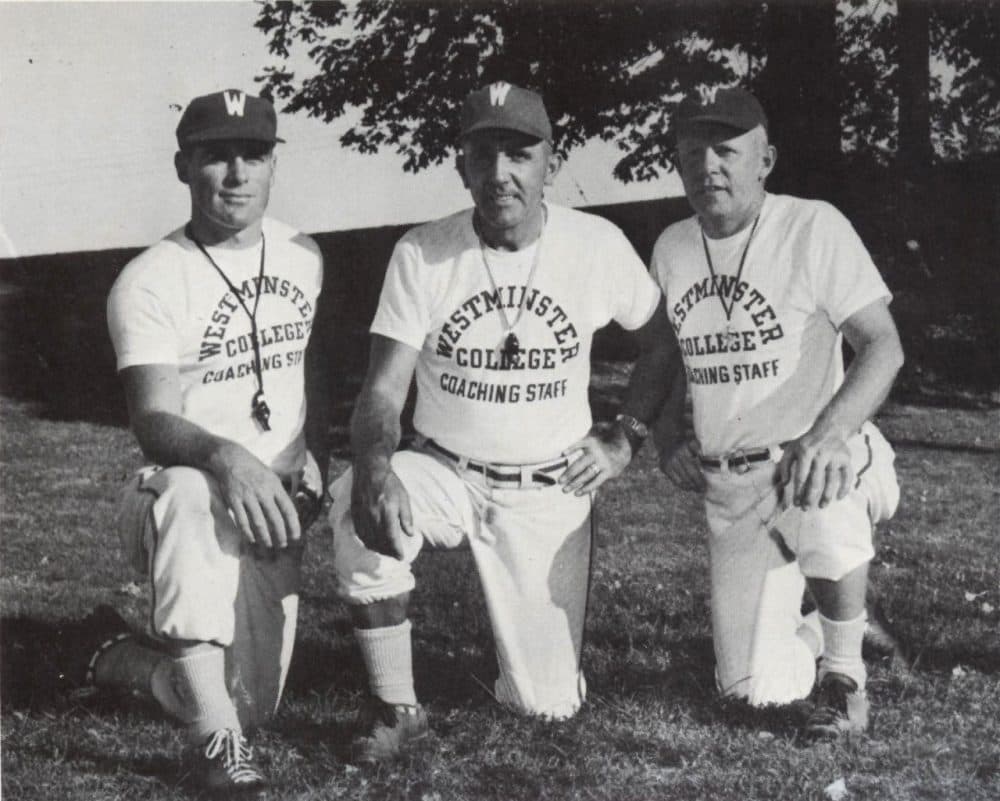 This article is more than 6 years old.
When I was a teenager, my dad gave me an engraved silver bracelet from his days at Westminster College, a tiny Division III liberal arts school in Western Pennsylvania. I wore the bracelet for years — it's made to stretch over any size hand. It's engraved with Dad's name: "Herb Niles: Co-Captain 1965 Titans." Growing up, this was one of the key things I knew about my dad's life before he became my dad: He didn't just play college football. He was co-captain of his college football team. Little did I know, before becoming co-captain, he rode the bench for two years.
"I didn't lack for confidence," he says. "I think it was ability that was the problem."
In 1964, when Dad was a junior, a young coach named Dick Bestwick joined the Westminster Titans staff. And Coach Bestwick convinced the head coach, Harold Burry, that guys should play either offense or defense, but not both. This was still a novel idea at the time. Instead of wearing out a dozen of the best players by playing them the whole game, the Titans would keep everybody fresh by cycling all the players on and off the field. Even Dad.
"He was a big, big advocate of giving everybody a chance and not in a namby-pamby way," Dad says. "Cause he was a tough guy, a hard-nosed guy, but a very compassionate guy at the same time, who not only loved football, but he loved the players. He loved everything about it."
Westminster already had a great reputation for football — they had been conference champions for years. Now with Coach Bestwick on board, expectations soared.
"Guys on the football team would talk about him as if they revered him," says Larry Bonney, one of Dad's teammates. "They said, 'This is gonna be our year.'"
Don't ever lay down on me. Don't ever quit on me.

Dick Bestwick
Bonney was playing intramural basketball when Coach Bestwick recruited him for the football team. He said he thought he was already in shape, until he met Coach Bestwick.
"He would work us to death before the actual contact part of the practice started," Bonney says. "Wind sprints and pushups, situps — all the standard stuff — and he would beat you down so you could barely move. And then he'd take you over in the shade, have everybody lay down on their backs. He said, 'OK, just relax. Regulate your breathing. I want to talk to you guys.'"
Coach Bestwick talked to them about the Vietnam War, how they'd likely be drafted. He told the players: he wasn't just preparing them for football games. He was preparing them for teamwork, leadership, life.
"'Don't ever lay down on me. Don't ever quit on me,' he said. 'I won't accept that. I'm going to drive you to excellence, and we're here to love one another, support each other and play a game together,'" Bonney recalls.
"And then he'd say, 'OK, guys. Time to go. You've got your shoes shined, your hat and vest relined, we're ready for the za-zu-zaz,'" Dad says. "And that's when you knew it was time to buckle up your chinstrap and go hit somebody."
"We knew if we gave ourselves to our coaches, and if we worked together and worked hard, that we had an opportunity to be really successful," Bonney says.

And they were. The Titans closed the 1964 season undefeated. In the final game, they crushed the Juniata Indians 41-7 at the Titans' home stadium on the north shore of Westminster's Britain Lake.
"And the tradition is, when you go undefeated, you throw the coaches in the lake, and everybody jumps in the lake," Dad says. "And so to have a chance to finish it off in that way was pretty exciting."
Living The Bestwick Way
Coach Bestwick left Westminster the next year and went on to become a successful head coach and athletic director. His career took him to the University of South Carolina, Virginia, Mizzou, Georgia Tech, Georgia. For a while he scouted for the Dallas Cowboys. But Coach Bestwick's legacy from Westminster carried far beyond football.
Remember the movie "Silence of the Lambs?" In the opening scene, Jodie Foster's character Clarice Starling runs through an obstacle course, and an FBI instructor appears, yelling, "Starling! Starling! Crawford wants to see you in his office."
That FBI instructor is played by Larry Bonney. See, after Westminster, Larry joined the FBI. He was running the New Agents Training Program at Quantico when the movie was shot there on location — and he got a part. In real life, Larry also helped found the country's first Hostage Rescue Team in 1983. And throughout his FBI career, he delivered his version of the Bestwick Speech:
"This is what this is about guys. It's not about making you miserable or getting you hurt or making you whine or cry or anything else. It's about testing your own limits, pushing yourself harder than you've ever pushed yourself before and having the confidence in yourself that you can make it."
This type of motivation is also a huge part of how I was raised.
"It's not always going to be easy, but you've got to keep going, got to keep working at it," Dad says. "You've got to make it a great day — nobody promised you one."
Gradually, I learned how much my dad's philosophy had been shaped by Coach Bestwick.
Then, several years ago, my dad learned how much Westminster's undefeated season had stayed with his coach.
"He said when he would go through MRIs, he would just replay those games in his mind to take his mind off the drudgery," Dad says.
Bestwick's Boys Give Back
In 2004, the 1964 Titans converged on the Westminster College football field for their 40-year reunion. Eighteen players were there. Coach Burry and the other coach, Buzz Ridl, had since died. Coach Bestwick couldn't make it.
"I didn't have the mobility to get different places," Coach Bestwick says.
Since August 29, 2003, he's suffered from a nerve disorder. It came on suddenly and mysteriously.
"It's called Transverse Myelitis," Coach Bestwick says. "For me it's like from the waist down, everything feels like it's throbbing and burning."
And the pain never subsides.
"No," Bestwick says with a chuckle. "It's 7/24."
Coach Bestwick was heartbroken he couldn't make the reunion. And he couldn't sit long enough to write all the players letters explaining why. So he wrote a group email instead. The first was to five players whose addresses he knew. Dad still has it. And in it, Coach Bestwick recounts their accomplishments together. He tells them how proud he is of all they've done in their lives. In a second email, he tells them about the Transverse Myelitis — what it feels like, how he's coping.
"You endure it," Bestwick says. "And there's no sense crying about it or feeling sorry for yourself, 'cause there are all kinds of people who have all kinds of problems, and you just make the best of yours."
Coach wrote, "After 48-years of trying to help young people learn to 'suck it up,' I could hardly do less." Then, he asked those first five players to forward his message on to others. Now he's in touch with players from throughout his career — a lot of them.
"Oh, gee whiz. Somewhere between 50 and 100, all told," Bestwick says.
He calls them his Bestwick Boys. Larry Bonney says now it's their turn to help their coach.
"That's the way it's supposed to be. That's shared suffering, and that's what the Bestwick philosophy is, you know, you care for one another, you take care of one another. When people are in need, you go to 'em. And he's living it now, from the down side."
Coach told his players, back in 2004, that he treated every day like a game; if he got out of bed, he was winning. In 2016, with help from his team, Coach Bestwick is still winning.
Hilary Niles is a freelance journalist based in Montpelier, VT.
This segment aired on June 4, 2016.