National Women's Soccer League Gives Amateur Players A Shot At The Pros
06:34
Play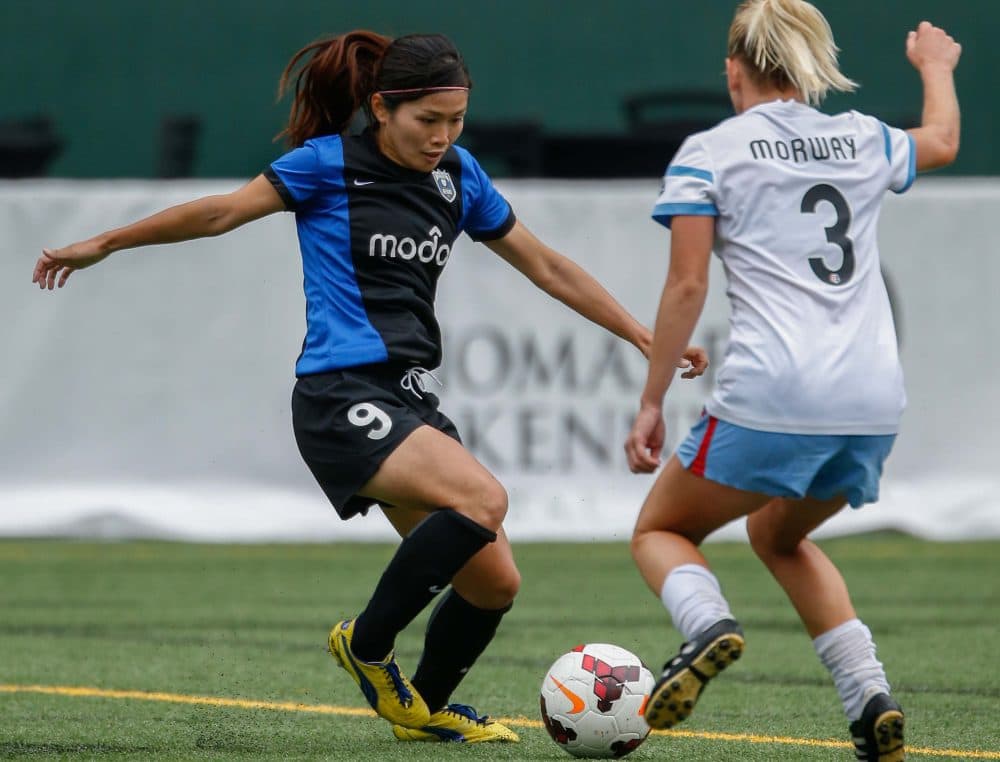 This article is more than 4 years old.
I first saw the U.S. Women's Soccer Team play almost 25 years ago at Tufts University in Medford, Mass. Their opponent was the Norwegian National Team. I was there because a friend who knew some of the players told me my young daughters would enjoy the game.
They did. So did I. And I learned that a year earlier, when those women had returned to the U.S. after winning the first Women's World Cup in 1991, they'd been greeted by exactly one reporter.
The first women's pro soccer league emerged from the excitement of the 1999 Women's World Cup, which the U.S. women also won, at which point Brandi Chastain became a poster girl.
That league was the Women's United Soccer Association, and it lasted from 2000 until 2003. It featured U.S. stars Mia Hamm, Kristine Lilly, and Julie Foudy, as well as the best players from Japan, Germany, Norway, and the other nations in which women's soccer had made an impact. Toward the end of the 2003 season, I interviewed a young Boston Breakers defender named Kate Sobrero. When she'd answered my last question, she hugged me. I thought this was a little odd until a day or two later when I learned what Kate had already known: the league was suspending operations.
The WUSA was followed by Women's Professional Soccer. The WPS began play in 2009 and ceased operations after the 2011 season.
Both leagues provided excellent soccer, and the ticket prices delighted fathers, mothers and coaches of soccer-playing children.
Both leagues lacked national sponsors. Both ran out of money.
Then along came the National Women's Soccer League.
The NWSL began play in 2013, and money was an object. A team salary cap insures that nobody will get rich, and the national federations of the U.S., Mexico and Canada help out by paying the salaries of their national team players on NWSL teams.
When those national team players get called up for duty in a season that includes the Women's World Cup or the Olympics, well, that's where players like Alli Murphy and Kassidy Brown come in. Each had been playing on the reserve squad of an NWSL team: Murphy for the Washington Spirit, and Brown for the Chicago Red Stars. Each recently learned she had a job.
"I received an email late one Sunday afternoon on my phone, and I was pretty shocked," Brown says."I just was checking my email on a regular daily basis, and I read, 'Congratulations. You've been called up to sign an amateur contract with the Chicago Red Stars.'"
"I'll probably be, you know, one of those old veteran players that they're having to force into retirement just because I love the sport that much. And I think that love has to show with the fact that I am just an amateur call-up. But I just hope one day it will be my time."
It was that "amateur contract" thing that intrigued me. I'd never heard of any professional team in any sport filling roster spots with amateurs, and neither had anybody else at Only A Game. Major League Baseball teams bring up players from the minors. NBA teams sometimes dip into the developmental league. The call-ups are pros. They may not be making much, but they're paid. But the women replacing the Olympians... here's Alli Murphy's explanation:
"Well, basically, because we have amateur contracts, and because we're not getting paid and on a regular contract, we can play for the reserve team, but then, when we get called up, we don't lose our amateur status, if that makes sense," Murphy says.
"OK. Well, this is very confusing to me, because you're an amateur in somebody's mind, but you're getting paid to play the game as though you're a professional, too, right?" I ask.
"Yeah, but just for those exact games," she says.
"Do you know what the rate is per game?" I ask.
"I wouldn't know, because, unfortunately, the one game I got called up for was cancelled," Murphy says.
"So you won't actually know what the rate is until you see a paycheck, I guess," I say.
"Yeah, pretty much," she says. "Sadly, I'm in that boat."
Yeah, but, not exactly sadly. Because both Alli Murphy and Kassidy Brown — like Mia Hamm and Kristine Lilly and Abby Wambach before them — have wanted to play soccer at this level since they were little girls. The invitation to become unpaid members of the reserve squads of their respective teams was a step toward accomplishing that. And now, at least temporarily, they are both in the pros, though there's apparently some confusion about what that means.
"To my understanding, 'amateur' means, basically, that I am able to play for the Chicago Red Stars, dress for games, but I'm not compensated any money," Brown says.
"So, wait a minute," I say. "You're going to take the field for the Red Stars, potentially, but you're not going to get paid?"
"Correct," she says. "When you put it that way, it sounds crazy, but, yeah."
It also sounds as if — assuming Kassidy Brown is right — Alli Murphy is in for a nasty surprise when she opens up the envelope in her locker and finds a thank-you note and no check.
Women's pro soccer is so threadbare that two entertaining leagues have come and gone, and young women who recently starred on college teams find themselves in this ambiguous position. Are they pros? Sure. They've been added to a pro team's roster. But are they paid? Gee, they're not sure. Or at least one of them isn't.
On the other hand, as the U.S. Women's Team warms up for Rio, the NWSL is still in business. If the business is kind of "crazy" — Kassidy Brown's word for it — at least the gates are still open. As Alli Murphy sees it, that's pretty much the whole point:
"Soccer has really been my dream since I could walk and talk, if you asked my parents," Murphy says. "It's what I've always wanted to do. I actually am the baby on the team. I'm the youngest of everyone on the team. So I kind of want to see where it takes me and play for as long as I can. I'll probably be, you know, one of those old veteran players that they're having to force into retirement just because I love the sport that much. And I think that love has to show with the fact that I am just an amateur call-up. But I just hope one day it will be my time."
I began pursuing this story because I've enjoyed the women's pro soccer I've watched in Boston, in Washington, D.C., in Florida, and in Los Angeles, among other places, as the pro leagues have come and gone. I root for the pro game today, too, but I was curious about how anybody could be an amateur playing for a professional team. I guess I needed to be reminded that the root of "amateur" is the word that means "to love."
So, Alli Murphy and Kassidy Brown, thanks for the reminder. And may your time be now.
This segment aired on June 11, 2016.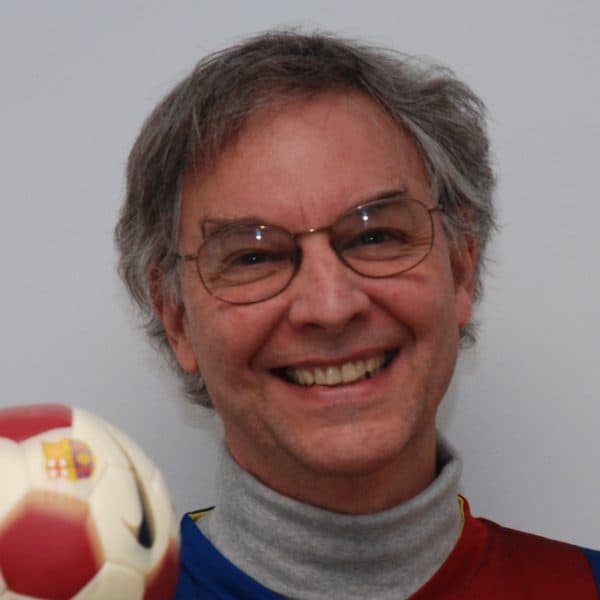 Bill Littlefield Host, Only A Game
Bill Littlefield was the host of Only A Game from 1993 until 2018.