Remembering Women's Hoops Pioneer Pat Summitt
Play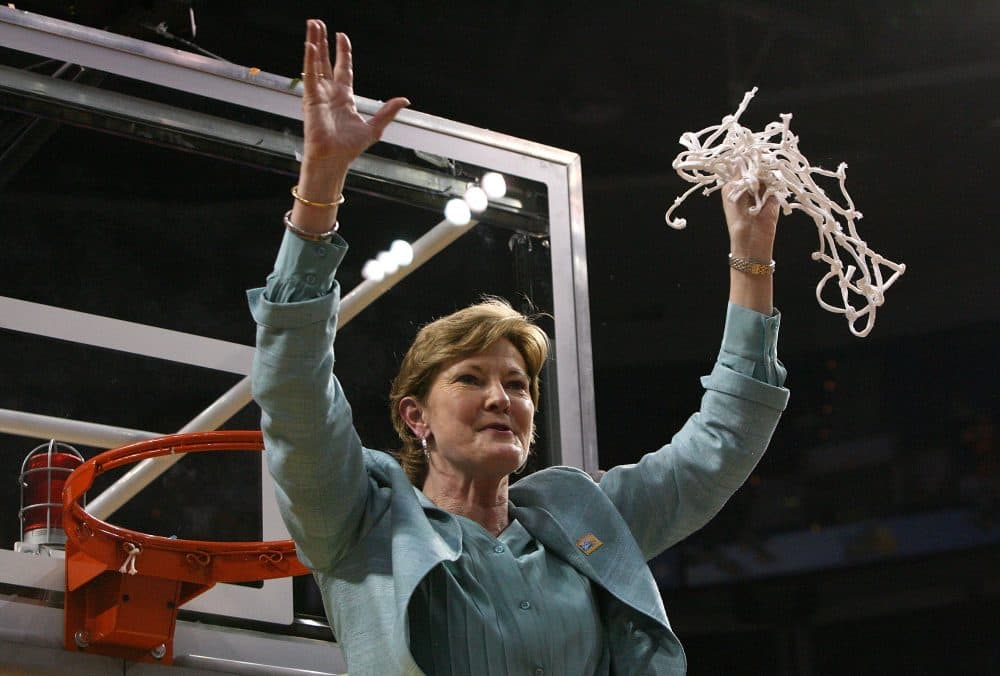 This article is more than 6 years old.
There is a statue of Pat Summitt on the campus of the University of Tennessee. The statue presents Summitt with her arms crossed. The statue is half-smiling and its mouth is closed.
There are lots of photographs of Pat Summitt with her mouth open, because you can't shout with your mouth closed. In those photographs, her eyes are wilder than are the statue's eyes.
Summitt presided over more wins — 1,098 of them — than any other Division I basketball coach of either gender. She led Tennessee to eight national championships.
Perhaps even more significantly, she wasn't just present at the creation of the phenomenon she came to dominate. She created it.
When Pat Summitt became head coach of the women's basketball team at Tennessee in 1974, the job was marginal. Probably nobody was surprised that she was working on a masters' degree in her spare time. She also drove the team bus and washed the uniforms after games. So, what spare time?
Two years after she took the job, women's basketball was featured in the Olympics for the first time. Summitt jumped at the opportunity to play for the U.S. team, which came second to the team from the Soviet Union. Eight years later, at the '84 Games in Los Angeles, she got even by coaching the U.S. Women's Team to a gold. It probably irked her that the Russians weren't there to beat.
Over the 38 years during which Summitt coached at Tennessee, women's basketball grew into a sport that filled not only her arena but those in Texas, Connecticut and California, among other places. In 2006, when Summitt became the first women's coach to be paid a million dollars a season, the days of driving the bus must have seemed pretty distant.
Summitt was, no doubt, delighted when, 20 years ago, the WNBA opened for business and gave some of her players an opportunity she'd never had. But word on campus was that nobody was to leave Tennessee for the pros without a degree.
Even in the world of sports, where superlatives are cheap, relatively few people deserve to be credited with moving their games forward. Pat Summitt hauled the sport she played and coached into prominence. She did it by recruiting great players, teaching them the game as she wanted them to play it, staring them down when they didn't perform as well as she knew they could, and squawking when she felt she and her players were being jobbed by an official. Her significance within the realm she dominated for a time probably can't be overstated, and she was no slouch beyond it.