Corey Cogdell-Unrein On Being In The Eye Of A Twitterstorm
Play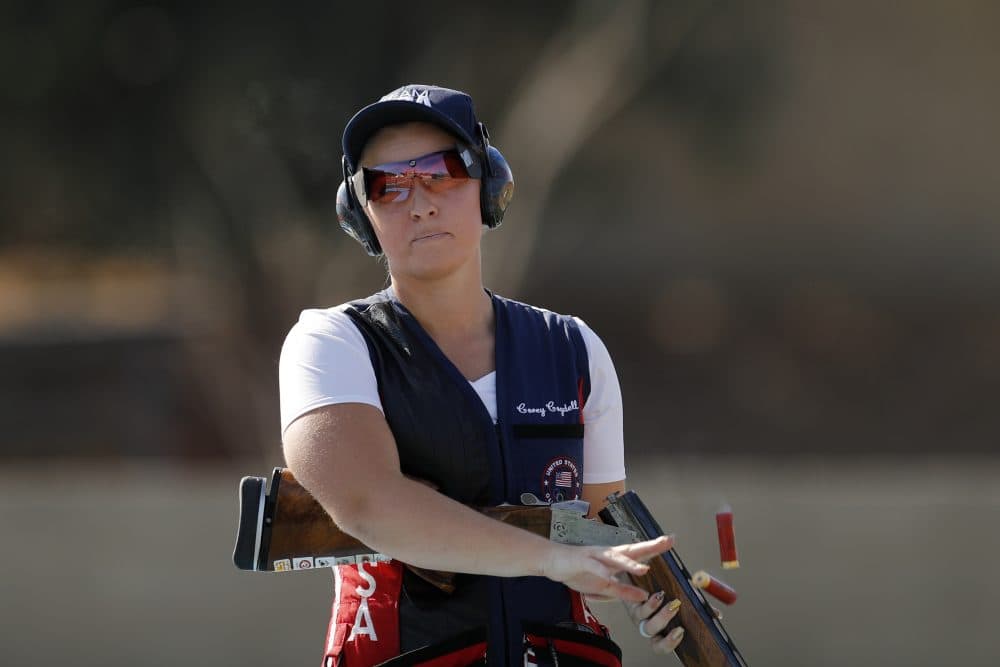 This article is more than 6 years old.
Scandal and the Olympics. These two things seem to go together. This week we've seen the "what turned the water green" controversy, and the "what's up with those marks on Michael Phelps' back" mystery. Television viewers asked why American gymnast Gabby Douglas didn't put her hand over her heart during the national anthem and Facebook went crazy for about a minute and a half over why one Ukranian gymnast took zeros in all his events.
But what's it like to be in the middle of one of these controversies? Olympic trap shooter Corey Cogdell-Unrein found out last week.
Corey's name is at the center of this whole thing, but before we talk about that, let's go back to where this story began — last Sunday.
"Sunday was amazing," Cogdell-Unrein says. "I was fortunate enough to win my second Olympic bronze medal, and it was just such an incredible day. The weather was difficult, made for some difficult conditions, and I was able to overcome all of that and walk away with the bronze medal so it was amazing."
This is Corey's third Olympics for Team USA. She also won bronze in 2008. She's been shooting competitively for 15 years and she's turning 30 in a couple of weeks. So...she's been working at her sport for half her life.
She's only been married for the past two years, but that's where the Chicago Tribune chose to put the focus when they Tweeted about her bronze medal win on Sunday. The Twitterverse was not amused.
"My husband texted me and he said, 'Oh my gosh. Have you seen what's going on Twitter and social media? People are talking about you and kind of going crazy,'" Cogdell-Unrein says. "And of course I immediately looked up what had happened and tried to figure out what was going on."
"Well, you know, initially when I read it, I didn't really think much of it to be completely honest," Cogdell-Unrein says. "It didn't come off to me as something that was intentional or malicious. I just kind of thought, 'Well, you know, they probably could've chosen a better heading to alert people of my victory.'"
Like, maybe a tweet that included the words, Corey Cogdell-Unrein? Corey laughs about it now. And she laughed about it then, too. So did her husband, Chicago Bears lineman Mitch Unrein.
"You know, he would actually send me some of the comments that people were making, saying 'Oh my gosh, look at this one. This one's funny. Oh my gosh, this guy nailed it,'" Cogdell-Unrein says. "One of the ones that I thought was really funny was something to the effect of, 'Husband of Olympian tries to make Super Bowl team.' I sent that to him, and he got a kick out of that."
On Monday, the Chicago Tribune sent out another tweet.
Corey says she appreciates that the Chicago Tribune has admitted it was wrong. The paper didn't respond to our requests for an interview.
Wrapped up in all of this is the fact that for two weeks every two years, news organizations are in the business of reminding their audiences who's who, and we use shorthand more often than we'd like to admit. This one has asthma. That one grew up in a war zone. Sure, identifying a woman by the accomplishments of her husband is really annoying, but is it any worse than the headline CNN recently ran ahead of next month's Paralympics, "Blind Navy veteran hoping for Olympic gold?"
The Chicago Tribune made a mistake. But Corey Cogdell-Unrein and her husband — I'm going to skip using his name this time around, just for fun — are doing just fine.
"I'm used to living with my husband's fame, and he's used to living with mine. So depending on the situation, sometimes I'm the center focus, and sometimes he's the center focus," Corey says.
It helps that Corey's originally from Alaska. The NFL might rule Chicago, but it doesn't rule the 49th state.
"Everyone back home was very excited," Cogdell-Unrein says. "The media up there has done a great job about focusing on me and what I've accomplished over my career."
While researching this story, I found another interesting tweet. It's a photo of the Chicago Bears in their locker room at training camp. It was taken after the team gathered to watch Corey Cogdell-Unrein compete in Rio. They're all wearing matching t-shirts to show their support of Corey and all that's she's accomplished. Fewer people have seen that tweet, but I think it's worth mentioning.
This segment aired on August 13, 2016.