Rockingham Remembered
03:52
Play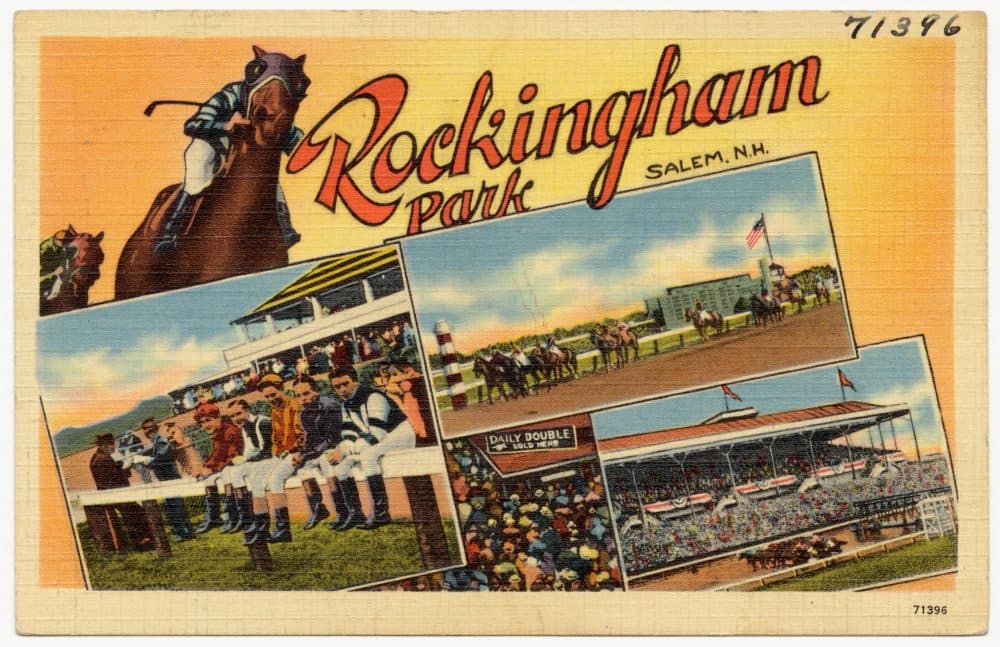 This article is more than 4 years old.
Last week the doors closed for the last time at Rockingham Park. That's been happening at race tracks across the country. Thoroughbred racing at Rockingham had been a diminished thing there since 2009. Since then, horseplayers could only watch simulcasts on TV and bet on races that were happening at other tracks.
But not so very long ago — at least not so long ago if you've got some years on you — the thoroughbred race track just across the Massachusetts line in Salem, New Hampshire, was an excellent take on a summer's day.
"Just to stand at the railing and to see them flying and the dirt flying and the colorful silks … there's nothing more exciting in the world," Robert Temple says.
Temple's written two books about horse racing in New England, where there used to be 17 race tracks, and now there are none.
"Just to show you how popular the sport was, in 1958, just four of those tracks Narragansett Park, Lincoln Downs in Rhode Island, Rockingham Park, Salem, New Hampshire, Suffolk Downs in East Boston – just those four tracks alone outdrew the Red Sox, Bruins and Celtics combined," he says.
Of those four, Rockingham Park was by far the prettiest.
"The other New England tracks were really kind of seedy," Andrew Beyer says.
Beyer is one of the nation's most celebrated turf writers and has written five books on horse racing and handicapping.
"Rockingham was really a lovely place — fan friendly, a nice environment, a really pleasant place to be. And it gave me kind of a little bit of a different feeling about what the live racing experience could be," he says.
Beyer's memories are not only the same as Robert Temple's, they're the same as mine. Rockingham Park had flower gardens. Sometimes it had bands. And of course, as Robert Temple recalls, it had the excitement of horses rounding the final turn and coming into the stretch.
That's pretty much the way I saw the Rock a little over 40 years ago, when I first moved to New England. And there was this young woman who'd done some riding in horse shows when she was a kid, and I thought she might like to watch that dirt flying and the jockeys in their colorful silks, and, who knows? Maybe I'd pick a winner or two, which might be impressive. So we drove up from Boston to Rockingham Park.
The flowers were there, and a band, I think, unless I'm only imagining that now. And there were lots of people, too, which is another respect in which my memories are similar to those of Andrew Beyer.
"Race tracks were really colorful places," Beyer says. "They had a vibrant social life, filled with the types of characters that you see in Damon Runyon stories."
If you don't know any Damon Runyon stories, do yourself a favor and pick up a collection of his short fiction at the library – or Google him, if you like – and you'll learn that some of those characters were touts. Those are guys who buttonhole patrons at the paddock or at the rail and give them betting advice – tips — and the touts keep track of which tips they've given to which patrons, and then if their picks pan out, they come back after the patrons have been to the window for their cash and the touts suggest that maybe they should be tipped for their tips.
One of those guys at Rockingham on that summer afternoon forty-odd years ago pegged me for a teacher. Maybe it was the corduroy jacket or the hornrims. Anyway, he said, "You look like a teacher." My companion laughed, because the tout was right. As I recall, I took some of his advice, and his horses showed nothing, so the tout never reappeared, and probably my companion laughed again.
Maybe I lost that day. Maybe I broke even. However it worked out, the afternoon can't have entirely disappointed the young woman. We've been married for almost 35 years, and I have no regrets at all, except, of course, that now we can't go back to Rockingham Park.
This segment aired on September 10, 2016.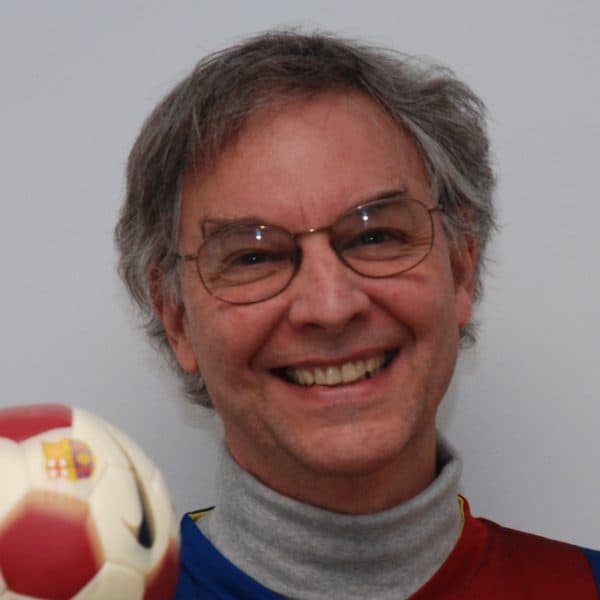 Bill Littlefield Host, Only A Game
Bill Littlefield was the host of Only A Game from 1993 until 2018.