24 Years After Jackie Robinson's MLB Debut, The '71 Pirates Made History
05:56
Play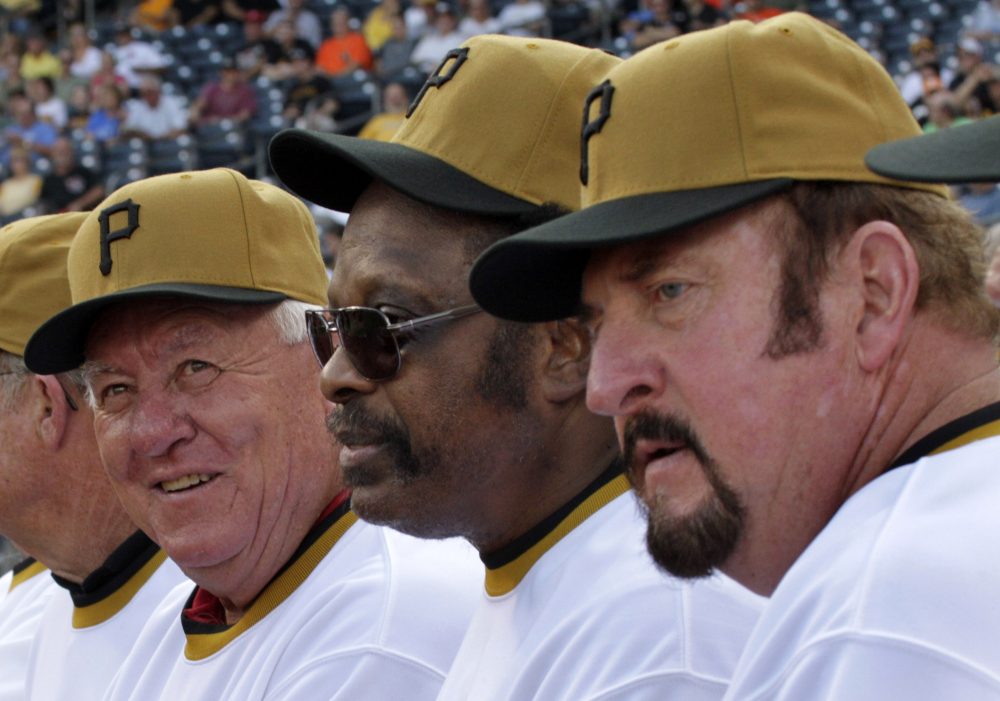 This article is more than 4 years old.
The year was 1971, and the team was the Pittsburgh Pirates. I was a city kid who spent a lot of time playing sports on the cement playground at Fulton Elementary school in Pittsburgh's East End while idolizing many of the Pirates' players. But it was also a tense and confusing time. Busing had already begun.
A lot of the white kids, including some of my friends, regarded the arrival of black kids with suspicion. And many of the black kids didn't particularly trust us. There were fights. But integration didn't seem to be a problem for the Pirates.
'We Are Family'
"We were family, but we just didn't have the song to go along with it," former Pittsburgh Pirate Al Oliver says.
Oliver is one of my favorite Pirates players, and the song he's talking about is "We Are Family" by Sister Sledge. The song didn't come out until 1979, but there's a reason why it applies to the 1971 Pirates.
"We were able to unite together with great cohesion with Latin players, with black players, with white players," Oliver says. "We all came together for one common cause, and that was to bring a world championship back to Pittsburgh."
Most of the players in the Pirates' regular starting lineup were black, including, of course, Roberto Clemente, baseball's first Latin American superstar, and his fellow outfielder Willie Stargell, catcher Manny Sanguillen and infielder Dave Cash.
On days when Dock Ellis pitched, at least half-a-dozen black players took the field at Three Rivers Stadium. But I never really noticed. What I did notice about Al Oliver was that, like me, he was left-handed and played first base. He split time at the position with Bob Robertson — a righty.
"We were a very unselfish team," Oliver says. "When you weren't playing, you pulled for the other guy who took your spot."
And that unselfishness was paying off. The Pirates were leading the National League East for most of that summer and I, at that wonderful age of 11 going on 12, before girls or summer jobs became a distraction, made it to more games than I have in any other year of my life.
The Buccos seemed destined to win a second consecutive division title, but slumped badly during August. Managers sometimes try unusual things when their team is in a free fall like that, and Pirates skipper Danny Murtaugh, a man with a dry wit who didn't mince words, often went with his ample gut.
'A Day Of History:' The MLB's First All-Black Starting Lineup
On Sept. 1, as Murtaugh filled out his lineup card for a home game against the Philadelphia Phillies, he decided to cast aside conventional baseball wisdom when it came to matching up right-handed hitters against left-handed pitchers.
"He did what his heart led him to do," Oliver says. "And when you allow your heart to lead you, normally things will turn out the right way."
Murtaugh would have usually started Bob Robertson at first against a left-handed pitcher like the Phillies' Woodie Fryman. Instead, Oliver got the nod. But Robertson didn't spend a lot of time wondering why.
"Well, when I went around the corner to look at the lineup, l looked at it and then I knew what was happening here," Robertson says. "It was a day of history, and I was fortunate enough to be there to see this."
What Robertson saw was Major League Baseball's first all-black starting lineup. Rennie Stennett was leading off followed by Clines, Clemente, Stargell, Sangy, Cash, Oliver, Jackie Hernandez at short and Ellis on the mound. It had taken nearly a quarter-century since Jackie Robinson broke the color line for this moment to happen. And yet, when the Pirates took the field, Al Oliver didn't even notice, at least not right away.
"Probably in the third or fourth inning is when I noticed it," he says. "And I asked Dave Cash, I said, 'Dave, you know, we have all brothers out there. And he said, 'Ollie, yes, we do.'"
Woodie Fryman, lasted just a third of an inning after allowing the Pirates five runs in the first. Then the Phillies rallied to take a 6-5 lead against an equally shaky Ellis. From the dugout, Robertson watched the Bucs bats come alive.
"It was their moment, and they went out and won that ballgame," Robertson says. "So that was a time in history that you just said, 'Amen.'"
The pre-game hunch had paid off for Murtaugh, apparently oblivious to the history he'd helped make, telling the Philadelphia Evening Bulletin, "When it comes to making out the lineup, I'm color blind, and my athletes know it."
The next day, the Bulletin ran the headline "Pirates Starters All Black." There were no such headlines in Pittsburgh, because there was a newspaper strike. And that's pretty much all that was said about it for years.
The World Series Champion Pirates And Their Legacy
Six weeks after it happened, the Pirates made it to the World Series and went on to defeat the heavily favored Baltimore Orioles in seven games.
At a recent reunion marking the 45th anniversary of that championship, I met Oliver and Robertson for the first time. What struck me as I listened to them relive so much of the '71 season was how this aspect of their legacy, the all-black lineup, seemed to mean as much to them as winning a World Series. And they were asking the same question I was, that we all are still asking: Why did it take until 1971 for it to happen?
"Far too late. This should have happened many years before '71," Robertson says. "But I don't think the racial divide was as bad then as supposedly it is now. And I'm sure at that time it affected a lot of people to see all nine black players out there, playing against another team. But, as the Pirates, they played as one — being out there together as a unit. And maybe someday in this country of ours, we can get together as a unit."
As my friends and I watched the postseason unfold that fall, we could see ourselves in the Pirates, players who were from drastically different backgrounds, but got along, loved each other like brothers and did something great.
This segment aired on October 29, 2016.