After His NFL Career, Tyrone Legette Opens A Grocery Store
Resume
In Brownfields, Louisiana, there is a grocery store. Again. The neighborhood had been without one for about 15 years, when Winn-Dixie moved out. Not surprisingly, the people in the community are happy to have easy access to healthy food.
"I'm still hearing that. Since we opened in February — the 3rd — everyone was so appreciative, because they were used to stopping on this corner, shopping at Winn-Dixie," says Tyrone Legette, who is responsible for the new grocery store on that corner.
Legette's also responsible for some of the affordable housing in the area, places owned by people who thought they'd always rent. In part, he attributes his success as a developer and now the owner/operator of a grocery store to some advice he got from his college football coach, Tom Osborne, when Legette was a student at Nebraska.
Dreams Off The Field
"After losing the Orange Bowl – we played against Miami – and before I was getting ready to go play in the East-West Shrine Game, he wanted to give me some good advice," Legette recalls. "He said, 'You're not very big, so save your money, and you might not play that many years.'"
Would Coach Osborne have given that advice to a blue chip pro prospect who'd been pointing toward the NFL since his Pop Warner days? Perhaps not. But that was OK with Legette.
"I was looking to get an education. Maybe work in business. I really wasn't looking to be a professional football player," Legette says. "I kept it simple and just felt it was a dream to be a father and to be a husband."
That part of the dream has worked out. Tyrone Legette and his wife have raised two children.
"I figured those was things that I could reach. I can reach being a good person. I can reach graduating from college and doing things that I can control," Legette  says. "I only dealt with the small things. And, obviously, you know, small things can turn into big things, if it's meant to be."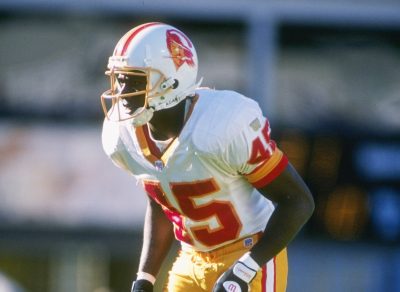 A Dollar Saved... 
Tyrone Legette's shot at the NFL turned into a relatively big thing. He played cornerback for the Saints, Bucs and 49ers over seven seasons – probably longer than Tom Osborne thought he would, and about twice as long as the average NFL career. But Legette figured that about the money, Osborne was probably right. So after he signed his first pro contract, he allowed himself only $50,000 of the $300,000 for which he'd signed.
"I seen a lot of Mercedes. I seen a lot of Ferraris and BMWs and Range Rovers, I tell you. But I was the guy who just needed transportation, needed to get from A to B, you know? I had a Jimmy 4X4. '87, '86 — yeah, around an '87. It was pretty awesome in college. And I thought it was pretty awesome. Most of the guys didn't think so. They'd laugh at me and always told me I needed to get a new car. I'm not gonna make it to practice," Legette says.
Life After Football
When he retired from football, Tyrone Legette got into the construction business. When he couldn't get an adequate loan, he built with the money he'd saved. Then he could say to the banks: "Look at what I've done. Help me do some more."
Eighteen years after retiring from the NFL, Legette, whose business used to be entertaining fans on Sunday afternoon, has been helping out his community in a more fundamental way. And he says all this helping out has worked out well for him, too.
"Because the more that you give, the more that you'll be blessed with. And the community needed housing. The community needed a grocery store. So it was things that were going to better the lives of the people in the community. Not take away from the community, but add to the community in a way that they could appreciate," Legette says.
Maybe it would be silly to suggest that playing in the NFL for seven years is the least significant work Tyrone Legette did. I mean, the NFL is an enormously profitable corporation about which millions of fans obsess. But given Mr. Legette's own perspective on the life he's built for himself, maybe it wouldn't be so silly.
This segment aired on December 17, 2016.