Latest Show: 100-Foot Wave, Bagwell's Bar Mitzvah Gig, Fastest Hiker
48:49
Play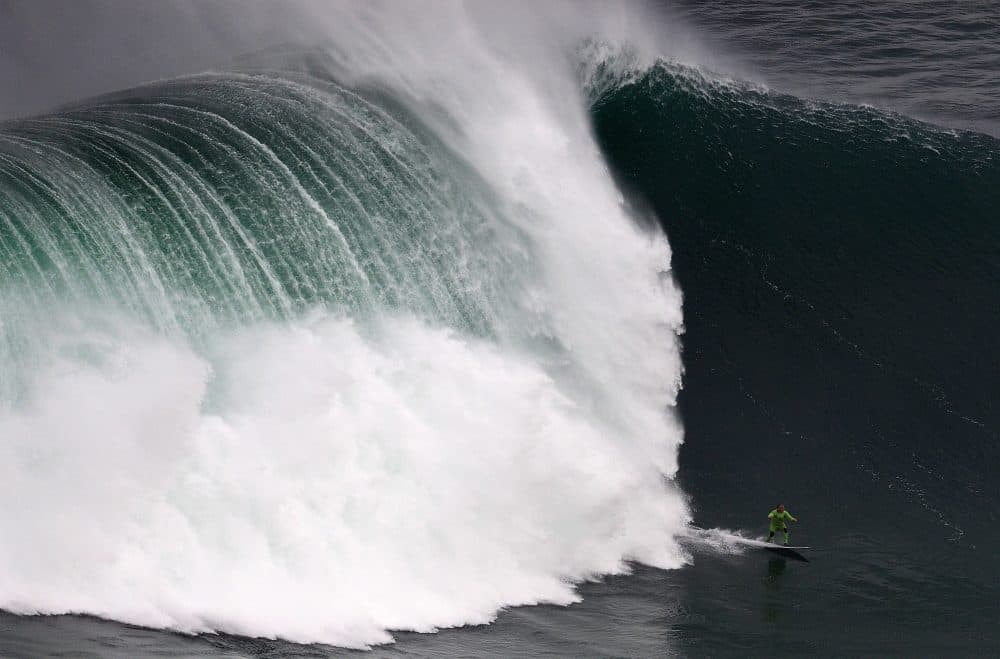 This article is more than 3 years old.
Garrett McNamara tried to give up pro surfing. But he ended up returning to the water to take on the biggest waves in the world. Also this week on Only A Game: 25 years ago, a then-little-known baseball player named Jeff Bagwell got $500 to show up at future ESPN reporter Darren Rovell's bar mitzvah. Rovell recounts his afternoon with the future Hall of Famer. Plus, Heather Anderson used to be scared of the woods. But she found joy on hiking trails — and set three world records.
Find out how to tune in live here — or subscribe to the podcast on iTunes or Stitcher.
---
ESPN's Darren Rovell Recalls His Hall Of Fame Bar Mitzvah Guest
Darren Rovell didn't want an MLB All-Star at his bar mitzvah. He wanted someone who wasn't well-known ... at least not yet. He got Jeff Bagwell.
Littlefield: Imagining An Otherwordly Baseball Hall Of Fame Debate
When the Hall of Fame inductees are announced every year, conversations inevitably arise about who should have gotten into the shrine, and when, and why. Bill Littlefield imagines how one of those conversations might go.
3 Stories: Hatred For Tom Brady, Golden State Supervillains, Duke Basketball
Does Tom Brady deserve the hatred of fans? Are the Golden State Warriors the NBA's biggest supervillains? And did Coach K go too far with his recent punishment for the Duke men's basketball team?
Conquering Insecurity, World Records On The Hiking Trails
After being bullied growing up, Heather Anderson found her escape in hiking. The trails led her past her anxiety and insecurity — and to a few world records.
Charlie Pierce: The Week in Sports
Bill and Only A Game analyst Charlie Pierce discuss Super Bowl LI, NFL safety concerns, end zone cabanas and a gambler-turned-bank-robber.
Super Bowl Haiku: Call For Submissions
Super Bowl Haiku submissions are already flooding in. Send yours now if you'd like the chance to hear it read on the air by the OAG "Hut Hut Haiku" players.
How Garrett McNamara Found His Dharma On A Surfboard
Garrett McNamara has surfed some of the biggest waves ever conquered. He tells the story of how he discovered his dharma on a surfboard.
This program aired on January 28, 2017.