With Super Bowl LI upon us, it's time for the 23rd edition of Only A Game's haiku tradition. Before the Falcons and Patriots square off, check out some of our favorite poems from listeners and from Bill Littlefield.
Read below or click the link to listen above for the reveal:
Only A Game?
No. Or, if so, Tyrannus Rex
Only a lizard.
Say Atlanta wins.
Takes the air out of the Pats.
Are they suspended?
Falcons puff and preen
welcome to the big stage, boys,
Brady waits: good bye
(Peter Fenn)
My kids love football
I don't understand the game
I do like nachos
(Phyllis Fagell)
Tickets? I don' need
No stinkin' tickets! I got
Big, flat screen TV.
Super Bowl Sunday.
There. I said it. So sue me.
(Three loud knocks) Uh, oh…
O say can you see
Hey, NFL, C. T. E?
PR? R. I. P.
(Craig Willis)
Kick arches skyward,
Hovers, or seems to, and falls.
I wish it stayed up.
I like football but
mostly, it's about Velveeta
warmed slowly. Liquid gold. (Lj)
New England! Deep thought's home!
Land of Emerson! Thoreau!
Hawthorne! Belichick!
Falcons? Birds of prey?
Better be birds that can pray.
It's funny because…
Score enough, you win.
Atlanta's mantra: Score more…
Then score more than that.
In strange, distant lands
The Big Game goes unmentioned.
No one cares. What jerks!
New England once more
The commissioner on edge
A Belicheckmate?
(Guy Burney)
Yay team! Play the sports!
Run there, and don't drop the ball!
Wait, who do we like?
(Elizabeth Miller)
Look! Up on the roof!
Is it a bird? A plane? No.
It's Lady Gaga!
(Janet Post)
Up on the roof sings
Lady Gaga. Fly over…
Better be careful.
Met my husband, not
watching Superbowl Two Nine.
Three kids now, Love you.
(Michelle Vazquez Jacobus)
Coach Belichick scowls
You'd think his puppy dog died
Instead, Pats touchdown
(Rob Emslie)
Birds drift, fragile, free,
Above the roar and rumble,
Until planes hit them.
Matty Ice standing
Arm cocked, heartbeat steady, pure
As Mount Fuji snow
(Rob Emslie)
No mere mortal man
Bestrides now the Super Bowl…
But Belichick? Yes…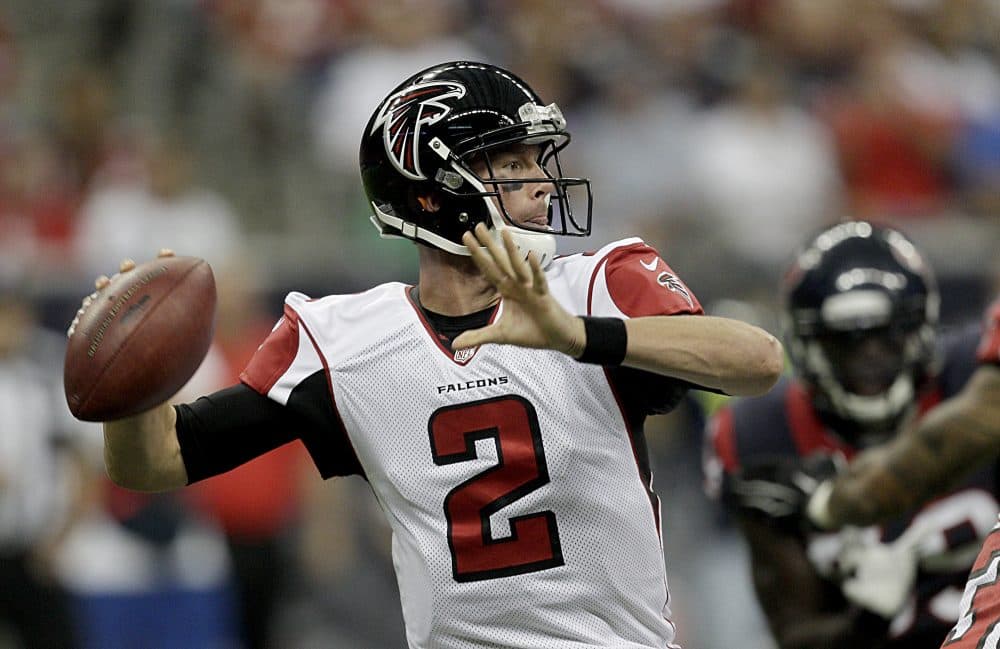 Falcon, majestic,
May soar, may capture small game.
Big Game? Not so much.
Pats, down late, may wail
In dreadful, sad unison…
"Gronk! Where is our Gronk?"
Where is the ceiling
On Brady's great-i-tude-ness?
Limits? Limits? No.
ゲエム より。
ガガ みて たべる。
ピイク なに?
Which translates roughly to:
Not watching the game
Gaga and too much to eat
What is a pick six?
(Mari Tsuchiya-mother of Simon Lenoe)
Bird and Minuteman
Clash in highly touted bout
Three hours too long
(Simon Lenoe)
When Super Bowl ends,
February goes on…on…
Play it again, Sam.
This segment aired on February 4, 2017.