Remembering Johnny MacDougall, One Ballpark At A Time
Play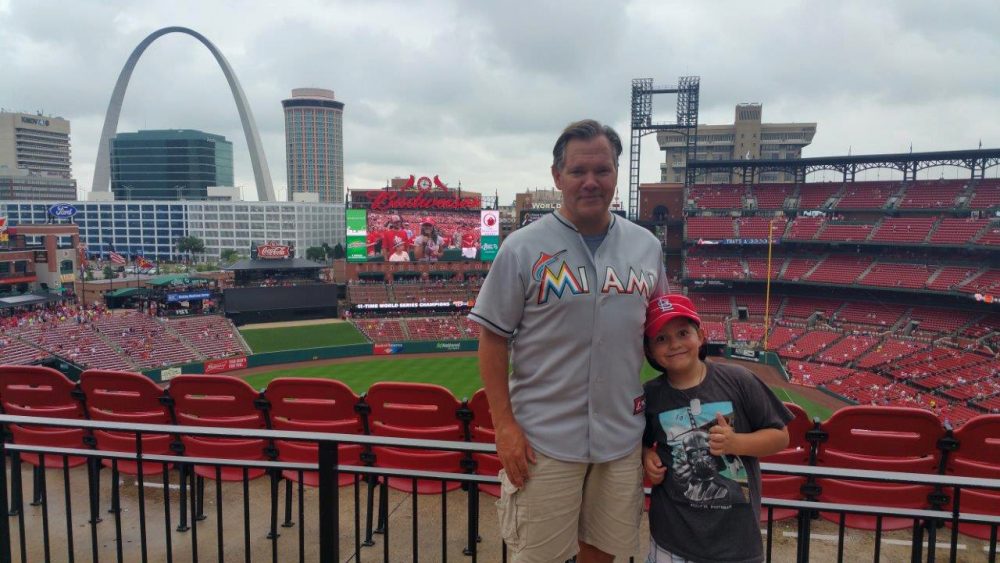 This article is more than 5 years old.
This story originally aired on Oct. 7, 2016. This week it appears again as part of our "Summer Vacation" show.
---
Johnny MacDougall went to his first baseball game when he was just four months old. It was Opening Day, 2006.
"I love baseball," Johnny's father, Dave MacDougall says. "I've always gone to games, and I figure the best way to share something with my son is to start early."

When Johnny was about 3, the pair visited Nationals Park in Washington, D.C. It was there that father and son made a pact.
"I said, 'Our nation's filled with a variety of things, including different ballparks, so we should see them all," Dave recalls. "And he said, 'Yeah, I'd love to.'"
But Dave and Johnny didn't set out on their trip right away. Dave says, he figured there didn't seem to be any reason to hurry.
"There was never any set plan," Dave says. "I figured we had years — decades — to do this trip. It was something that we definitely were going to accomplish. It was just a matter of when."
Instead, Dave, Johnny and Johnny's younger brother, Tommy, went to Marlins games. Johnny never missed Opening Day.

But when he was 9 years old, Johnny suffered a catastrophic brain aneurysm and died within 26 hours. When writing his son's eulogy, Dave found himself reflecting on the theme of baseball and all the ways the sport helped his family connect.
So Dave and Tommy came up with a new plan: They would spread Johnny's ashes at all 30 MLB ballparks.
"I honor my son now by fulfilling the promise I made to him that we would do it," Dave says. "I think he would be happy and proud that were doing this — in his honor, perhaps, but more just getting up early and doing it. You know, you can't shut down. You have to move forward."
Since speaking with us last fall, Dave and Tommy have continued their summer vacation baseball adventures. As soon as school got out in June, Dave and Tommy hit the road, traveling more than 4,000 miles over 30 days. They "remembered Johnny" at nine ballparks and even managed a bonus trip to the Baseball Hall of Fame. Dave hopes to get to Seattle later this season, leaving just five ballparks for summer vacation 2018.
Learn more about the trip and how to support it on Dave MacDougall's website, and click the play button next to the headline at the top of the page to hear our full story.
This segment aired on July 29, 2017.